Space Weather
Sun, 01 Jan 2012 12:24 CST
The first bright fireball of the New Year streaked over the southwestern USA on Jan. 1st at 03:15 UT. It was visible from Arizona, Colorado and New Mexico. "I was able to see it out my window," reports amateur astronomer Thomas Ashcraft from his rural observatory outside of Santa Fe. "It was brilliant turquoise blue." Ashcraft operates a combination all-sky camera/forward-scatter meteor radar system, which captured the fireball's flight. Click
here
to play the movie--and don't forget to turn up the volume to hear the ghostly radar echo: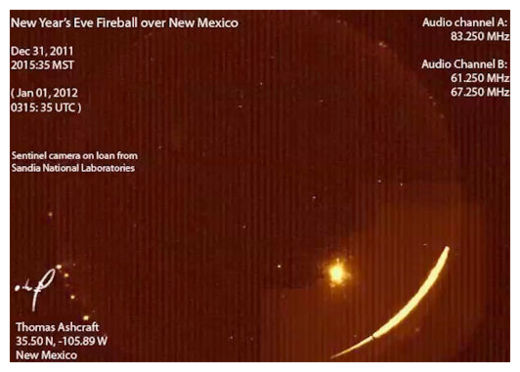 Cameras belonging to NASA's All-Sky Fireball Network also recorded the fireball from multiple locations. An orbit calculated from those data show that the fireball was a random meteoriod hailing from the asteroid belt between Mars and Jupiter. It hit Earth's atmosphere at 26 km/s (58,000 mph), which is relatively slow compared to other meteoroids, and disintegrated 82 km above Earth's surface.
"This was an auspicious start to 2012," says Ashcraft. "Clear skies and Happy New Year!"
Dauna Coulter
Physorg
Mon, 02 Jan 2012 07:51 CST

The existence of this towering peak could solve a longstanding mystery: How did so many pieces of Vesta end up right here on our own planet?
For many years, researchers have been collecting Vesta meteorites from "fall sites" around the world. The rocks' chemical fingerprints leave little doubt that they came from the giant asteroid. Earth has been peppered by so many fragments of Vesta, that people have actually witnessed fireballs caused by the meteoroids tearing through our atmosphere. Recent examples include falls near the African village of Bilanga Yanga in October 1999 and outside Millbillillie, Australia, in October 1960.
"Those meteorites just might be pieces of the basin excavated when Vesta's giant mountain formed," says Dawn PI Chris Russell of UCLA.
Russell believes the mountain was created by a 'big bad impact' with a smaller body; material displaced in the smashup rebounded and expanded upward to form a towering peak. The same tremendous collision that created the mountain might have hurled splinters of Vesta toward Earth.
"Some of the meteorites in our museums and labs," he says, "could be fragments of Vesta formed in the impact -- pieces of the same stuff the mountain itself is made of."
To confirm the theory, Dawn's science team will try to prove that Vesta's meteorites came from the mountain's vicinity. It's a "match game" involving both age and chemistry.

"Vesta formed at the dawn of the solar system," says Russell. "Billions of years of collisions with other space rocks have given it a densely cratered surface."
The surface around the mountain, however, is tellingly smooth. Russell believes the impact wiped out the entire history of cratering in the vicinity. By counting craters that have accumulated since then, researchers can estimate the age of the landscape.
"In this way we can figure out the approximate age of the mountain's surface. Using radioactive dating, we can also tell when the meteorites were 'liberated' from Vesta. A match between those dates would be compelling evidence of a meteorite-mountain connection."
For more proof, the scientists will compare the meteorites' chemical makeup to that of the mountain area.
"Vesta is intrinsically but subtly colorful. Dawn's sensors can detect slight color variations in Vesta's minerals, so we can map regions of chemicals and minerals that have emerged on the surface. Then we'll compare these colors to those of the meteorites."
Could an impact on Vesta really fill so many museum display cases on Earth? Stay tuned for answers.
Space Weather
Tue, 03 Jan 2012 12:19 CST
Earth is about to pass through a stream of debris from 2003 EH1, a comet fragment that produces the annual Quadrantid meteor shower. Forecasters expect the shower to peak around 07:20 UT (02:20 am EST) on Wednesday morning, January 4th. At maximum, as many as 100 meteors/hour could emerge from a radiant near Polaris, the north star.
Brian Emfinger of Ozark, Arkansas, photographed this one on Jan. 2nd: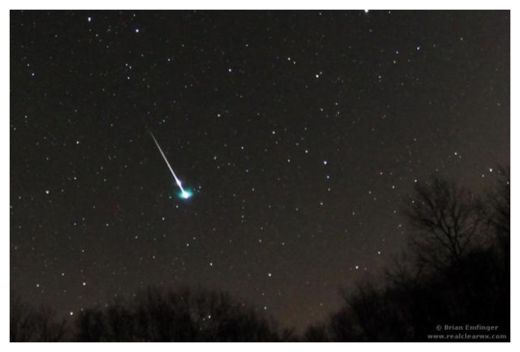 "Wow! What a really nice fireball," says Emfinger. "It emerged very very close to the Quadrantid radiant, but I'm not 100% sure it is indeed an early Quadrantid."
Even among professional researchers there is a lot of uncertainty about the Quadrantids. Because the shower occurs during the deep cold of northern winter, and because its peak is brief (often no longer than a couple of hours), this strong shower is seldom observed. Bill Cooke of NASA's Meteoroid Environment Office hopes 2012 will be different. "We encourage sky watchers to be alert for Quadrantids and send their observations to NASA using the Meteor Counter app," he says. "With a little help, we just might learn something new about this intriguing shower."
Jeanna Bryner
Live Science
Tue, 03 Jan 2012 10:04 CST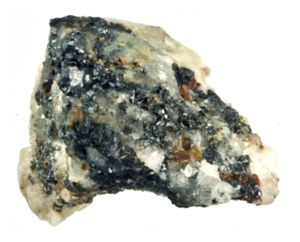 A rock fragment containing a previously unidentified natural quasicrystal may be the remnant of a meteorite that originated in the early solar system more than 4.5 billion years ago before Earth even existed.
Until now, researchers had assumed such quasicrystals, whose atoms are arranged in a quasi-regular pattern rather than the regular arrangement of
atoms inside a crystal,
were not feasible in nature. In fact, until now the only known quasicrystals were synthetic, formed in a laboratory under carefully controlled conditions. (This year's
Nobel Prize in chemistry
honored Dan Shechtman for his 1982 discovery of quasicrystals, which at the time were thought to break the laws of nature.)
"Many thought it had to be that way, because they thought quasicrystals are too delicate, too prone to crystallization, to form naturally," researcher Paul Steinhardt of Princeton University said. The new finding, described this week in the journal
Proceedings of the National Academy of Sciences,
suggests "quasicrystals are much more common in the universe than we thought," Steinhardt added.
The rock was discovered in the Koryak Mountains of Russia. Various features of the quasicrystal suggest a meteorite origin, including the shapes of the grains and its chemical composition of metallic copper and aluminum that resemble those found in so-called carbonaceous chondrites; these are
primitive meteorites
that scientists think were remnants shed from the original building blocks of planets. Most meteorites found on Earth fit into this group.
Analysis of the quasicrystals revealed they were intermeshed with silicates and crystalline metals, with one quasicrystalline grain encased in a silica mineral called stishovite.
"Stishovite is silicon dioxide, the same chemical that makes quartz and sand, but here it forms a different structure that only occurs at high pressures achieved in
meteorite collisions
and impacts," wrote Steinhardt in an email to LiveScience.
The fact that the metallic aluminum was found in its unoxidized form was also surprising, since the metal has such a strong affinity for oxygen and couldn't have remained in that form here on Earth, Steinhardt said.
"So, we have learned that extraterrestrial conditions enable a phase of matter not likely possible on Earth. This raises the question: What other materials have been made in space that would not form naturally on Earth. In particular, are there other quasicrystals?" Steinhardt said.
Space Weather
Wed, 04 Jan 2012 13:27 CST
This morning, Jan. 4th, Earth passed through a stream of debris from shattered comet 2003 EH1. The encounter produced a strong display of Quadrantid meteors over the Atlantic side of our planet, as many as
80 per hour
according to the International Meteor Organization. Fredrik Broms caught this one streaking over his home in Kvaløya, Norway: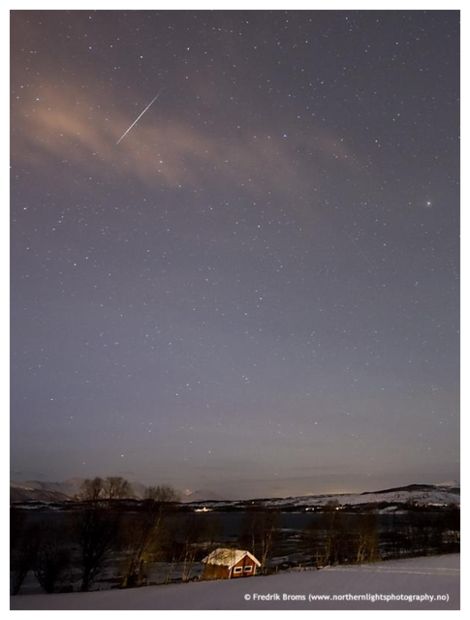 "The Quadrantids of 2012 were fantastic," says Broms. "The display was dominated by fairly bright and fast meteors."
NASA's All-Sky Fireball Network recorded 20 fireballs during the outburst. Data from multiple cameras allowed the orbits of the meteoroiuds to be calculated, and they are shown here in a diagram of the inner solar system: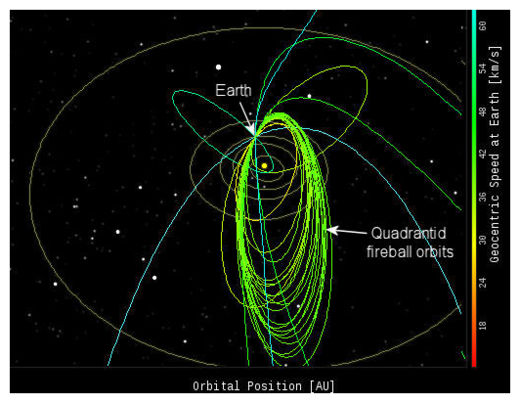 More Images:
From
Pete Lawrence
of Selsey, West Sussex, UK; from
Didier Schreiner
of Wormhout, France; from
Renata Arpasova
of Avebury, Wiltshire, UK; from
Glenn Wester
of Smithtown, New York; from
Yu Jun
of Beijing, China; from
Sylvain Weiller
of Saint Rémy lès Chevreuse, France; from
Fredrik Broms
of Kvaløya, Norway; from
Pete Glastonbury
of Devizes, Wiltshire, UK; from
Samuel Todd
of Madison, Alabama; from
Richard Hay
of Green Cove Springs, Florida; from
Amirreza Kamkar
of Qayen, Iran
YLE.fi
Wed, 04 Jan 2012 12:05 CST
A large fireball was seen over southern Finland on Tuesday evening, reports a magazine published by the Ursa Astronomical Association. The ball, shining brighter than the moon, was visible for about ten seconds.
Ursa received numerous sightings of the fireball from various parts of southern and central Finland after 8:18pm on Tuesday.
The trajectory of the fireball is still being investigated. A mathematician of Ursa's fireball research group, Esko Lyytinen, gives a preliminary estimate that the phenomenon appeared over Narva in Estonia at the height of about 95km and vanished from sight around Heinola in southern Finland at the height of about 45-50km.
"We've had very good luck as the skies happened to clear at exactly the right moment and our automatic cameras recorded such a wonderful fireball. Otherwise, the whole night in Mikkeli was mostly cloudy," says Aki Taavitsainen, head of Ursa's Mikkeli office.