Space Weather
Wed, 01 Feb 2012 12:54 CST
Astrophotographers, ready your cameras. On Friday morning, February 3rd, Comet Garradd (C/2009 P1) will pass approximately 0.5 degrees from globular cluster M92 in Hercules. Last night, Rolando Ligustri took this picture of the converging pair using a remotely-controlled 106mm telescope in New Mexico: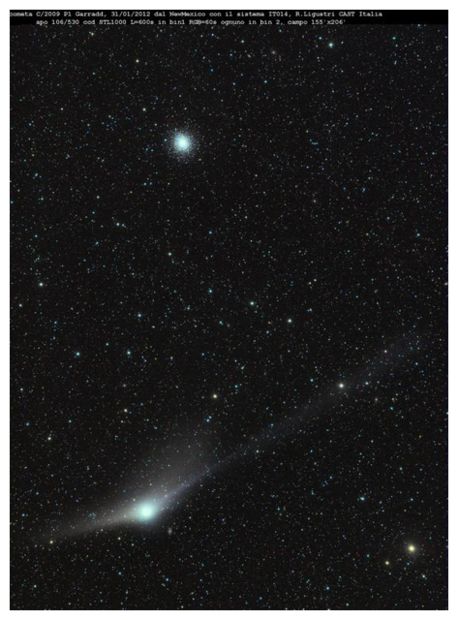 The ten minute exposure shows the comet's fan-shaped dust tail, which roughly traces the comet's orbit, and its pencil-thin gas tail, which points almost directly away from the sun due to the action of the solar wind.
The star cluster and the comet are both located in the constellation Hercules, high overhead in northern hemisphere skies before sunrise. Sky and Telescope offers a
sky map
of the comet's path. Observers with computerized GOTO telescopes can track the comet by plugging in
orbital elements
from the Minor Planet Center.
At the moment, Comet Garradd has an astronomical magnitude of +6.5, invisible to the naked eye but an easy target for backyard telescopes. Forecasters expect it to brighten by a factor of ~2 in the weeks ahead as the comet
approaches Earth
for a 1.3 AU close encounter in early March. This could be a good time to invest in a
Comet Hunter.
More Images:
From
Lorenzo Comolli
of Bogli, Italy; from
Gregg Ruppel
of Ellisville, MO; from
Mike Broussard
of Maurice, Louisiana; from
Dr Paolo Candy
of Ci.A.O. Cimini Astronomical Observatory - Italy
The Canadian Press
Wed, 01 Feb 2012 11:36 CST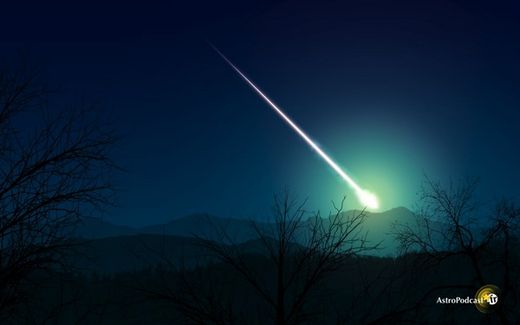 An expert on astronomy says the glowing fireball that some Halifax residents saw streaking through the sky Thursday night was probably a meteor.
Alan Strauss at the Mount Lemmon Sky Center in Arizona says these spectacular fireballs are quite common.
However, Strauss says people often miss them because they just don't look up that much.
The fiery object appeared to travel from west to east over the Halifax area at around 9:30pm.
Julian Gavaghan
UK Daily Mail
Thu, 02 Feb 2012 16:41 CST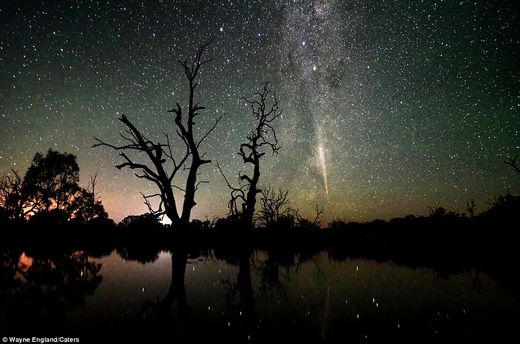 This is the out-of-this world photograph of the beauty of an amazing comet streaking across the cosmos.
Caught on camera over a swamp in Australia the stunning image shows the trail of the Comet Lovejoy as it passed close to Earth.
Lying in wait in the darkness in Poocher Swamp Game Reserve near Adelaide, was photographer Wayne England who took this amazing snap.
As his picture shows the darkness of the swamp and the reflection of the water made the perfect backdrop to reflect the comet zooming across the sky.
Mr England, 40, who is a member of the Astronomical Society of South Australia, said he first heard about the comet travelling close to Earth in December and had several nights to try and catch a glimpse at 4am in the morning on Christmas Eve.
He said: 'Each night I travelled 6miles out of the town to my favourite site, Poocher Swamp Game Reserve because of the dark sky, water and reflections of the stars in them water.
'The comet looked amazing when I first saw it on the morning of Christmas Eve. It was so bright and large in the pre-dawn sky.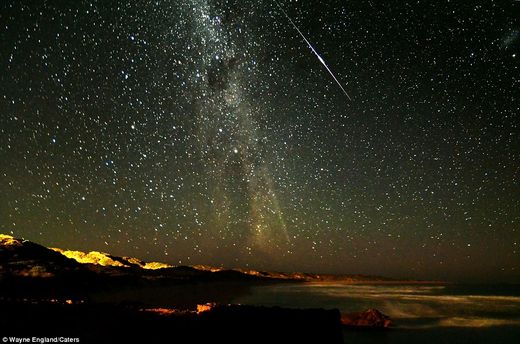 'It had two tails, one curving slightly away from the other at the top. It was like a beacon or a laser shooting up into the sky.
'I'm so glad I saw it when it was so bright and on subsequent nights because it faded fast over several days.
'This was of course the best time to take photos of it and because it was moving relatively fast - you could see the amount it had moved each night.'
Wayne used a Nikon D7000 with a Tokina 12-24mm lens with settings of ISO 3200 or 6400, 20-30secs exposure at f/4.
He said: 'I like the wide angle this lens produces and with it I often try to get reflections of the stars in the water, which to create a good effect can only be done with wider angle lenses.
'The comet was initially visible just before sunrise but by the New Year it was visible from about 1am but had faded considerably.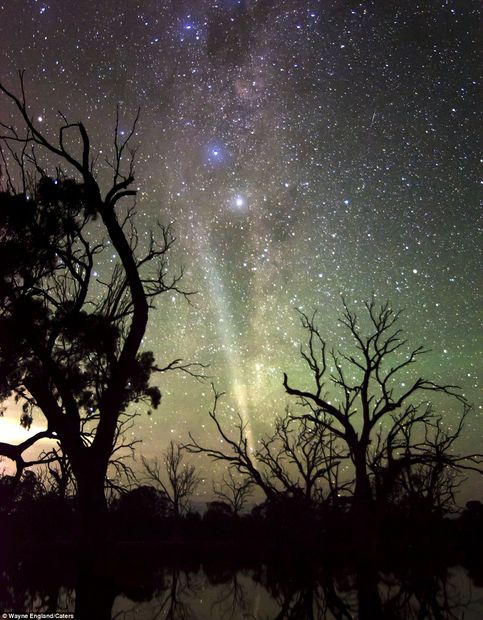 Teresa Gubbins
Pegasus News
Thu, 02 Feb 2012 06:02 CST
Witnesses spotted it from Oklahoma City to south of Waco
At about 8 p.m. on Wednesday night, a meteor zipped across the sky over Dallas, then burst into a streaking flame before burning out.
WFAA
received more than 200 reports, and a Federal Aviation Administration spokesman
confirmed
that it was likely a meteor or meteorite. Sightings
extended
from as far north as Oklahoma City to south of Waco. Some heard a boom. On its Wednesday night broadcast, CBS 11 described it as an "electrophonic" meteor -- one that can be heard as it burns.
Comments on WFAA's
Facebook page
came from The Colony, Rockwall, and beyond, each describing it slightly differently: as a "large blue and green ball with a orange tail," as "bright green," and as "real bright blue with a long fire trail behind it."
I actually saw it as it burned out. In what was undoubtedly an optical illusion, it looked like it was coming from south of downtown Dallas and moving in a northeast direction, as if headed for White Rock Lake. I happened to be watching a performance online by Bjork from Tuesday night's
The Colbert Report
. She sang "Cosmogony," a song from her new album
Biophilia
and I was trying to figure out the lyrics.
The song, coincidentally -- or not?! -- is about the creation of the universe:
"Heaven, heaven's bodies / World around me make me wonder / And they say back then our universe wasn't even there / Until a sudden bang and then there was light, was sound, was matter / And it all became the world we know."
The view from my window looks towards Baylor Hospital, and it's not-uncommon to see helicopters hovering, then landing on Baylor's helipad. So, initially the gold streak in the sky appeared to be just another helicopter about to land. It looked surprisingly close. But its path had an unfamiliar, angular slant, and that's what caught my eye. Then it began to burn out, its head growing larger, with a long tail. All of a sudden the light extinguished, and then a minute or two later, a boom -- as if it had crashed and landed somewhere. The whole thing lasted all of 15 seconds.
Comment:
Here's a closer view of the fireball:
Comment:
Exactly, then what??
It's not big kick-ass asteroids we need to be thinking about. It's the possibility of micro-meteorites and cometary dust bringing all sorts of chaos people in the modern era haven't seen before.
New Light on the Black Death: The Cosmic Connection
T. Spahr, Minor Planet Center, noted that this object appears identical to an apparently asteroidal object discovered by the Mount Lemmon Survey on Nov. 3 (observer R. Kowalski; discovery observations tabulated below) and then designated 2011 VJ5.
We performed some follow-up measurements of this object, while it was still on the neocp. Stacking of 8 R-filtered exposures, 30-sec each, obtained remotely, from the
Haleakala-Faulkes Telescope North
on 2012, Feb.1.6, through a 2.0-m f/10.0 Ritchey-Chretien + CCD, under good seeing conditions, shows that this object is a comet: compact coma nearly 3" in diameter with a sharp central condensation, and a tail about 20" long in PA 292.
Our confirmation image below.
We performed some follow-up measurements of this object, while it was still on the neocp. Stacking of 10 R-filtered exposures, 20-sec each, obtained remotely, from the
Haleakala-Faulkes Telescope North
on 2012, Jan.30.6, through a 2.0-m f/10.0 Ritchey-Chretien + CCD, under good seeing conditions, shows that this object appears "soft", compared to the nearby field stars of similar brightness (stellar FWHM of 1.2").
Our confirmation image:
2012-C23
assignes the following preliminary parabolic orbital elements to comet C/2012 B3: T 2011 Nov. 29.91; e= 1.00; Peri. = 49.22; q = 3.52 AU; Incl.= 106.85
Comment:
Reports of fireball with huge tail seen over Western Australia
Huge Fireball Over Tokyo, 2 February 2012
Fireball Photographed Over Corfu, Greece
Russia: Something fell from the sky in the village of Novobureysk
US: Wednesday night's Texas meteor so bright it was seen in Kansas
Canada: Halifax 'fireball' probably a meteor
Rhode Island, US: Extremely bright 'unexpected' meteor caught on camera
here
to see a short animation.
Photo details:
Canon EOS 40D camera; 15mm fisheye lens; f/2.8; ISO 800; 30 second exposure; Photoshop; Cropped.
5 Feb 2012
: 'sas' Perth - 01.10am 10 sec. Australia - Yellowish huge yellowish shooting star not that I saw. No photo
5 Feb 2012
: 'Rhett' WA Kalgoorlie - 1:05:00 15 seconds. N-S, Green As the moon N/A I've never see anything like it, it had a huge tail.
5 Feb 2012
: 'dan' perth, WA, Australia - 1:18 15 seconds. N-S, orange, blue, yellow brighter than moon, larger than moon none massive, bigger than moon.
5 Feb 2012
: 'Tara Isaac' Perth, Western Australia - 01.10 hours approx 20 secs. E-W, Large, bright green fiery head, long white tail. Brighter than Venus. No photo, seen while driving freeway North
Comment:
Our immediate cosmic environment IS probably littered with junk left there by certain governments who live by the maxim that the means justify the ends. But it is the height of denial to buy into the notion that all these reports of fireballs we've been collecting are man-made objects. This 'space junk' theme is starting to smell strangely like 'anthropogenic global warming', which provides a plausible - but 'not even wrong' - cover story for Earth changes.
Forget About Global Warming: We're One Step From Extinction!
Scientists say they have worked out a way to blast an asteroid into space dust using an atomic bomb.
The plan has potentially world-saving consequences should an asteroid emerge on a collision course with Earth.
And unlike the film
Armageddon
- where Bruce Willis and his crew of stars fly a space shuttle to an oncoming Asteroid to drill a warhead into its core - the nuclear payload could be delivered by rocket.
Using one of the world's most powerful supercomputers at Los Alamos National Laboratory, physicists have calculated the effect of a nuclear blast on an incoming space rock.
Although Nasa and other space agencies have mapped most nearby asteroids, the effect of one catching us by surprise would be catastrophic and, they believe, is worth preparing for.
Robert Weaver, R&D scientist at Los Alamos, used Cielo, their newest Cray supercomputer, to simulate the effect of nuking an asteroid.
'If one of these objects is discovered at a short notice time, say a few months away, and is on an Earth crossing trajectory there could be potentially devastation on a world-wide scale,' he said.
Luckily, Mr Weaver's team believes asteroids are really conglomerates of rocks held together by the force of gravity and that one atomic blast could be enough to shatter them into harmless space dust.
The calculation uses an asteroid of the size and shape of the mapped Itokawa asteroid, which has 500m across by 250m wide and is thought to be composed of granite rocks.
By placing a one megaton bomb on the side of Itokawa, the simulation shows how a shockwave will travel through the asteroid from the detonation point and shake it to harmless rubble.
'As the shock wave moves through, ultimately this one megaton blast will disrupt all the rocks in the rock pile of this asteroid and if this were an Earth-crossing asteroid it would fully mitigate the hazard posed by the initial asteroid itself,' Mr Weaver said.
It is only since Los Alamos got their hands on Cielo, which runs on 32,000 processors, giving it a remarkable 1.35 petaflop calculating capacity, that simulations of this complexity could be run.
Mr Weaver said: 'The calculations I'm running new on Cielo in 3D are state of the art calculations on 32,000 processors.
'This is mind boggling to me. We've never run on this many processors.'
Thanks to the fine folks at
Sonotaco.jp
for their videos/images.
We performed some follow-up measurements of this object, while it was still on the neocp. Stacking of ten R-filtered exposures, 60-sec each, obtained remotely, from the
Siding Spring-Faulkes Telescope South
on 2012, Feb. 16.6, through a 2.0-m f/10.0 Ritchey-Chretien + CCD, shows that this object is a comet: faint fan-shaped tail, nearly 6-arcsec long in PA 284.
Our confirmation image:
2012-D03
assignes the following preliminary parabolic orbital elements to comet P/2012 C3: T 2011 Oct. 11.99; e= 0.61; Peri. = 346.39; q = 3.67 AU; Incl.= 9.38
Comment:
Was Andy Steblyk just 'lucky' or is there presently a greater probability of anyone in the region seeing more than one fireball in his or her lifetime? Meteor statistics suggest that many more of us will have the opportunity to 'wish upon a shooting star' in the coming years.
Canada: Halifax 'fireball' probably a meteor, 2 February 2012
Meteor Flashes Through Edmonton Sky, 13 January 2012
Fireball streaks across early-morning sky in Edmonton, 31 March 2009
Fireball spotted in Edmonton sky, 27 November 2009
Fireball over Edmonton, 20 November 2008
Meteorites hit near Redwater, passed over Edmonton, 29 May 2007
Comment:
We've been searching for any historical references to this so-called "February Fireballs" suggestion, but nothing has turned up so far. Is NASA spinning another yarn?? As James McCanney explained in
Planet-X, Comets & Earth Changes
, NASA's real role is to keep the public misinformed about the threat from cometary debris:
As this book goes to print, all the major observatories of the world are being taken off line. Astronomers are being told not to discuss "Planet X" with the public. As with [Hale-Bopp], NASA has shut the door on release of information. They are positioning their scientists to become part of the nightly national weather programs, and to be in position to defray any public awareness of what is truly happening with the Sun and our planetary system. (p. 84)

The truth is that NASA, the NSA, and other government agencies are prohibited by law from disclosing to the public anything that would cause a national panic. So too they will try to prevent dissemination of my theories about comets because it might cause a public to redirect its allegiance as a new and potentially dangerous comet comes into the solar system. While the government officials are using tax dollars to build safety caves for their "shadow government" in case of "major disaster", they are leaving the public out to dry with no forewarning or protection. (p. 83)
The past month has seen a number of enormous fireballs and overhead explosions, attracting a lot of attention around the world, so is NASA here indulging in a little Orwellian creative writing to present the recent fireballs as part of a recurring phenomenon that "has been observed for decades", when in fact it is entirely new (in the modern era anyway)?