WJLA
Thu, 01 Dec 2011 05:00 CST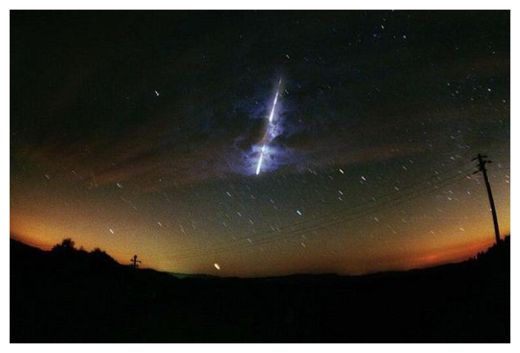 Hordes of incandescent meteors have ripped across U.S. skies this past week. According to alert skywatchers, the nation's capital got in on the stellar action in a big way.
The delightful blog
Lunar Meteorite Hunters
carries two reports of a glowing nightly visitor that appeared between 40 and 60 miles south of D.C. on Monday, Nov. 28. The first account is from Patrick in Leonardtown, Md., who caught a bright object whizzing by overhead around 9:20 p.m. The flaming flier lasted about 2 seconds, cycling like an
angry squid
from red to blue to green. Says Patrick, with minor spelling/grammar errors fixed:
No discernible sound. Very bright, same as the moon. Not blinding, but quite noticeable. Not sure, [but it looked like it had] only one tail. I'm not sure if it was when it entered the atmosphere, but I saw almost an explosion or halo form around it about halfway through its travel before it disappeared.
A meteor that was hoisted with its own
petard,
you say? Go on!
The next account of Monday's space shenanigans comes from an unnamed observer in Stafford, Va., at approximately the same time of evening. This witness also says the object flamed out in a spectacular fashion:
Two seconds left to right. White, reddish. Brightest thing in the sky.... I thought it was a falling star but then it exploded with a bright flash of light. It look like it hit something and disintegrated. There was a big puff of what look like smoke.
The
forums of the American Meteor Society
bear no similar reports of a Monday-night fireball near D.C., but resident site expert Robert Lunsford notes a
number of minor meteor showers
that might account for the sparking skies. The Andromedid shower is still ongoing with "low, but detectable" and slow-moving meteors, and the November Orionids reached their anthill peak on Nov. 30. A dimmed, crescent moon is allowing amateur astronomers in the Northern Hemisphere to see as many as four shooting stars an hour, Lunsford says.
So keep your eyes open and you might just see one of these eerie travelers from the beyond. However, best know how to distinguish between a
meteor and a helicopter, first.
CBS Boston
Thu, 01 Dec 2011 23:20 CST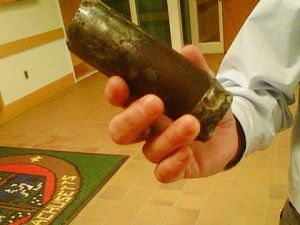 Plymouth - A solid piece of metal crashed through the roof of a Plymouth furniture warehouse on Thursday. Investigators say
the debris appears to have fallen from the sky, but it did not come from a plane
.
Michael Facchini, the owner of Michael's Wholesale Furniture Distributors found the 3-5 lb. chunk of debris on the floor of his building off Camelot Drive.
Facchini also discovered a hole in the roof of the building.
"Looked up, the ceiling had a big hole," he told WBZ-TV's Kathy Curran. "One of the workers came by and noticed the office was a mess and asked if I knew what happened then I looked and saw metal and figured it came from high above."
No one was hurt by the falling debris.
The FAA has sent an inspector to Plymouth to help investigators.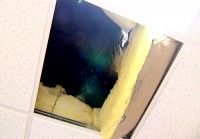 They are now tasked with trying to figure out where the metal came from.
Officials originally suspected that it could have fallen off of a passing plane, but they have since ruled out that possibility.
"We have no idea what it is. At this point, we can only speculate. No clue," said Plymouth police Capt. John Rogers. "This would have had to come through with some significant force or velocity to get through the warehouse roof and cause damage."
At Michael's Wholesale Furniture Distributors, the fact no one was hurt has employees counting their lucky stars. In fact, they say they're going to play the lottery tonight after surviving this strange event.
SOHO
Sat, 03 Dec 2011 02:05 CST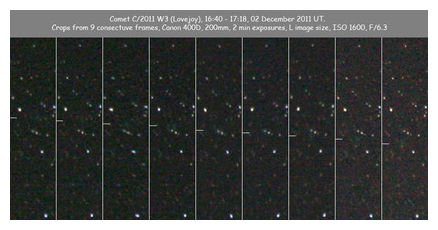 SOHO's 16th Birthday gift is on it's way, and the tracking number states delivery by midnight on December 15th!
On December 2nd, 2011, newly discovered Kreutz-group comet C/2011 W3 (Lovejoy) was announced. SOHO discovers these objects on average every three days, but this one is different... it was found from a ground based telescope, and marks the first such discovery in over 40yrs. It also marks a significant achievement for Australian astronomer Terry Lovejoy, who as an early pioneer of discovering SOHO comets over the internet, can now claim to be the first person to discover a Sungrazer from both ground and space-based telescopes!
Traditionally, and with little exception, ground-discovered Kreutz-group comets have gotten bright. Very bright! In 1965, Kreutz-comet Ikeya-Seki was so bright, it could be seen by the naked eye by blocking the Sun out with your hand. We do not expect C/2011 W3 to get this bright, so reserve your seat next to your computer and stay tuned to the SOHO, STEREO and Sungrazer websites as we prepare for this rare and potentially spectacular object to enter our cameras around Dec 12, meeting its fiery demise late on Dec 15.
We will have more information on this site over the coming week. In the meantime, updates will occasionally be posted at the
Sungrazer site.
Stay tuned!
Sun Chi
China Daily/Asia News Network
Sat, 03 Dec 2011 23:59 CST
China's Xinhua News Agency reported a golden UFO appeared in the northwestern sky and was seen by some citizens in Beijing, Tianjin and Hebei on the evening of Nov 30. Astronomers said it was a super fireball that is rarely seen.
Ma Qiang is an amateur astronomer living in Tianjin who witnessed the flying fireball.
He said the fireball glittered and flew from northwest to the west around 5:25 pm and disappeared after two seconds.
Its golden lights were brighter than the moon.
Some citizens in Beijing also saw the fireball and reported the incident.
Director of Beijing Planetarium Zhu Jin said the glittering object is a super bright fireball that is rarely seen, according to descriptions given by the witnesses.
Astronomers say a fireball is a kind of meteor that has seldom been observed.
Flying in the aerosphere, the fireball sometimes sounds like a pen scratching on paper. It is brighter than Venus at night.
Rob Waugh
The Mail Online
Tue, 06 Dec 2011 10:05 CST
New views sent back by the probe, Dawn, this week, reveal an object more like a planet than an asteroid - and scientists say they now consider it a 'transitional body' between the two.
The Dawn spacecraft has been beaming back images since July - the latest show a rugged surface is unique compared to the solar system's much smaller and lightweight asteroids.
Impact craters dot Vesta's surface along with grooves, troughs and a variety of minerals.
'Vesta is unlike any other asteroid,' said mission co-scientist Vishnu Reddy of the Max Planck Institute for Solar System Research in Germany. The new findings were presented at a meeting of the American Geophysical Union in San Francisco.
This image using color data obtained by the framing camera aboard NASA's Dawn spacecraft shows Vesta's southern hemisphere in color, centered on the Rheasilvia formation - the different colours reflect different minerals in the surface.
Most asteroids resemble potatoes, but Vesta is more like an avocado with its iron core, Reddy said.
Asteroids are remnants from the birth of the solar system some 4.5 billion years ago around the same time as the formation of the rocky planets including Earth. Studying asteroids can offer clues about how our planetary system began.
David Williams of Arizona State University considers Vesta a 'transitional body' between rocky planets and the thousands of asteroids floating between Mars and Jupiter.
The mission has yielded a mystery. Before Dawn arrived at Vesta, scientists predicted that the surface would harbor a volcano. There's a hill on Vesta, but researchers said there's no evidence of lava flow or volcanic deposits.
Williams said it's possible the volcanic materials are buried, so the team will keep looking.
Powered by ion propulsion instead of conventional rocket fuel, Dawn will study Vesta for several more months before cruising to an even bigger asteroid, Ceres, where it will arrive in 2015.
Space Weather
Thu, 15 Dec 2011 12:51 CST
On the night of Dec. 13/14, NASA's
All-Sky Meteor Network
recorded 35 fireballs streaking over the southern USA. Twenty-two of them had remarkably similar orbits: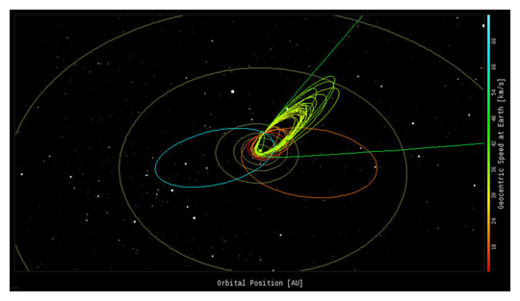 The clustered green orbits match the trajectory of near-Earth asteroid 3200 Phaethon, source of the annual Geminid meteor shower. The Geminids have been active this week as Earth passes through the asteroid's
mysterious
debris stream. The other, non-Geminid orbits correspond to random meteoroids. Not belonging to any organized debris stream, random meteoroids litter the inner solar system and produce a daily drizzle of "sporadic" fireballs.
NASA's fireball network, which connects multiple cameras in New Mexico, Alabama, Georgia and Tennessee, is a "smart" system. It rapidly and autonomously calculates meteoroid orbits from the fireballs it records. Another orbit diagram is just hours away; stay tuned.
More Images:
From
Fredrik Broms
of Kvaløya, Norway; from
Paul Martin
of Omagh, Co Tyrone N.Ireland; from
Salvador Aguirre
of Hermosillo, Sonora, Mexico; from
Mike Hankey
of Freeland, Maryland; from
Ugur Ikizler
of Kirazlı - Uludag - Bursa / Turkey
Karl Battams
Sungrazer Blog
Thu, 15 Dec 2011 12:58 CST
This is too cute: Comet Lovejoy has a friend! Look in the upper-half of the animation opposite, starting at center and moving diagonally up and to the left, perfectly in step with Lovejoy... It's another Kreutz-group comet! (if you can't see it, here's a
hint
)
As nice as this is, I am not in the least surprised. SOHO's Kreutz-group comets are very "clumpy", for want of a better word. We frequently see them arrive in pairs or sometimes trios, and the big bright ones in particular will often have a companion comet. I suspected we would get at least one with Comet Lovejoy and indeed we do. It's much more typical of the size and brightness of Kreutz comets we see, and offers a wonderful comparison to highlight just how special Comet Lovejoy is.
So what is this new comet called? Is it another "Comet Lovejoy"? Sadly not. It looks to me like it was actually spotted in the LASCO C3 images by seasoned comet hunter Zhijian Xu at
Dec 14 2011 11:48:48.
So will it be Comet Xu?? No again. It will be Comet SOHO, number 2190-something, I think. Oh, and notice how it's orbit is obviously slightly different from Lovejoy's? That's also something we see all the time; the companion comets are frequently in slightly different orbits. They are obviously closely related though and the smaller one must have fragmented from Lovejoy some significant time ago, and with some slight (non-gravitational) force between them to "push" them apart like this. These kinds of break-ups are theorized to happen decades before they reach the Sun in order for them to have this kind of separation in space, though this process is not well-known or well-understood at all. It one reason that studying these Kreutz comets is so important, as this knowledge can be applied to all comets and solar system bodies, and give a broader understanding of their orbital and physical evolution.
Comment:
SOTT wonders what is UP with all the recent alleged man-made space objects falling out of the sky? We've gone for years and years without this repeated showering of space-junk and now, all of a sudden, in just the past year, there have been at least three, and now four raining debris down on our heads? Is it possible that it is not really man-made and these explanations are being offered to cover up the fact that the planet is already being subjected to cometary fragment bombardment? Just asking.
Nancy Atkinson
Universe Today
Thu, 29 Dec 2011 15:15 CST
Colin Legg from Esperance, Australia has been documenting Comet Lovejoy's holiday gift to the southern hemisphere, and this is his latest - and possibly last - timelapse, as the comet has started to fade. This one covers almost 5 hours of Legg's Comet Lovejoy views as seen during the early morning hours of December 27, 2011. "I used a tracking device to track in azimuth only to maximize coverage," Legg said. "If you look closely at the head in the 2nd half you can see it moving against the stars."
KOLD News 13
Sat, 31 Dec 2011 23:35 CST
Tucson, Arizona - A streaking green light across the Arizona sky Saturday night created a stir among KOLD News 13 viewers and Facebook friends.

Around 8:15 p.m., viewers called to ask about the light, wondering if it were a meteor, an asteroid or fireworks.

"I would guess it's a meteor, but that's only a guess without actually seeing it," said Stephen Pompea, public information officer for Kitt Peak Observatory.

Pompea, who was traveling this weekend in Colorado, said a meteor shower will be visible in the Southern Arizona sky Wednesday morning,

"The Quadrantid meteor shower, one of the best displays of 'shooting stars' all year, will
peak in the hours before dawn," Pompea said. "If you get up early, bundle up warmly, and find dark site with a wide-open view of the clear sky, you might see 1 or 2 meteors per minute during the shower's brief but intense performance."

The light could be seen as far northwest as Prescott in Yavapai County and as far southeast as Douglas in Cochise County, according to News 13 Facebook friends.

"Thought I was seeing things at first, it was amazing!" Suzanne Pickering wrote.

Denise Goldman wrote: "My family and I were enjoying camp fire in Sahuarita. Meteor went from east to west. Very big ... and a beautiful green."


lunarmeteoritehunters.blogspot.com
Tue, 27 Dec 2011 12:26 CST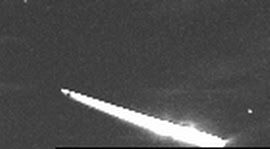 This is a photo of the fireball that Maurizio Eltri captured from Lido, Venice, Italy on 27 December 2011 at 02:24.
The fireball was very low in the east.
http://lunarmeteoritehunters.blogspot.com
Wed, 28 Dec 2011 12:45 CST
lunarmeteoritehunters.blogspot.com
Thu, 29 Dec 2011 12:37 CST