Fireball confirmed Friday night with more trails of fire in the sky this week! A new month will bring a new weather pattern!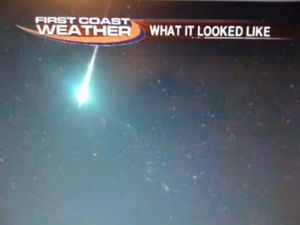 Here is what it looked like Friday night in our sky at about 10:15
p.m. The nice festive weather was not the only talk of the town this
weekend, that is for sure! The bluish-white streak of light with a green
tail and red fragments was a fireball or bolide which raced east in
about 8 seconds. Here is a file picture of what a bolide actually looks
like. It lit the sky up and was much brighter than last month's super
moon. It was a simply stunning sight. We had several e-mails in from
Camden County Georgia last night of folks saying they have never seen a
meteor that bright and it was so intense that a sonic boom was heard
about 2 minutes after it passed near the horizon. It did look like it
may have made it to the ground but there is no confirmation on this as
of yet. It was seen as far west as Alabama and as far north as South
Carolina!
This is a rare type of meteoroid or shooting star that happens when a
much larger space rock that meets our atmosphere. Usually meteoroids are
the size of grains of sand this one was likely larger and maybe the
size of one or two of my weather clickers which I showed on Good Morning
Jacksonville to give you some more perspective. The trailing reddish
tail that seemed to be burning up was caused by this space rock igniting
due to extreme friction when it met the earth's atmosphere traveling at
close to 100,000 mph! The blue and green colors tell us its chemical
composition was made of copper. The reddish color was a sign that it was
also made of silicate.
This type of event is rare and only occurs about once every year. This
week we will keep our eyes to the sky for more shooting stars. We have
the Eta Aquarids meteor shower that peaks on Thursday night and Friday
morning. Expect about 10 shooting stars per hour and they are known to
also leave fiery trails since these meteors making up this shower are
known to move at a whopping 150,000 mph. Make sure to look to the east
southeast about an hour or two before dawn on Friday morning. This
shower is caused by the earth going through the dust trail of Halley's
comet which will not be visible to earth until mid-2061 and was last
seen our sky in 1986. Enjoy the show.
Nature is also lighting up the skies this week with more storms
which are breaking out across some of the tornado ravaged areas of the
deep south. While severe weather is likely it will not be nearly as
widespread as last week. Here at home this weather system will warm us
up to well above average temperatures over the next couple days. By time
it arrives late Tuesday night and Wednesday it looks like it will not
have much wind shear or moisture to work with limiting instability. This
means do not expect another squall line of storms, just isolated shower
or thunderstorm activity.
If there is good news the long-range models for the rest of May keep our
average high temperatures at least closer to normal after our warmest
April in 9 years. More importantly rainfall should start picking up as
well and end closer to normal. This pattern change is being caused by
many factors including pressure changes across the globe. This includes a
much weaker Bermuda high pressure in the southeast and a stronger high
pressure near Greenland. This set up brought us beneficial rains to
start the new year. This is welcome news but for this week no help for
our plants but we will have a nice reinforcing shot of Spring weather by
late week!
Fireball Meteor or space debris over Doha, Qatar 10.30pm. 30 APR 2011
Low horizontal trajectory with flaming tail. First thoughts it was
flame from aircraft engine but no noise then i could see it breaking or
burning up over the sea. Did not think meteors would travel in what
seemed horizontal path in an easterly direction.
- Nicholas Couts
Bahrain at approximately 9pm
My friend and I saw it in Bahrain at approximately 9pm. It was very
bright and moving extremely quickly. At first we thought it might be a
firework, but realised it was much too bright and fast moving. We west
facing west and it was moving in a north to south direction. The
following day, I saw a programme on the History Channel about meteors
and meteorites and have no doubt what we saw was a very bright meteor.
Regards, John
Janabiyah, Bahrain 9pm, 30th April 2011
My neighbors and I saw it approximately 9pm, 30th April 2011 in Bahrain.
I just thought it was a huge shooting star at first, but then my
neighbors said it had to be a meteor. It was traveling horizontally in
an easterly direction and quite slow, so there was enough time to see it
properly. It looked like a bright white fireball which had a tail and
it eventually disintegrated and disappeared. We had never seen anything
like this before., what an amazing experience! :)
Regards, Anna
Bylo said...
i saw that fire ball .. but time was not 10:30 .. it's about 9:00pm .. and it was so clear and long ..same like
this one
Mette said...
I saw that fire ball - white ball with a long tale and not 10:30 is was about 9:00 pm
Scott said...
Yep, we saw it too, same as described...definitely closer to 9:00
than 10:30. We were looking east out toward the Pearl and it moved from
south to north across the horizon.
Anonymous said...
yes this was around 9pm and it's long clear fire ball in the sky.. great indeed..
US: Green fireball reported over Lafayette, Indiana
An
Indiana couple driving along old Route 231 near McCutcheon High School
in Lafayette, watched a "very bright green-ish, glowing ball falling
towards the Earth," according to May 1, 2011, testimony from the Mutual
UFO Network (MUFON) witness reporting database.
"It scared both of us very bad, but was also exciting," the reporting
witness stated. "Instead on stopping and turning at our road to our
neighborhood, we decided to keep going down the road to see if we could
see it again because it went behind the treeline."
The couple did not see the object again.
Lafayette is the county seat of Tippecanoe County, population
67,140. No images or videos were included with the MUFON report, which
was filed on May 1, 2011. The event occurred on April 30, 2011. On the
same date, we also covered:
Green fireball reported over Jacksonville, Florida
.
The green fireball sighting has been seen in many parts of the U.S.
over the past few years - and may be Mother Nature. We also personally
watched one of these:
UFO Examiner files a UFO report
and
Green fireball sighted again over Pennsylvania
.
Lafayette was also the town named in a March 31, 2011, report:
Indiana UFO 'jumps' from one cloud to another
.
Indiana is a current UFO ALERT 5 rating, with a low number of UFO
sightings nationally. Indiana had 11 UFO reports in April 2011 - while
California had 46 sightings, the highest reporting state in the nation.
Indiana is listed as a "Watch State" this month.
You can read more details about other recently reported cases at the UFO Examiner
home page
. The most up-to-date UFO information can be heard at web radio show
UFO Traffic Report
every Wednesday, 9 - 10:30 p.m. EST, which includes a UFO Witness
Testimony Program segment, and an update of the UFO ALERT national
rating system. Past shows are available at the Archive page.
The following is the unedited and as yet uninvestigated report filed
with MUFON. Please keep in mind that most UFO reports can be explained
as something natural or manmade. If Indiana MUFON State Director
Stewart Hill
investigates and reports back on this case, I will release an update. Please report UFO activity to
MUFON.com
.
IN, April 30, 2011 - bright greenish fire ball falling from sky. MUFON Case # 28895.
Me my husband and my daughter wer driving home on old 231 heading toward
mccution high school in lafayette indiana and we were about to make a
left turn into our neighborhood when all of a sudden we both saw to or
right way up in the sky a a veryyyy bright greenish glowing ball falling
towards the eath.
As it was happening both me and my husband just kept saying OMG!OMG! It
scared both of us very bad but was also exciting.Instead on stoping and
turning at our road to our neighborhood we decided to keep going down
the road to see if we could see it again because it had went behind the
treeline.
We drove up the road to a clear spot and stoped on the side of the road
to see if it would show up again.It never showed up again though.WE
ended up going bach home and the whole rest of the night I kept getting
goosebumps.This happened at exactly 11:30pm.
A Jacksonville, FL, witness reports watching a "green fireball fall
down to Earth" at 10:05 p.m. on April 29, 2011, according to testimony
from the Mutual UFO Network (
MUFON
) witness reporting database.
"I was jogging toward the north when, in the corner of my eye, I saw a
green flash in the sky," the witness stated. "I stopped to watch as my
first instinct was that it might be a passenger jet with a serious
problem. For about 5 seconds I watched a green fireball fall down to the
Earth. This was toward the west. The event only lasted about 5 seconds
before it disappeared in a bright flash."
No images or videos were included with the MUFON report, which
was filed on April 29, 2011. Jacksonville is the largest city in
Florida, in Duval County, population 821,784.
Florida is a current UFO ALERT 3 rating, with a high number of UFO
sightings nationally. Florida had 23 UFO reports in March 2011 - while
California had 45 sightings, the highest reporting state in the nation.
You can read more details about other recently reported cases at the UFO Examiner
home page
. The most up-to-date UFO information can be heard at web radio show
UFO Traffic Report
every Wednesday, 9 - 10:30 p.m. EST, which includes a UFO Witness
Testimony Program segment, and an update of the UFO ALERT national
rating system. Past shows are available at the Archive page.
FL, April 29, 2011 - Green fire ball falling
toward the west followed by a pastel colored bubble ship appearing
toward the south. MUFON Case # 28861.
I was out jogging threw my neighborhood at about 10:05 on 4/29/2011 here
in JAX FL U.S.A. I was jogging toward the North when in the corner of
my eye I saw a green flash in the sky , I stopped to watch as my first
instinct was that it might be a passenger jet with a serious problem.
For about 5 seconds I watched a green fireball fall down to the Earth,
this was toward the west. The event only lasted about 5 seconds before
it disappeared in a bright flash.
After seeing the first event I then turned around now heading south in a
hurry to get my family outside in case there was more to see. I then
noticed a pastel colored object that resembled a symmetrical gathering
of light bubbles. I then watched this for about 15 seconds before it
disappeared.
A few things to note, we get a lot of air traffic here where I live and I
am very use to seeing aircraft of all types as I go walking at night
often. This includes shooting stars as well.
Also early on about 2 minutes or so before I viewed the fireball I
noticed a group of lights which resembled a plan heading south that
performed a sharp U-turn to the north/west. It seemed to sharp a turn
for your average passenger plane.
Meteorite lands on roof, northern Poland


US: Possible Meteor or Space Debris 'Event' Seen, Felt Across South


Astronomers at NASA's Marshall Space Flight Center have recorded the
brightest meteor seen by their network in almost three years of
operation. On May 20, 2011, at 9:47 p.m. CDT, a six-foot diameter
fragment of an unknown comet entered the atmosphere approximately 66
miles above the city of Macon, Ga., traveling northwest at a speed of
some 24 miles per second (86,000 mph). At this velocity, the
boulder-sized "dirty snowball" possessed an energy or striking power
somewhere between 500-1000 tons of TNT.
This was seen by many eyewitnesses in Georgia and Alabama; the American Meteor Society has some of the reports
here
.
It was tracked by two NASA all sky cameras, one located in Chickamauga,
Ga., and the other at the Tellus Science Museum in the town of
Cartersville, Ga. Analysis of the video data from these cameras enabled
the Meteoroid Environment Office to estimate the trajectory, speed, mass
and orbit of the meteor. More information on these cameras and a log of
recent meteor events can be found
here
.
Fortunately
the atmosphere provided us with excellent protection, as the video
illustrates. Because the video is slowed to one-third of the actual
real-time speed, it's easy to spot the large fragments coming off in the
wake after the flares.
The video shows four distinct flares caused by the meteor breaking apart
in its fiery final few seconds. You can see fragments coming off in the
meteor's wake after three of these flares. After a last burst of light,
the meteor ablated -- or "burned up" -- 38 miles above the town of
Villa Rica, Ga., located on the border between Carrol and Douglas
counties in Georgia.
One witness: 'It sounded like something above you, fell down.'
A
mystery 'boom' that 'may not have been explosion' caused panic in
northeast Philadelphia and Lower Bucks County at approximately 9:30 PM,
May 27, 2011, according to a local NBC report, with multiple fire
trucks, EMS, and power companies racing to the 'scene'. After reaching
the area, no one could locate the source of an explosion. Also reported,
house's shook which led to speculation it may have been an earthquake.
According to NBC 7 the USGS was unable to confirm the boom was an
earthquake. Other speculation, a sonic boom which was heard in only
northeast Philadelphia and Lower Bucks County.
NBC 10 Philadelphia video news report:

'Calls and emails flooded NBC 10 News after reports of several loud
bangs. This is in northeast Philadelphia and Lower Bucks County. Fire
and emergency units raced to the scene but it is still not clear what
has happened here.'

The local NBC reporter:

'This is a very strange situation out here you can see behind me there
are multiple crews from the fire department and the police department as
well as crews from PICO and PGW. This is the area of 9th and Fairdale
Rd. in Northeast Philadelphia. Here's what we know, at about 9:30
tonight the fire department started getting multiple calls of what some
people described as a possible explosion. Some people I've been talking
to at the scene said that it actually felt like a minor earthquake.
Whatever it was at this point investigators have not been able to
determine what that explosion was or if it even was an explosion but
people said it lasted only a few seconds.'

One witness: 'It sounded like something above you, fell down.'
Another witness: 'It sounded like something hit the building, like a
car. It was just a shake and that's when the cops and everything were
here. And someone said a house blew up and everyone came running out and
no one knows what it is.'
Hi Dr. West,
I've been following the latest news. And I thought you could use a bit of moral support.
It probably sounds crazy for a certified welding inspector and
ironworker to retire and pursue impact research full-time. Especially
since I'm pretty much a nobody. But like many others, I'm looking to
identify the planetary scarring and blast-affected materials of the
impact storms of the Early Holocene. A little military training in
battle damage assessment from aerial photography and a copy of Google
Earth goes a long way here.
And being a nobody makes me especially sensitive to
ad hominem
attacks. I am prepared to debate the science I propose with the big
kids. But as an autodidact, an outsider and a complete nobody, I have no
defense if the attacks are personally about me, and not the science. So
whenever I'm reading along and one side or another, in any given
debate, sinks to
ad hominem
, I have a policy of looking past it
at the science that's being ignored or smoke-screened. I tend to
mentally disqualify any debater who sinks to such small-minded tactics,
and ignore further comments from them in the future. And from what I see
of it, the science of yours I see smoke-screened by all the
ad hominem
crap in the popular press lately is, nevertheless, as good as it gets.
Like you and the others of Firestone
et al
, what I've been able
to find pretty much flies in the face of the kind of
Uniformitarian/Gradualist assumptive reasoning that's been the
foundation postulate of the Earth Sciences since Sir Charles Lyell
published
Principles of Geology
back in 1830. And regarding the
events of the Pleistocene-Holocene transition, I'm ready to make the
case that the foundation geologic principle in the Earth sciences,
expressed in the slogan, "The present is the key to the past", is almost
as
naïve
as flat-world theory.
The principles of Uniformitarianism, and Gradualism, only work
as long as nothing sudden, and chaotic happens. Harlan Bretz was able to
use aerial photography to identify, and map, catastrophic mass movement
of terrain materials. And in his work on the Channeled Scablands of
Eastern Washington, and the glacial Mega floods of the early Holocene,
Bretz showed us that if you want to understand the planetary scarring of
a geologically recent catastrophic event that's different from anything
anyone's ever studied before, and more violent than anything that's
ever been imagined before, that 19th century gradualist assumptive
reasoning just won't get you there.
And when you crank up the violence from a glacial flood, to a continental scale, mass extinction impact event,
Sir Charles's 19th century Principles of Geology becomes completely useless, and obsolete
.
The biggest flaw I see in Firestone
et al
isn't related to your
part in it anyway. It's in the objection raised by Mark Boslough that
it's impossible to construct a model with a four mile wide bolide that
has enough time in the atmosphere to break up completely, and scatter
fragments over such a large area without making a large crater
somewhere. Mark's right about that. But that doesn't invalidate the YD
(Younger-Dryas) impact hypothesis. It just means that Firestone
et al
weren't working from a valid astronomical model for the event.
But his concerns are more than answered in Clube, and Napier's work on the Taurid Complex. In
Paleolithic extinctions, and the Taurid Complex
,
Bill Napier points out that the breakup of comets is now a well
recognized path to their destruction. And if we look at images of the
fragments of Comet LINEAR, or Comet Scwassmann-Wachmann 3, both typical
daughters of the Taurid Complex, we can see he's probably right. The YD
impact events were the debris of the Taurid progenitor. And it was
already a very large cloud of cometary debris before it got anywhere
near the Earth.
When you plug a workable, and probable, astronomical model into the
YD impact hypothesis it becomes a full blown theory that can predict the
planetary scarring.
If you can describe a beast you can predict it's footprints
.
I asked David Morrison what he thought of the idea of a cluster impact
event, and he was understandably skeptical. He said he thought it was
"highly unlikely" But when you consider the typical fragile, often
fragmented, and sometimes volatile, nature of many of the Taurid family
objects we've been able to image, and study so far, you'll see that, in
fact, a cluster event of small fragments should thought of as the most
likely kind of catastrophic impact event. Not a single, large bolide.
And when you toss Sir Charles's unquestioned, 19th century
uniformitarian assumptive reasoning out the window, stop pretending that
catastrophic impact events don't happen, and go looking for the
geologically recent planetary scarring of large clusters of smaller
fragments. That planetary scarring is not hard to find.
I'm staring to feel like the outside observer in the story of the blind man and the elephant.
And I see a few great scientists bickering, and seemingly disagreeing, who are all correct.
In the geophysical world according to me, Firestone
et al
were
right. The YD was caused by an impact event. But they were mistaken, in
that they didn't realize that it wasn't a single large bolide when it
first hit the atmosphere. They also didn't realize that the Great lakes
region was only one of two major impact zones. The other was central
Mexico, and much of the American southwest.
In the final analysis I think it will be determined that they were too conservative in their estimate of only 109 megatons of destruction.
I think we can also show that Clube & Napier were right that the
parent comet was the Taurid progenitor. They put the estimate at
something like 1.1 billion tons that impacted in those multiple fragment
impact storms as a "reasonably probable" event. They are correct that
the most probable scenario for a catastrophic impact event is a large
cluster of smaller fragments. And not a single large bolide.
Bill Napier told me that he had a problem with the figure of temps as high as 10
7
°C. He said that even if something hits at 30 km/s, and 100% of it's
kinetic energy was translated to heat in the atmosphere it's hard to get
more than 10
5
°C. But when you think it through from the
perspective of a large cluster of fragments like the fragments of comet
linear, then you get to a situation where only the first fragments to
fall actually fall into cold atmosphere. The rest are falling into the
already superheated impact plumes of the ones before them. And they just
crank up the heat. The temps given in Firestone
et al
don't seem such a stretch when you look at it like that.
Finally, Mark Boslough, and Horton Newsom are correct about the geo-ablative potential of large airbursts.
The blast effected materials of a geo-ablative airburst are similar in
form to a pyroclastic flow. But where the motive force during the
emplacement for a volcanogenic flow is gravity, the motive force during
the emplacement of a formation of airburst melt is the ablative winds of
the airburst. In both cases, and while in motion, the particles, and
fragments of rock, are in atmospheric suspension, in a fluidized flow,
or density current. But the different motive forces involved result in
different patterns of movement, and flow. And those patterns are as
visually distinct as the differences between dogs, and cats.
Forensically speaking, it doesn't matter if it's volcanogenic, or
exogenic. As a component of a pyroclastic density current, that stuff is
the blast effected material of an explosive event. And if you want to
understand an explosive event, you begin by studying the motions of the
blast effected materials.
When you find orphan deposits of ignimbrites in pristine condition, and
the source remains a mystery. And from a high altitude you see
wind-driven patterns of movement, and flow, like the debris laden froth,
and foam, on a storm tossed beach, you've found the footprints of a
geo-ablative monster.
Geologically the Chihuahuan ignimbrites are almost completely unstudied.
And less than 100 miles along the highway between Chihuahua City, and
El Paso has even been mapped. But in north central Mexico, and the
Sierra Madre Occidental mountains you will find more than 350,000 cubic
miles of pristine ignimbrites that look like they just cooled last year.
Less than 15% can be attributed to a volcano. And the 'Orphan'
materials all display wind-driven patterns of flow in their emplacement.
And the reason that generations of geologists haven't been able
to locate a volcanic system to blame all that stuff on is because it
didn't come out of the ground.
The direction of flow is as
legible as spilled paint in a driveway. The source locations are the
simply the bare areas behind the flows.
I doubt that I'll live long enough to see the Earth sciences toss Sir
Charles's obsolete uniformitarian conditioning. But the planetary
scarring of the YD impacts is only a few thousand years old. The
emplacement of the pristine blast effected materials can be read at a
resolution of better than 1 meter per pixel. And it's not hard to spot.
Except by those who can't believe in catastrophic events, and won't
look.
In spite of the hype of the popular press, I see the scientific legacy
of you, and your colleagues, as having a comfortable place in the
History books.
Simply because you were right.
Deepest regards,
Dennis Cox
A loud bang in Northeast Philadelphia on Friday night was caused by a 1.7 magnitude earthquake,
according to the U.S. Geological Survey.



Comment: Interesting. Considering U.S. Geological
Survey's claims, we have to ask how come Japan's 9.8 magnitude
earthquake wasn't followed by terrible and deafening explosions? And we
are not talking about the consequences of the devastating tsunami. Is it
really too hard to consider the possibility that the earthquake was
caused by the "loud bang" and not the other way around?





The USGS reports that the depth of the quake was 4.2 km (2.6 miles).
The site also says that it hit 2 miles from Cornwells Heights-Eddington,
PA, 4 miles from Beverly, NJ, 5 miles from Riverton, NJ and 10 miles
from Philadelphia.
People all over the Northeast and in nearby places like
Bensalem, Pa. were reporting having heard an explosion or boom in the
area of Knights and Fairdale Road around 9:35 p.m., according to the
Philadelphia Fire Department.
Some witnesses even claimed to feel their houses shake.
"The house vibrated several times," said witness Phil Steinman.
As of midnight there was no apparent damage or signs of an explosion.
Its not the first time a quake hit the area this month. A magnitude 1.9 quake was reported by the USGS near
Mount Holly, N.J. around 4:20 a.m. on May 10
.



Comment: Then, was it also followed by a loud explosion?





Chopper 10 caught dozens of emergency vehicles rushing towards and
in the area of the scene -- near the Franklin Mills Mall -- but there
were no visible signs of any explosion despite the reports.
As of 11 p.m. PGW had found no leaks, officials said. And PECO had no reports of power outages in the area.
There were no immediate reports of injuries.
A sun-watching spacecraft has recorded views of an ill-fated comet
plunging into the sun just after a huge solar eruption - the second
time in 10 days that a comet dive-bombed Earth's star during a solar
storm.
Over May 20 and 21, the sun unleashed a big
coronal mass ejection
(CME), an immense burst of plasma that sent solar particles streaking
into space at fantastic speeds. Shortly thereafter, a kamikaze comet
barreled into the sun. And one of NASA's twin STEREO spacecraft caught
it all on video, agency officials announced last week.
"Soon after [the eruption], as a bonus visual, a sun-grazing comet came
streaking in (from the right) heading for the sun," NASA officials said
in a May 27 statement. "Its tail could be seen elongating substantially
as it approached the sun and apparently disintegrated."
This dramatic series of events followed closely on the heels of a
similar spectacle less than two weeks earlier. Between May 10 and May
11, NASA's SOHO spacecraft spotted a different comet diving toward the
sun, never to be seen again. A massive CME erupted at about the same
time.
Scientists think the confluence of solar storms and suicidal
comets is purely coincidental. There is no evidence of any physical
connection between the two, NASA officials have said.
Both of the recent kamikaze comets are thought to belong to the
so-called Kreutz family of comets. Kreutz comets have orbits that
approach within a few hundred thousand miles of the sun.
All Kreutz comets are thought to be the remains of one giant comet that
broke apart several centuries ago. They are named after 19th century
astronomer Heinrich Kreutz, who first demonstrated that such comets were
related.
Coronal mass ejections shoot charged particles from the sun over several
hours. Such solar eruptions can spew up to 10 billion tons of plasma
and expand away from the sun at speeds topping 1 million mph, NASA
officials have said.
When these solar particles hit Earth's magnetic field, they can cause
massive "geomagnetic storms," which have the potential to wreak
long-lasting havoc on power and communications infrastructure around the
globe.
But the effects of CMEs are not all bad. The particles can also produce the
spectacular light shows
that we know as auroras (in the Northern Hemisphere, these displays are called the aurora borealis, or northern lights).
The sun is in the midst of an active phase of its 11-year solar weather cycle. The current cycle is known as Solar Cycle 24.
Comment:
The mental gymnastics NASA scientists must undergo to really believe their own nonsense is breathtaking!
Are they just willfully ignorant? Or are they intentionally covering up
the glaringly obvious truth that comets interact electrically with our
Sun, causing it to discharge enormous amounts of energy in the form of
solar flares, CMEs, etc.?
In his book
Planet X
, McCanney claims that NASA personnel are
"prohibited from disclosing to the public anything that would cause a
national panic" (p.83) Like the 'in the interest of national security'
excuse cited in the War on Terror™, this excuse about 'not wanting to
cause a national panic' is wearing a little thin. So thin, in fact, that
it has become transparent and, thanks to researchers and real
scientists like James McCanney, we can see straight through it.
Planet-X, Comets and Earth Changes by J.M. McCanney