Truck-Size Asteroid Zips Close by Earth
An asteroid the size of a small motorhome zoomed near Earth last night (June 1), coming closer to us than the moon ever does.
The 23-foot-long (7-meter) space rock, named
2009 BD
,
came within 215,000 miles (346,000 kilometers) of Earth at around 8:51
p.m. EDT (0051 GMT on June 2). The moon's average distance from us is
about 239,000 miles (385,000 km).
2009 BD never
threatened to hit Earth
on this pass, researchers said. But even if the asteroid had slammed into us, it wouldn't have been a big deal.
"2009 BD is a small object, 7 meters, & poses no threat,"
scientists with NASA's Asteroid Watch program tweeted yesterday. "Rocky
objects this size would break apart in our atmosphere & cause no
damage." [
Photos of Asteroids in Deep Space
]
The asteroid's small size also made it a tough target for skywatchers. A
large telescope was necessary to see it last night, researchers said.
Sticking around for a while
After the close pass, 2009 BD didn't recede into the depths of space
like most asteroids do after such encounters. Rather, it continues to
stick close to Earth, stalking our planet on its trip around the sun. In
fact, the space rock will remain within 10 lunar distances of us for
the next month or so, researchers said.
That's because 2009 BD is no ordinary asteroid. It's what astronomers
call a "co-orbital object," meaning its path around the sun roughly
parallels that of Earth. Just where such objects come from is an
intriguing question, with some researchers speculating that they may be
pieces ejected from the moon.
So 2009 BD will hang around for a while, periodically sidling up
relatively close to Earth. The probability that it will ever actually
hit us is extremely remote; the latest NASA calculations peg it at
around 1 in 50,000.
While 2009 BD's orbit is somewhat unusual, its recent proximity to Earth
isn't. NASA scientists have estimated that tiny asteroids probably pass
between the Earth and moon on an almost daily basis. Most are just too
small to be detected.
Space rocks as big as washing machines typically fall into Earth's
atmosphere every month or so, but most of them burn up before reaching
the ground, researchers say.
Learning about potentially hazardous asteroids
Of course, nobody on Earth wants to be caught unawares by an impending impact with a
big, dangerous space rock
. So NASA and other astronomers routinely scan the skies for asteroids or comets that may be an impact threat to Earth.
NASA is also taking more active measures to learn about potentially troublesome space rocks.
The agency recently announced, for example, that it's launching a sample-return mission called
OSIRIS-Rex
to the asteroid 1999 RQ36 in 2016. A probe will send pieces of the space rock home; they should reach Earth in 2023.
Scientists think these samples will contain pristine organic compounds,
carbon-based molecules that are the building blocks of life as we know
it. Studying these asteroid bits could shed light on the possibility
that life on Earth was seeded by an asteroid strike, as some researchers
believe.
However, 1999 RQ36 is also potentially dangerous, with about a
1-in-1,000 chance of striking Earth in 2182. That impact would likely
not be trivial, since the asteroid is 1,900 feet wide (579 meters) -
as big as six football fields.
Studying 1999 RQ36 and its movements up-close could help scientists
refine their understanding of its orbit. This information could help
them get a better handle on the space rock's trajectory, and possibly
understand how to mitigate or prevent a potential Earth impact,
researchers said.
An asteroid the size of a truck zoomed near Earth this week (June
1), coming closer to us than the moon ever does. The 23-foot-long
(7-meter) space rock, named 2009 BD, came within 215,000 miles (346,000
kilometers) of Earth at around 8:51 p.m. EDT (0051 GMT on June 2). The
moon's average distance from us is about 239,000 miles (385,000 km).
Stephen Hawking believes that one of the major factors in the possible
scarcity of intelligent life in our galaxy is the high probability of an
asteroid or comet colliding with inhabited planets.
We have observed, Hawking points out in Life in the Universe, the
collision of a comet, Schumacher-Levi, with Jupiter, which produced a
series of enormous fireballs, plumes many thousands of kilometers high,
hot "bubbles" of gas in the atmosphere, and large dark "scars" on the
atmosphere which had lifetimes on the order of weeks.
It is thought the collision of a rather smaller body with the Earth,
about 70 million years ago, was responsible for the extinction of the
dinosaurs. A few small early mammals survived, but anything as large as a
human, would have almost certainly been wiped out.
Through Earth's history such collisions occur, on the average every one
million year. If this figure is correct, it would mean that intelligent
life on Earth has developed only because of the lucky chance that there
have been no major collisions in the last 70 million years. Other
planets in the galaxy, Hawking believes, on which life has developed,
may not have had a long enough collision free period to evolve
intelligent beings.
"The threat of the Earth being hit by an asteroid is
increasingly being accepted as the single greatest natural disaster
hazard faced by humanity," according to Nick Bailey of the University of
Southampton's School of Engineering Sciences team, who has developed a
threat identifying program.
The team used raw data from multiple impact simulations to rank each
country based on the number of times and how severely they would be
affected by each impact. The software, called NEOimpactor (from NASA's
"NEO" or Near Earth Object program), has been specifically developed for
measuring the impact of 'small' asteroids under one kilometer in
diameter.
Early results indicate that in terms of population lost, China,
Indonesia, India, Japan and the United States face the greatest overall
threat; while the United States, China, Sweden, Canada and Japan face
the most severe economic effects due to the infrastructure destroyed.
The top ten countries most at risk are China, Indonesia, India, Japan,
the United States, the Philippines, Italy, the United Kingdom, Brazil
and Nigeria.
"The consequences for human populations and infrastructure as a result
of an impact are enormous," says Bailey. "Nearly one hundred years ago a
remote region near the Tunguska River witnessed the largest asteroid
impact event in living memory when a relatively small object
(approximately 50 meters in diameter) exploded in mid-air. While it only
flattened unpopulated forest, had it exploded over London it could have
devastated everything within the M25. Our results highlight those
countries that face the greatest risk from this most global of natural
hazards and thus indicate which nations need to be involved in
mitigating the threat."
What would happen to the human species and life on Earth in general if
an asteroid the size of the one that created the famous K/T Event of 65
million years ago at the end of the Mesozoic Era that resulted in the
extinction of the dinosaurs impacted our planet.
As Stephen Hawking says, the general consensus is that any comet or
asteroid greater than 20 kilometers in diameter that strikes the Earth
will result in the complete annihilation of complex life - animals and
higher plants. (The asteroid Vesta, for example, one of the destinations
of the Dawn Mission, is the size of Arizona).
How many times in our galaxy alone has life finally evolved to the
equivalent of our planets and animals on some far distant planet, only
to be utterly destroyed by an impact? Galactic history suggests it might
be a common occurrence.
The first thing to understand about the KT event is that it was
absolutely enormous: an asteroid (or comet) six to 10 miles in diameter
streaked through the Earth's atmosphere at 25,000 miles an hour and
struck the Yucatan region of Mexico with the force of 100 megatons -the
equivalent of one Hiroshima bomb for every person alive on Earth today.
Not a pretty scenario!
Recent calculations show that our planet would go into another "Snowball
Earth" event like the one that occurred 600 million years ago, when it
is believed the oceans froze over (although some scientists dispute this
hypothesis -see link below).
While microbial bacteria might readily survive such calamitous impacts,
our new understanding from the record of the Earth's mass extinctions
clearly shows that plants and animals are very susceptible to extinction
in the wake of an impact.
Impact rates depend on how many comets and asteroids exist in a
particular planetary system. In general there is one major impact every
million years -a mere blink of the eye in geological time. It also
depends on how often those objects are perturbed from safe orbits that
parallel the Earth's orbit to new, Earth-crossing orbits that might,
sooner or later, result in a catastrophic K/T or Permian-type mass
extinction.
The asteroid that hit Vredefort located in the Free State Province of
South Africa is one of the largest to ever impact Earth, estimated at
over 10 km (6 miles) wide, although it is believed by many that the
original size of the impact structure could have been 250 km in
diameter, or possibly larger(though the Wilkes Land crater in
Antarctica, if confirmed to have been the result of an impact event, is
even larger at 500 kilometers across). The town of Vredefort is situated
in the crater (image).
Dating back 2,023 million years, it is the oldest astrobleme found on
earth so far, with a radius of 190km, it is also the most deeply eroded.
Vredefort Dome bears witness to the world's greatest known single
energy release event, which caused devastating global change, including,
according to many scientists, major evolutionary changes.
What has kept the Earth "safe" at least the past 65 million years, other
than blind luck is the massive gravitational field of Jupiter, our
cosmic guardian, with its stable circular orbit far from the sun, which
assures a low number of impacts resulting in mass extinctions by
sweeping up and scatters away most of the dangerous Earth-orbit-crossing
comets and asteroids
Note:
This post was adapted from a news release issued by University of Southampton and
Rational Vedanta.
Brightest meteor yet recorded by NASA's fireball-observing network.
A
brilliant meteor blazed through the sky above Georgia recently, and two
NASA fireball-monitoring cameras caught the dramatic display on video.
The meteor was caused by a human-size chunk of an unknown comet. It was the brightest meteor yet recorded
by
NASA's fireball-observing network
- based at Marshall Space Flight Center in Huntsville, Ala. - in its nearly three years of operation, officials said.
The 6-foot-wide (1.8-meter) space rock barrelled into Earth's atmosphere
at 10:47 p.m. EDT on May 20 (0247 GMT on May 21), about 66 miles (106
kilometers) above the city of Macon, Ga. [
Video of the bright Macon meteor
]
Cameras ready and waiting
Two NASA all-sky cameras, both located in northwest Georgia, tracked the
resulting meteor and captured it on video. Analysis of the videos
allowed scientists to calculate the basics of the object's speed,
trajectory, mass and orbit.
When it entered the atmosphere, the comet chunk was traveling northwest
at about 86,000 mph (138,404 kph), researchers said. At this velocity,
the boulder-size "dirty snowball" possessed an energy or striking power
somewhere between 500 and 1,000 tons of TNT.
But that striking power was never realized on the ground. The Macon
meteoroid was too small, and made of the wrong kind of stuff, to survive
the trip through Earth's atmosphere, researchers said. Indeed, the
video shows four distinct flares emanating from the comet chunk as it
broke apart multiple times.
After a last burst of light, the meteor burned up completely 38 miles (61 km) above the town of Villa Rica, Ga., officials said.
The Macon meteor qualifies as a fireball, which is officially defined as a meteor that shines brighter than Venus in the sky.
Fireballs like the May 20 event are impressive but not terribly unusual.
Objects as big as washing machines typically fall into Earth's
atmosphere on a monthly basis, but most of them burn up before reaching
the ground. Many of the resulting fireballs are not seen because they
occur over remote areas or over oceans (which cover more than two-thirds
of Earth's surface).



Comment: Oh, yeah, nothing to worry about, NASA
tells us. We are always bombarded by man size meteors, they say, and
it's just a coincidence that there are much more frequent and visible
sightings above populated areas! But if our memory serves us well,
until not so long ago we were told that such events happen only once in a
while. Changing history and counting on public's short memory, anyone?





A robotic fireball-monitoring network
NASA's meteor-watching network, run by the Meteoroid Environment Office
at Marshall, currently consists of four robotic cameras: the two in
Georgia, one in Huntsville, and one in southern Tennessee. These "smart"
cameras are linked into a computer system that automatically analyzes
their video, then calculates relevant information about incoming space
rocks' trajectories and orbits.
Researchers hope to place a total of 15 such cameras in various
locations throughout the eastern United States, which has few such
systems, NASA officials said.
The overall goal of the camera system is to learn much more about the
pieces of space rock that strike Earth and our atmosphere - how big
they are, what they're made of and where they come from, researchers
have said.
Star Points: Astronomical observation accompanied by sound
Astronomical
observations are based on the detection of visible light as well as
other energy forms all across the electromagnetic spectrum, from radio
waves to gamma radiation. Although certain kinds of radiation, such as
radio waves, may be converted electronically into sound waves, thus
producing hissing and humming sounds detectable to the human ear, people
do not tend to think of astronomers listening directly to the actual
sounds emanating from heavenly bodies.
I thought so, too.
That is, until a couple of nights ago, when something strange was heard coming out of the night sky.
A close friend owns a vacation home near the summit of one of the
tallest mountains in West Virginia. And of those tallest mountains, his
house peers down from one of the few where privately owned habitable
dwellings exist. The elevation of the house is 4,440 feet above sea
level.
On Sunday night, we were observing planets, nebulae, star clusters and
galaxies with his largest telescope. The views through it were
tremendous thanks to the dark skies free from the garish glare from any
tawdry and gaudy man-made outdoor lighting fixtures, the thinner drier
air found at that altitude and by the light gathering power of the large
24-inch diameter telescope mirror.
I was up on a ladder soaking in the view when the image field
suddenly faded to green. Looking away from the eyepiece I noticed the
surroundings had suddenly become brightly illuminated as if during the
daytime, yet bathed in an eerie bright green light. Not as bright as
sunlight, the illumination was nevertheless many times brighter than the
full moon.
Right away I knew it was a meteor, and I looked up.
It was brilliant.
Like a burning green emerald trailing a short tail of what appeared to
be sizzling orange sparks as the meteoroid was being ablated by friction
caused by the heat of entry into the Earth's atmosphere. It was
traveling from east to west and was nearly straight overhead and the
stars were all washed out due to its brilliance.
When it was over, I looked at my watch. It was 11:03 p.m. The whole thing lasted less than 10 seconds.
My friend and I both agreed we have never seen a fireball meteor as
bright as this one. Although we have each seen several in the past, no
previous sighting was nearly as bright as the one observed that night.
The spectacle would make it a night to long remember.
After a minute or two, our excitement had abated. We returned to our
regularly scheduled observations of spring galaxies and summer Milky Way
objects.
Suddenly, we heard a noise from the direction where the meteor was last observed.
It sounded like a distant rumbling boom and came two-to-three minutes after the fireball's disappearance.
It was a first for us. Not only was this the brightest fireball we'd
ever seen, it was also the first one that generated a sound.
Upon returning to civilization,
I checked some meteor tracking
websites and discovered numerous posted reports from observers in
several other states including Maryland, Pennsylvania, North Carolina
and Ohio. Several of the West Virginia based observers also reported
hearing noise associated with the meteor.
They left various
descriptions of the sound, including "a static sound," "a low boom," "a
large explosion like boom," "a crashing sound," "loud boom, explosion"
and "sound like loud rolling thunder."
It was the first time I actually heard an astronomical observation with
my own ears. If you have experienced sound associated with an observed
meteorite, please share it by sending me an email description.
Curtis Roelle is a member of the Astronomical Society. His column appears the first Sunday of each month. His website is
www.starpoints.org
, and he can be reached at StarPoints (at) gmail (dot) com.
A Meteor Shower In Broad Daylight - Arietid Meteor Shower Peaks This Week
Space Weather

Tue, 07 Jun 2011 12:41 CDT
The annual Arietid meteor shower peaks this week on June 7th and 8th.
The Arietids are unusual because they are daytime meteors; the shower
is most intense after sunrise. People who wake up early might notice a
small number of Arietids during the dark hours before dawn. The real
action, however, occurs in broad daylight.
Tune into
the meteor radar for echoes.
Cosmic Propaganda Alert! Comet Elenin: Just Passing By - With SOTT Commentary
It
starts out innocently enough: a small speck against a field of
background stars, barely noticeable in the image data. But... it's a
speck that wasn't there before. Subsequent images confirm its existence
- there's something out there. Something bright, something large, and
it's moving through our solar system very quickly. The faint blur
indicates that it's a comet, an icy visitor from the outermost reaches
of the solar system. And it's headed straight toward Earth.
Exhaustive calculations are run and re-run. Computer simulations are
executed. All possibilities are taken into consideration, and yet
there's no alternative to be found; our world will face a close
encounter with a comet in mere months' time. Phone calls are made, a
flurry of electronic messages fly between computer terminals across the
world, consultations are held with top experts in the field. We are
unprepared... what can we do? What does this mean for civilization as we
know it? What will this speeding icy bullet from outer space do to our
planet?
The answer? Nothing.
Nothing at all. In fact, it probably won't even be very interesting to look at - if you can even find it when it passes by.
(Sorry for the let-down.)
Comment:
We hate to break it to NASA and friends,
but comets are more than little dirty snowballs. The fact is comets are
charged electrical bodies, attracting a variety of material in their
tail and possibly causing electrical chaos for those planets that get in
their way. It wouldn't be a stretch
to cite
that the recent Japanese Tsunami may have been a direct result of Comet
Elenin acting on the Earth at a distance. What will happen if we pass
through Elenin's tail is anybody's guess at this point, but here's one
possibility:
New Light on the Black Death: The Viral and Cosmic Connection
There's been a lot of buzz in the past several months regarding
Comet Elenin, a.k.a. C/2010 X1, which was discovered by Russian
astronomer Leonid Elenin on December 10, 2010. Elenin spotted the comet
using a telescope in New Mexico remotely from his location in Lyubertsy,
Russia. At that time it was about 647 million kilometers (401 million
miles) from Earth... in the time since it has closed the distance
considerably, and is now around 270 million km away. Elenin is a
long-period comet, which means it has a rather large orbit around the
Sun... it comes in from a vast distance, swings around the Sun and heads
back out to the depths of the solar system - a round trip lasting
over 10,000 years. During its current trip it will pass by Earth on
October 16, coming as close as 35 million km (22 million miles).
Yes, 22 million miles.
That's pretty far.
Way too far for us to be affected by anything a comet has to offer. Especially a not-particularly-large comet like Elenin.



Comment: The size of the comet nucleus may not
matter much. What's important is how much (and what kind of) matter it
has accreted on its way through the Solar System.





Some of the doomy-gloomy internet sites have been mentioning the
size of Elenin as being 80,000 km across. This is a scary, exaggerated
number that may be referring to the size of Elenin's coma - a hazy
cloud of icy particles that surrounds a much, much smaller nucleus. The
coma can be extensive but is insubstantial; it's akin to icy cigarette
smoke. Less than that, in fact... a comet's coma and tail are even more
of a vacuum than can be reproduced in a lab on Earth! In reality most
comets have a nucleus smaller than 10km...that's less than a billionth
the mass of Earth (and a far cry from 80,000 km.) We have no reason to
think that Elenin is any larger than this - it's most likely smaller.



Comment: Maybe "icy cigarette smoke" laced with cyanide and anaerobic germs would be more accurate? (Seriously.)





Ok, but how about the gravitational and/or magnetic effect of a
comet passing by Earth? That's surely got to do something, right? To
Earth's crust, or the tides? For the answer to that, I will refer to Don
Yeomans, a researcher at NASA's Near-Earth Object Program Office at
JPL:
"Comet Elenin will not only be far away, it is also on the small side
for comets. And comets are not the most densely-packed objects out
there. They usually have the density of something akin to loosely packed
icy dirt," said Yeomans. "So you've got a modest-sized icy dirtball
that is getting no closer than 35 million kilometers. It will have an
immeasurably miniscule influence on our planet. By comparison, my
subcompact automobile exerts a greater influence on the ocean's tides
than comet Elenin ever will."

"It will have an immeasurably miniscule influence on our planet. By
comparison, my subcompact automobile exerts a greater influence on the
ocean's tides than comet Elenin ever will."




- Don Yeomans, NASA / JPL

And as far as the effect from Elenin's magnetic field goes... well,
there is no effect. Elenin, like all comets, doesn't have a magnetic
field. Not much else to say there.



Comment: Quite telling how they mention gravity and
magnetism, but not electricity. Comets are electrically charged bodies
and attract matter and volatiles (gasses) via electrostatic forces.
This little discussion of gravity and magnetism only serves to dilute
the real issue. Think of comets as leaky vacuum cleaners, charging
along through space. If Earth passes through Elenin's 'mess' that it
leaves in its wake, that's when things might get interesting.





But the claims surrounding Elenin have gone much further toward the
absurd. That it's going to encounter another object and change course to
one that will cause it to impact Earth, or that it's not a comet at all
but actually a planet - Nibiru, perhaps? - and is on a collision
course with our own. Or (and I particularly like this one) that alien
spaceships are trailing Elenin in such a way as to remain undetected
until it's too late and then they'll take over Earth, stealing our water
and natural resources and turning us all into slaves and/or space
munchies... or however the stories go.



Comment: This seems to be a reference to Richard
Hoagland (who boasts of his insider connections at NASA and JPL, by the
way) reintroducing the "Elenin is a giant spaceship" meme, something
that is worrying and downright dangerous. The last time they whipped up
hysteria about a comet being, or accompanied by, "mother ships", members
of a certain Heaven's Gate cult committed mass suicide. The fact that
there has been so much noise and disinformation spread about this comet
(including this article) is telling. It seems to indicate that there's a
good chance The Powers That Be know something about Elenin that they
don't want us to discover.





(Of course the government and NASA and Al Gore and Al Gore's hamster
are all in cahoots and are withholding this information from the rest
of us. That's a given.) These stories are all just that - stories -
and have not a shred of science to them, other than a heaping dose of
science fiction.

"We live in nervous times, and conspiracy theories and predictions of
disaster are more popular than ever. I like to use the word cosmophobia
for this growing fear of astronomical objects and phenomena, which
periodically runs amuck on the Internet. Ironically, in pre-scientific
times, comets were often thought to be harbingers of disaster, mostly
because they seemed to arrive unpredictably - unlike the movements of
the planets and stars, which could be tracked on a daily and yearly
basis."




- David Morrison, planetary astronomer and senior scientist at NASA's Ames Research Center

The bottom line is this: Comet C/2010 X1 Elenin is coming, and it will
pass by Earth at an extremely safe distance - 100 times the distance
from Earth to the Moon. It will not be changing direction between now
and then, it will not exert any gravitational effect on Earth, its
magnetic field is nonexistent and there are no Star Destroyers cruising
in its wake. The biggest effect it will have on Earth is what we are
able to learn about it as it passes - after all, it is a visitor from
the far reaches of our solar system and we won't be seeing it again for a
very, very long time.



Comment: Bottom line: Better "wait and see" on
this one. Comets are always a cosmic roll of the dice in terms of what
we'll get. We may learn far more than we bargained for this time
around!





I'm sure we'll have found something else to be worried about long before then.

"This intrepid little traveler will offer astronomers a chance to study a
relatively young comet that came here from well beyond our solar
system's planetary region. After a short while, it will be headed back
out again, and we will not see or hear from Elenin for thousands of
years. That's pretty cool."




- Don Yeomans

For more information about Elenin,
check out
this JPL news release featuring Don Yeomans, and there's a special public issue of
Astronomy Beat
, a newsletter from the
Astronomical Society of the Pacific
, that features David Morrison of NASA's Ames Research Center discussing many of the misconceptions about Elenin.
An updated chart of Elenin's orbit and statistics can be viewed
here
.
Comment:
By all means read what NASA has to say about it. Then consider this...
NASA warns solar flares from 'huge space storm' will cause devastation

UK Daily Telegraph


Tuesday, 15 June 2010




Britain could face widespread power blackouts and be left without
critical communication signals for long periods of time, after the earth
is hit by a once-in-a-generation "space storm", Nasa has warned...




Senior space agency scientists believe the Earth will be hit with
unprecedented levels of magnetic energy from solar flares after the Sun
wakes "from a deep slumber" sometime around 2013.




In a new warning, Nasa said the super storm would hit like "a bolt of
lightning" and could cause catastrophic consequences for the world's
health, emergency services and national security unless precautions are
taken. [...]

...and what McCanney wrote in
Planet X, Comets and Earth Changes
:

NASA is hiding data that would prove that there is another massive
object inbound into the solar system with potential for devastating
events for planet Earth. There is clear evidence that they fully intend
to set the world's population up to be blindsided by this object.
(McCanney, p.101)




The truth is that NASA, the NSA and other government agencies are
prohibited by law from disclosing anything to the public that would
cause a national panic. So too they will try to prevent dissemination of
my theories about comets because it might cause a public to redirect
its allegiance as a new and potentially dangerous comet comes into the
solar system. While the government officials are using tax dollars to
build safety caves for their "shadow government" in case of "major
disaster", they are leaving the public out to dry with no forewarning or
protection.

...before getting the real lowdown on Comet Elenin from these:
Comet Elenin is Coming!
Pole Shift in March? Not Likely!
Comet Elenin: Harbinger of What?
Comet Elenin Update!
Database of Near Earth Objects Grew Astronomically in 2010
This is a view of the solar system showing the locations of all the
asteroids starting in 1980, as asteroids are discovered they are added
to the map and highlighted white so you can pick out the new ones.
The final colour of an asteroids indicates how closely it comes to the inner solar system.

Earth Crossers are Red


Earth Approachers (Perihelion less than 1.3AU) are Yellow


All Others are Green

Notice now the pattern of discovery follows the Earth around its orbit,
most discoveries are made in the region directly opposite the Sun.
You'll also notice some clusters of discoveries on the line between
Earth and Jupiter, these are the result of surveys looking for Jovian
moons. Similar clusters of discoveries can be tied to the other outer
planets, but those are not visible in this video.
As the video moves into the mid 1990's we see much higher discovery
rates as automated sky scanning systems come online. Most of the surveys
are imaging the sky directly opposite the sun and you'll see a region
of high discovery rates aligned in this manner.
At the beginning of 2010 a new discovery pattern becomes
evident, with discovery zones in a line perpendicular to the Sun-Earth
vector
. These new observations are the result of the WISE
(Widefield Infrared Survey Explorer) which is a space mission that's
tasked with imaging the entire sky in infrared wavelengths.
The scale of the video at 1080P resolution is roughly 1million
kilometers per pixel, and each second of video corresponds to 60 days.
Currently we have observed over half a million minor planets, and the
discovery rates show no sign that we're running out of undiscovered
objects, scientific estimates suggest that there are about a billion
asteroids larger than 100metres (about the size of a football field) .
Bad Science on Cosmic Steroids: Is the Sky Falling?
Younger Dryas Impact theorist Allen West smeared by Dalton, former Nature writer
Click here to listen to the interview with Chris Herd.
A meteorite found in B.C. contains evidence that asteroids are
production sites for molecules such as amino acids that form the
building blocks of life, a new study says.
"What we're saying is that amino acids are actually the result of the
geology happening on the asteroid," said Chris Herd, the planetary
geologist at the University of Alberta who led the study published
Thursday in
Science
.
"It's like a little factory. It's taking even more primitive molecules that are coming in from space and doing them up a bit."
He added that the warmer temperatures in the asteroid and the
presence of water and possibly certain minerals provide a better
environment than interstellar space for certain chemical reactions.
Those reactions are needed to produce organic molecules, a class of
carbon-based chemicals that living things are largely made of.
Meteorites are pieces of asteroids that fall through the Earth's atmosphere and land on the surface.
They have been suggested as possible original sources for some of the molecules necessary for life on Earth.
Asteroids, found mainly in a belt between Mars
and Jupiter, are chunks of rocky material formed from dust and gas left
over from the sun's early history.
Their composition depends on what materials came together to form that
particular asteroid, Herd said. Only some contain organic molecules.
The meteorite studied by Herd and his team landed as a few dozen
fragments on the snow covering Tagish Lake, which spans northern British
Columbia and Yukon, in the winter of 2000.
It is a rare type of meteorite called a carbonaceous chondrite that is known to contain organic molecules such as amino acids.
"They constitute a few per cent of meteorites that are known," Herd said.
Uniquely pure meteorite
Factors that make the Tagish meteorite unique are that it was never
contaminated with organic molecules from Earth because it landed on
snow, it was never touched by human hands and it was kept frozen since
its collection, preserving the organic molecules inside it.
Herd led a Canadian consortium in 2006 that bought the meteorite
fragments from the man who collected them, providing an opportunity to
study them in more detail.
One of the first things he noticed is that some fragments looked different than others.
"Some of them were kind of dark, very black, almost sooty with dust
coming off. Others were more of a salt-and-pepper look," he said.
A detailed analysis showed that the meteorite contained a much
wider variety of organic chemicals than seen on other meteorites and
that different kinds and amounts of organic molecules corresponded to
different appearances of the rock.
An analysis showed the types of chemicals and the appearance of the rock
depended on how much water had percolated through as ice on the
asteroid melted during its early history, 4.5 billion years ago. Herd
said that suggested there was active organic chemistry happening on the
asteroid, producing and later destroying different types of compounds.
"These things preserve different stages of the alteration by
water," Herd said. "That is really remarkable. There's no other
meteorite like that."
The study answers a key question about whether organic molecules found
on some meteorites come from interstellar space, Herd said: "This is strong evidence you're forming them on the asteroid itself."
The front yard doubles as a play area for Carlos Martinez and his
7-year-old son. They play football and kickball together. Now they can
add meteorite exploration to their list of front yard activities.
On Memorial Day, Martinez and his son were playing kickball when the
ball rolled near some bushes. Martinez went over to retrieve it because
he had seen a bull snake in that area the day before.
This time he didn't see a snake, but he saw a rock that got his attention.
"It just caught my attention, just that it was sparkling,"
Martinez said. "I was like, 'Oh that's cool,' and I picked it up and put
in on my window sill."
The heart shape of the object also added to the intrigue. The more he looked at it, the more he began to wonder what it was.
"I went to the library, looked at books and different pictures and
talked to the librarians and they said maybe take it to the University
of Northern Colorado," Martinez said.
When Bob Brunswig, a professor at UNC, looked at the object it was obvious to him it was a meteorite.
"If it was an iron core meteorite, it is pretty easy to identify because
of the heaviness of it and it definitely had heavy burns on it. It had
obviously come through the atmosphere, so it had all the right
characteristics," Brunswig said.
Because the meteorite was found near the surface, Brunswig theorizes it fell during a meteor shower in the last year.
"When he [Martinez] described it, he said that it was in a very shallow
depression in the ground which suggests that if it wasn't buried or
partially buried that it had come down fairly recently," Brunswig said.
The meteorite was found approximately 50 feet from Martinez's home.
Given the speed the meteorite would be traveling at, he feels fortunate.
"I wouldn't want to get hit by one," Martinez said.
Asteroid Vesta has been coming into focus as NASA's
Dawn
probe comes in for close-up photos, but a mysterious dark spot has scientists scratching their heads.
A NASA spacecraft has captured new video of the huge asteroid Vesta
ahead of a planned rendezvous with the space rock in July, revealing an
odd, dark spot that has astronomers buzzing.
NASA's
Dawn
probe will arrive in orbit around Vesta, the
second-largest asteroid in the solar system, on July 16. The spacecraft
has been taking
photos of Vesta
with its framing camera since May to help prepare for the close encounter.
The new video is actually a series of 20 photographs taken during a 30-minute period on June 1, when
Dawn
was about 300,000 miles (483,000 kilometers) from the giant space rock.
The images, which capture about 10 percent of a full rotation, reveal
several intriguing features on the 330-mile-wide (530-km) Vesta. [
Watch the new asteroid Vesta video
]
For example, the video shows a dark blotch about 60 miles (97
km) wide near Vesta's equator, moving from left to right across the
field of view as Vesta rotates.
"Like strangers in a strange land, we're looking for familiar landmarks," said Jian-Yang Li, a
Dawn
scientist from the University of Maryland, in a statement. "The shadowy
spot is one of those - it appears to match a feature, known as
'Feature B,' from images of Vesta taken by NASA's Hubble Space
Telescope."
Vesta Video Session
The images also show Vesta's jagged, irregular shape, hinting at the
enormous crater known to exist at Vesta's south pole. The resolution of
the photos approaches that of the
best Hubble pictures of Vesta
, researchers said.
Before orbiting Vesta on July 16,
Dawn
will gently slow down to
about 75 mph (120 kph). NASA should release more images on a weekly
basis, with photos available more frequently once the spacecraft begins
collecting science at Vesta, agency officials said.
"Vesta is coming more and more into focus," said Andreas Nathues,
framing camera lead investigator, based at the Max Planck Institute for
Solar System Research in Germany. "
Dawn's
framing camera is working exactly as anticipated."
Next Stop: Asteroid Belt
Vesta is located in
the asteroid belt
, which lies between the orbits of Mars and Jupiter.
Dawn
will orbit and study Vesta for a year, then move on to investigate the
belt's largest body, the dwarf planet Ceres. The spacecraft will arrive
at this behemoth in 2015.
Scientists hope
Dawn
will help unlock secrets of our solar system's early history by studying these two icons of the asteroid belt.
Dawn's
mission will be to compare and contrast the two giant bodies, which were shaped by different forces.
The spacecraft's science instruments will measure surface composition, topography and texture.
Dawn
will also measure the tug of gravity from Vesta and Ceres to learn more about their internal structures.
By the end of its mission,
Dawn
will have traveled 3 billion miles (5 billion km) since its launch in September 2007.
Astronomers at the University of Hawaii at Manoa have discovered a
new comet that they expect will be visible to the naked eye in early
2013.
Originally found by the Pan-STARRS 1 telescope on Haleakala, Maui, on
the night of June 5-6, it was confirmed to be a comet by UH astronomer
Richard Wainscoat and graduate student Marco Micheli the following night
using the Canada-France-Hawaii Telescope on Mauna Kea.
A preliminary orbit computed by the Minor Planet Center in
Cambridge, Mass., shows that the comet will come within about 30 million
miles of the sun in early 2013, about the same distance as Mercury. The
comet will pose no danger to Earth.
Wainscoat said, "The comet has an orbit that is close to parabolic,
meaning that this may be the first time it will ever come close to the
sun, and that it may never return."
The comet is now about 700 million miles from the sun, placing it beyond
the orbit of Jupiter. It is currently too faint to be seen without a
telescope with a sensitive electronic detector.
The comet is expected to be brightest in February or March
2013, when it makes its closest approach to the sun. At that time, the
comet is expected to be visible low in the western sky after sunset, but
the bright twilight sky may make it difficult to view.
Over the next few months, astronomers will continue to study the comet,
which will allow better predictions of how bright it will eventually
get.
Revealing the Secrets of Falling to Earth
Late on Tuesday (GMT), a huge fireball will streak across the skies over the Pacific Ocean.
Not many will get to see it; it will be over an uninhabited part of the
world, and ships and planes have been warned to steer clear of the area.
The event is the return from orbit of
Europe's space freighter, ATV Johannes Kepler
.
It has completed its mission at the International Space Station (ISS) and it's now time to come home.
The freighter took up more than seven tonnes of fuel and other supplies
to the orbiting outpost, but for its return it has been packed with the
platform's rubbish.
Little of the ship or this waste is actually expected to make it all the
way to the surface of the Pacific Ocean. Most will simply vaporise in
the intense heat generated during the descent through the atmosphere.
This is the second time a
European freighter has made the fall to Earth. In 2008, the maiden
vessel, Jules Verne, did exactly the same thing.
On that occasion, its brilliant path across the sky was observed by US
and European space agency research planes. Their observations produced
some remarkable video and some of the most detailed analysis ever done
on what happens to a spacecraft when it breaks up on re-entry.
That analysis is still ongoing; scientists continue to debate precisely
which components broke away, and when. But they have a broad picture.
"The break-up created a big jigsaw puzzle of pieces," said aircraft
observing campaign principal investigator and meteor astronomer Peter
Jenniskens of the Seti Institute and Nasa Ames.
"We analysed the colours of those fragments to figure out their
composition. The two participating airplanes provided depth perception
to trace the fragment paths," he told BBC News.
Jules
Verne was a 13-tonne object when it came back. It engaged the top of
the atmosphere at an altitude of about 120km, travelling at about 7.6
km/s.
As it plunged deeper and deeper, it started to tumble. The solar panels
were the first obvious casualties - ripped from their mountings about
83-84km up.
As the ship progressed downwards, it got hotter and brighter, creating a
multi-coloured fireball - a shower of blues, yellows and oranges.
Spectrometers on the "chase planes" picked up in this light shower the
signatures of the various materials in the ship burning off.
"Some fragments show paint peeling off; others show aluminium melting.
We even see the main lithium batteries fall apart, creating four dots of
bright pink light," said Jenniskens.
If you watch the video on this page, you can pick out a couple of key
moments that have generated much debate inside the research team.
The first is a sudden brightening at about 6" into the video. This is a major fragmentation event at 75km altitude.
The ship lets go, severing into two big pieces. It breaks into three large chunks shortly afterwards.
Interestingly, the major fragmentation event does not appear to be the result of a fuel explosion.
"It looks as though it should be," said Jenniskens, "but if it were,
there would have been a lot of carbon and hydrogen visible to the
instruments."
Advertisement
Watch the video of Jules Verne's break-up
Watch also for "the nose" at about 1'09".
You'll see one bright item move ahead of the debris field. It's very
distinctive, and scientists detected the presence of lithium; a spent
battery, perhaps?
Jules Verne's debris train eventually disappears from view at about 31km
altitude. The team cannot say for sure how much material survived to
the surface, but it's thought very little splashed down.
"The results should provide engineers with better tools to understand
the re-entry physics of such complicated spacecraft," said project
manager Jason Hatton of Esa's Estec facility in Holland.
"That in turn will feed back into better spacecraft design, especially
of thermal protection systems, or heatshields, and an improvement in the
models that are used to assess debris footprints."
On occasions, spacecraft or old rocket stages will come back to Earth in
an uncontrolled manner over land, and safety concerns demand that we
have a good idea of where chunks of metal might hit the ground.
Kepler's
return will not be subjected to the same level of analysis.
The type of observation campaign mounted for Jules Verne takes much preparation and analysis. Instead,
Kepler
has a "blackbox" aboard.
This Re-Entry Breakup Recorder (REBR) will record temperature, acceleration, rotation rate, and other data as
Kepler
tumbles through the atmosphere.
In the latter moments of re-entry, it should break free from the main
debris cloud, right itself and then make an Iridium satellite phone call
to downlink everything it has learned.
The REBR is not intended to survive its impact with the ocean, although -
remarkably - the one fitted to the returning Japanese space freighter,
HTV-2, in March, did.
It bobbed about on the water for some hours. The unit has been developed
by the American Aerospace Corporation, but Europe is developing its own
version.
In future, many spacecraft and rockets will carry these devices,
especially as they incorporate more composites. There is very limited
data on how these materials behave when they fall to Earth.
Recommended: There is
an interesting behind-the-scenes video of the Jules Verne descent
which ties together what was happening inside the chase planes with what the observers were seeing through their windows.
UK: Meteorite Spotted in Eye, Norfolk
Responding to our meteorite story last week, Damian Harrold of Eye,
called to say he saw a mysterious object tearing through the sky.
Last week we reported the hole that had been made in James Barber's
truck in Harleston, who concluded it must have been a meteorite.
Mr Harrold said: "I think it could have been a meteorite.
"I put on Facebook at the time that I saw something going through the
sky. I couldn't believe it when I read in the paper about the meteorite -
I think it could have been the same thing.
"But nobody I spoke to at the time had seen anything at all. I wish I had taken my camera."
UK: Meteorite tears through roof of lorry, driver survives
A
removal man from Long Stratton believes that a meteorite tore a gaping
three to four inch hole in the roof of his 18-ton lorry.
James Barber, 34, had parked his lorry at the Harleston base of
international removal firm Hamiltons in Speedwell Way, and believes he
heard the incident which caused the rupture happen as he made his way
back to the vehicle last Saturday afternoon.
The hole, big enough to comfortably slip a mobile phone through, was
done to one of the sturdy, metal-thick corner joints on the green
non-articulated Mercedes Benz Axor lorry.
Mr Barber said: "After walking back out in the yard to the lorry, I heard an almighty bang.
"At first I thought a tyre on my vehicle must have exploded, but after
giving the outside a once over, it looked like nothing had happened.
"But after going into the loading bay, I noticed just what a great big whopping hole had been made in the roof."
A meteorite is a meteoroid, a small particle from an asteroid or comet,
that survives its passage through the Earth's atmosphere and impacts the
Earth's surface.
Around 10,000 hit the earth every year.



Comment: Nothing to see here folks! Move along
please! There's a war to be in won in Afghanistan, Pakistan, Yemen,
Libya, Iraq, Iran, Syria, everywhere really! Don't mind the space rocks,
everything is totally normal!





"It looked like a shotgun blast or something, the way it's been
punched clean through, but there's no way something like that could have
happened because of where the hole is and the fact there are no trees
or ledges anywhere in sight to get above the vehicles and make the shot.
"Although I found nothing in the truck itself and nothing went through
the floor, there were brown specks of what looked and felt like soil on
the jagged edges.
"It went through about four feet behind I would have been sitting, and I
suppose you do think of the what's, if's, but's and maybe's because I
was on my way back to the truck when it appears to have happened."
The hole has since been repaired and the truck is now back in service.
Missing the big picture: U.S., Russia fight over asteroid "that could destroy Earth"


Barely
two weeks after the failure of a doomsday prediction by a United States
(U.S.) based preacher, Russia and U.S. scientists are at war over
another perceived threat to human existence.




The danger this time is not an apocalyptic occurrence, but the smacking of the Earth by a giant asteroid in five months time.




The potentially perilous space rock is known as Asteroid 2005 YU55, a
round mini-world that is about 1,300 feet (400 metres) in diametre.




According to U.S. scientists, this asteroid will approach the Earth within a scant 0.85 lunar distances in early November.




Due to its size, and the way it will whisk by so close to the Earth, an
extensive campaign of radar, visual and infrared observations are being
planned.




U.S. scientists say there is no cause for alarm, but the
Russians have issued a report saying there's something to fear.




NASA rejects the Russian report, calling the chances of the asteroid hitting the Earth 'minuscule'.




Asteroid 2005 YU55 was discovered by Spacewatch at the University of
Arizona, Tucson's Lunar and Planetary Laboratory on December 28, 2005.




According to Spacewatch, the asteroid is "en route and headed our way,
the cosmic Wanderer is another reminder about life here on our sitting
duck of a planet'.




"The close Earth approach of 2005 YU55, on November 8, is unusual since
it is close and big. On average, one wouldn't expect an object this big
to pass this close but every 30 years," said Don Yeomans, manager of
NASA's Near-Earth Object Programme Office and the Jet Propulsion
Laboratory in Pasadena, California.




Yeomans said that with new radar capabilities at Goldstone in California
- part of NASA's Deep Space Network - there is a good chance of
obtaining radar imaging of 2005 YU55 down to the five-meter resolution
level. Doing so, he said, would mean obtaining higher spatial resolution
of the object than that attained by recent spacecraft flyby missions.




"So, we like to think of this opportunity as a close flyby mission with
Earth as the spacecraft," Yeomans told SPACE.com. "When combined with
ground-based optical and near-infrared observations, the radar data
should provide a fairly complete picture of one of the larger
potentially hazardous asteroids," he said.




Asteroid 2005 YU55 is a slow rotator. Because of its size and proximity
to Earth, the Minor Planet Centre in Cambridge, Massachusetts, has
designated the space rock as a "potentially hazardous asteroid".




"We're already preparing for the 2005 YU55 flyby," said Lance Benner, a
research scientist at JPL and a specialist on radar imaging of
near-Earth objects. He said part of the plan was to observe the asteroid
with radar, using both the huge Arecibo dish in Puerto Rico and
equipment at Goldstone.




"The asteroid will approach from the south, so Goldstone has the first
chance to observe it due to its declination coverage," Benner said.




To help coordinate the observing campaigns, "Radar Observations
Planning" websites have been set up for the unusual occasion, Benner
said.




"This flyby will be the closest by any near-Earth asteroid with an
absolute magnitude this bright since 1976 and until 2028," Benner added.
"Nobody saw 2010 XC15 during its close flyby, within 0.5 lunar
distances, in 1976."




He noted that the asteroid wasn't discovered until late in 2010.




"Thus, the flyby by 2005 YU55 will be the closest actually observed by
something this large, so it represents a unique opportunity," Benner
said. "In a real sense, this will provide imaging resolution comparable
to or even better than a spacecraft mission flyby."




Benner said that because the asteroid would be zooming by Earth so very close, radar echoes would be extremely strong.




Benner explained that initially, the object will be too close to the Sun
and too faint for optical observers. But late in the day on November 8,
the solar elongation will grow sufficiently to see it. Early on
November 9, the asteroid could reach about 11th magnitude for several
hours before it fades as its distance rapidly increases, Benner
explained.




Even if the Earth escapes the looming danger, Russian scientists say that there is a bigger threat called Apophis in the future.




In 2004, NASA scientists announced that there was a chance that Apophis,
an asteroid larger than two football fields, could smash into Earth in
2029. A few additional observations and some number-crunching later,
astronomers noted that the chance of the planet-killer hitting Earth in
2029 was nearly zilch.




But reports out of Russia say that scientists there estimate Apophis
will collide with Earth on April 13, 2036. These reports conflict on the
probability of such a doomsday event.




"Technically, they're correct, there is a chance in 2036 (that Apophis
will hit Earth)," said Donald Yeomans, head of NASA's Near-Earth Object
Programme Office. However, that chance is just 1-in-250,000, Yeomans
said.




The Russian scientists are basing their predictions of a collision on
the chance that the 900-foot-long (270 meters) Apophis will travel
through what's called a gravitational keyhole as it passes by Earth in
2029.




The gravitational keyhole they mention is a precise region in space,
only slightly larger than the asteroid itself, in which the effect of
Earth's gravity is such that it could tweak Apophis' path.




"The situation is that in 2029, April 13, (Apophis) flies very close to
the Earth, within five Earth radii, so that will be quite an event, but
we've already ruled out the possibility of it hitting at that time,"
Yeomans told Life's Little Mysteries. "On the other hand, if it goes
through what we call a keyhole during that close Earth approach ... then
it will indeed be perturbed just right so that it will come back and
smack Earth on April 13, 2036," Yeomans said.




The chances of the asteroid going through the keyhole, which is tiny compared to the asteroid, are "minuscule," Yeomans added.




This is the scientists' description of the more likely scenario: Apophis
will make a fairly close approach to Earth in late 2012 and early 2013,
and will be extensively observed with ground-based optical telescopes
and radar systems. If it seems to be heading on a destructive path, NASA
will devise the scheme and machinery necessary to change the asteroid's
orbit, decreasing the probability of a collision in 2036 to zero,
Yeomans said.




There are several ways to change an asteroid's orbit, the simplest of
which is to run a spacecraft into the hurtling rock. This technology was
used on July 4, 2005, when Deep Impact smashed into the comet Tempel 1.




Meanwhile, October 21, 2011, has been set as another end of the world
date by Harold Camping, the 89-year-old retired civil engineer who has
built a multi-million-dollar Christian media-empire that publicises his
apocalyptic prediction. His last doomsday prediction failed on May 21.




Camping has preached that some 200 million people would be saved, and
that those left behind would die in a series of scourges visiting Earth
until the globe is consumed by a fireball on October 21.

Comment:
We won't comment on NASA's blind and
hardheaded wishful thinking here. It should be clear by now to everyone
with two neurons firing that we can't rely on "scientific authorities"
to provide us with straight and truthful answers, not to mention
solutions. But we do want to comment on a tendency of scientific bodies
and newspapers who quote them to miss the big picture and show abysmal
ignorance when it comes to threats from space. It's one thing to
ridicule the issue by zeroing in on loonies who declare that the end is
nigh, but not doing proper research and seeing that the ongoing and
increasing threat
does exist, and in fact can have quite dire consequences for our civilization, is another.
A
newly discovered house-sized asteroid will miss the Earth by less than
17,700 km (11,000 miles) on Monday June 27, 2011. That's about 23 times
closer than the Moon. The size and location of the asteroid, named 2011
MD, should allow observers in certain locations to take a look at the
space rock, even with small telescopes. It's closest approach will be at
13:26 UTC on June 27.
According to
Skymania,
2011 MD
was found just yesterday
, June 22, by LINEAR, a pair of robotic telescopes in New Mexico that scan the skies for Near Earth Asteroids.
As of now, asteroid 2011 MD is estimated to be between 9 to 45 meters (10 to 50 yards) wide. Dr. Emily Baldwin, of
Astronomy Now
magazine, said there is no danger of the asteroid hitting Earth, and
even if it did enter the atmosphere, an asteroid this size would "mostly
burn up in a brilliant fireball, possibly scattering a few meteorites."
To find out updated information on 2011 MD's ephemeris,
physical parameters and more, including an orbit diagram and
close-approach data, see this page on
JPL's Solar System Dynamics website.
Quirky Comet Hartley 2 Confounds Theories on Early Solar System
Natalie Wolchover

Space.com

Sat, 25 Jun 2011 17:35 CDT


The small Comet Hartley 2 is an oddball, for sure.
Two craggy bulges connected by a smooth waist (somewhat like a peanut),
Comet Hartley 2 spews out more material than a comet just under a mile
wide is expected to, a new study finds. And while most comets rotate
slowly in one direction, Hartley spins rapidly as it tumbles.
Furthermore, Hartley 2 contains an inexplicable amount of carbon
dioxide, causing it to burp and even hock ice loogies into space.
The unusual comet is raising questions over some longtime assumptions by
scientists on how comets formed in the early solar system, said the
scientists involved in the new study. [Photos: Close-Up Views of Comet
Hartley 2]
The new Hartley 2 discoveries are based on the latest analysis of
observations collected during a November 2010 flyby of the comet by
NASA's Deep Impact spacecraft as part of its Extrasolar Planet
Observation and Deep Impact Extended Investigation (EPOXI) mission.
During the flyby, the Deep Impact probe approached within 431 miles (694
km) of the comet, snapping photos all the way.
One weird comet
Deep Impact EPOXI mission scientists spent months reviewing the images
and other data collected during the November flyby. [Video: Close Flyby
of Hartley 2]
"Among the comets visited by spacecraft, Hartley 2 is in a class by
itself," the mission's principal investigator, Michael A'Hearn of the
University of Maryland, told SPACE.com.
For starters, its nucleus contains an abundance of carbon dioxide (CO2 -
or, in solid form, dry ice). This is a volatile material - it burns
easily - and so scientists would expect much more of it to have burned
away in the 4.5 billion years since the comet formed along with the
rest of the solar system.
Hartley 2 swings by the sun every 6.46 years. It was discovered by astronomer Malcolm Hartley in 1986 .
"The dry ice is what's driving the comet's hyperactivity," said Lori
Feaga, a UMD planetary scientist on the EPOXI team. "It drives icy
particles such as silicates, dust grains and water-ice out of the
interior of the comet."
It does this by acting like a pent-up fire hose, Feaga explained.
"When the dry ice in the interior heats up, it changes to a gas, which
is much less dense. As it expands, it creates an explosive force that
pulls out other things with it as it tunnels through the nucleus to get
out," Feaga said.
The result is burps of gas and solid chunks. Strangely, though, Hartley 2
burps twice as much from one of its bulbous sides than from the other.
The research is detailed in the June 16 edition of the journal
Science
.
Theories upended
As icy remnants from the distant past, comets offer vital clues about
the nature of the solar system's formation. "Understanding how comets
work - what drives their activity - is crucial to the use of comets
in studying the early solar system," the scientists wrote in their
paper.
But Hartley 2 works in mysterious ways.
"We are still trying to sort out the implications for formation,"
A'Hearn wrote in an email. "The biggest remaining question, or at least
the one that interests me most, is why there is so much CO2 in this
comet and why it seems to differ between the two ends. [Is there] really
twice as much CO2 in the small end as in the large end? And if so, does
this mean that the two ends formed at different distances from the
sun?"
Feaga said: "Our assumptions of what drives a typical comet's activity,
as well as what the composition of the primordial disk was and how much
mixing occurred in the disk, have been turned upside down. We need to
re-evaluate our theories."
A primordial collision?
If the burping disparity means that one of the comet's ends contains
twice as much dry ice as the other, then the two bulges probably were
formed in separate places in the early solar system, and later collided
and stuck, the scientists said.
"In the solar system during its formation, there was a proto-planetary
disk that was like a large Frisbee of rotating material," Feaga said.
"The higher-density material like iron was closer to the sun, and the
lower-density materials like ices were further out. So depending on the
distance from the sun, we have this assumption for what existed there."
Objects composed of different materials - like the two halves of
Hartley 2's nucleus, perhaps - probably formed in separate places.
Alternatively, the difference in how much gas and water seems to come
from one end of the comet and from the other could relate to the
hyperactive way the comet spins. "The highly excited rotational state
might define some of the activity that we're seeing," Feaga said.
More study is needed to sort out which explanation is right, she added.
Natalie Wolchover is a staff writer for Life's Little Mysteries, a
sister site of SPACE.com. Follow her on Twitter @nattyover and follow
@Spacedotcom and on Facebook for the latest is space science and
exploration.
And Yet Another One: Newfound Comet Will Swing By Earth in 2013


A
newfound comet discovered by a telescope designed to hunt for dangerous
asteroids will make its closest pass by Earth in 2013 and should be
visible to the naked eye when it draws near, astronomers say.




Hawaii's Pan-STARRS 1 telescope detected the comet, which is called
C/2011 L4 (PANSTARRS), on the night of June 5 and 6, and the discovery
was confirmed by follow-up observations with a different instrument a
day later. The comet will likely come within about 30 million miles (50
million kilometers) of the sun in February or March 2013 - about the
same distance as the planet Mercury, researchers said.




During its closest approach to Earth in two years, comet C/2011 L4
(PANSTARRS) likely to be visible low in the western sky shortly after
sunset, weather permitting. Skywatchers interested in seeing the
newfound icy wanderer should look up then, because they may never get
another chance to see it.




"The comet has an orbit that is close to parabolic, meaning that this
may be the first time it will ever come close to the sun, and that it
may never return," said the University of Hawaii's Richard Wainscoat in a
statement. Wainscoat helped confirm the comet's existence.




Right now, C/2011 L4 (PANSTARRS) is about 700 million miles (1.2 billion
km) from the sun, placing it beyond the orbit of Jupiter. It is
currently so faint that only telescopes with sensitive electronic
detectors can pick it up.




The comet's clunky moniker is slightly unusual. Comets are usually named
after their discoverers, but in this case such a large team of
researchers helped spot the icy wanderer that it took the name of the
telescope instead.





Pan-STARRS
1 found the comet while scanning the sky for potentially hazardous
asteroids - ones that may someday hit Earth. The comet, however, poses
no danger to our planet, researchers said.




The telescope has a 1.8-meter-diameter mirror and the largest digital
camera in the world at 1.4 billion pixels. Pan-STARRS 1 takes an image
every 45 seconds, and each of these pictures is nearly 3 gigabytes in
size.




Comet C/2011 L4 (PANSTARRS) most likely originated in the Oort cloud, a
halo of icy objects in the far reaches of the solar system. The comet
was probably flung toward the sun by a distant passing star, researchers
said.




Over the next few months, astronomers will continue to study the comet,
which will allow better predictions of how bright it will eventually
get, researchers said.

On Monday, a small
asteroid
is expected to just skirt by earth. An asteroid only comes this close about once every 6 years.
NASA scientists said the meteorite can be briefly seen from earth with a modest-sized telescope.
It will approach its closest point to the earth at 9:30 a.m. ET and over
the Atlantic Ocean. NASA scientists don't expect it to hit the earth.
Even if does, it'll likely burn up in the earth's atmosphere because
it's only estimated to be at most 65 feet wide.
Also, because it's over the Atlantic Ocean, any fragments that do survive the atmosphere probably won't do much harm.
But just how close will this meteorite get?
NASA scientists estimate 7,500 miles, or 12,000 kilometers. This compares to:
distance from New York, US to Mumbai, India - 7,800 miles
earth's diameter - 7,900 miles (in other words, the meteorite will be one earth's width away from the earth)
earth's circumference around equator - 24,900 miles
earth's average distance to moon - 238,900 miles
Below are charts from NASA detailing the orbit of the asteroid in relation to the earth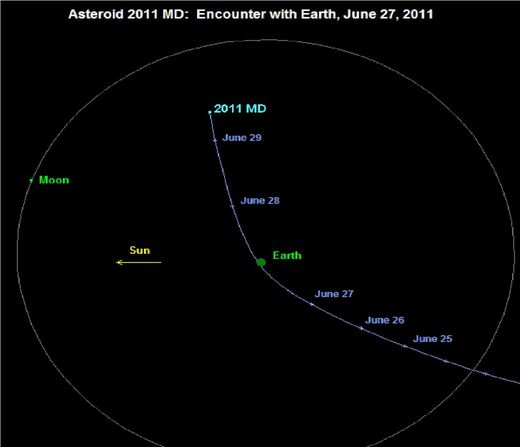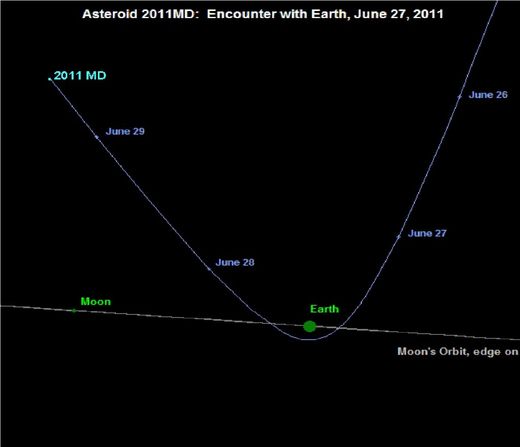 An asteroid measuring about 16 feet to 35 feet or the size of a
house, will fly by Earth at a handshaking distance on Monday and a lucky
few people will be able to see the celestial wonder with their naked
eye.
The asteroid, called 2011 MD, will graze past Earth's atmosphere on
Monday at a distance of 7,500 miles from the Earth's surface.
According to the ranking charts of International Astronomical Union's
Minor Planet Center in Massachusetts, 2011 MD will be the fifth-closest
asteroid to graze past Earth. In the past, three asteroids have zoomed
past Earth at a closer distance, including a tiny asteroid (2011 CQ1)
which flew by on February 4 this year after coming as close as 3,400
miles away from Earth's surface. The fourth, an asteroid named 2008 TC3
had entered Earth's atmosphere on October 7, 2008, but disintegrated
into tiny pieces at a height of around 23 miles off the ground.
2011 MD will be visible to the naked eye as a bright blue light as it hurtles by in a starry background.
The actual event will take place at around 1 pm EST on Monday but very few people will be able to see it.
According to Astro Bob's calculations, many people will be able to see
the asteroid come close to the Earth but only a lucky few will be able
to witness the actual event itself i.e. when the asteroid will be
closest to the Earth's surface.
"Closest approach happens around 8:30 a.m. CDT Monday over the far South
Atlantic Ocean off the coast of Antarctica. Observers in Australia and
New Zealand will be able to catch it in their telescopes at around
magnitude 12 about a half hour before closest shave.
"In the Midwest, the asteroid will be visible as a faint 14.5 magnitude
speck moving at a respectable pace across the stars of Serpens low in
the western sky in the early morning hours Monday," Bob King said on
Astro Bob site.
Astro Bob has recommended sky-gazers to use at least an 8-inch or larger scope to spot 2011 MD.
Leading astronomy magazine
Sky & Telescope
also says when and from where 2011 MD will be visible best:
"It takes place in broad daylight and halfway between the southern tip
of South America and the northernmost point in Antarctica. The event is
visible fairly low in the sky in deep twilight from South Africa.
"However, the asteroid should be visible in the hours leading up to the
closest approach across Australia, New Zealand, southern and eastern
Asia, and the western Pacific. The farther south you are, the better.
The farther west you are within this zone, the shorter the period of
visibility, but the closer to Earth the asteroid will be when it
disappears.
"The asteroid peaks brighter than magnitude 11.0 at the places where the
closest approach is visible, and it's already about magnitude 12.5 -
fairly easy to spot in an 8-inch telescope - by 14:30 UT, 2½ hours
before closest approach. At that point it's visible from Southeast Asia,
eastern China, and Japan, as well as Australia and points between.
"The asteroid will be very hard to observe after its closest approach,
since it's departing more or less toward the Sun," the magazine said.
Getting Closer: Images, Video of Asteroid 2011 MD
Accomplished amateur astronomer and
blogger
Peter Lake, a.k.a "AstroSwanny" from Australia captured some of the
first images of what will be a very close pass of Earth by asteroid 2011
MD. He actually took the image at 07:00 UTC on June 26th with a 20 inch
telescope in New Mexico controlled via his iPhone, through the
Global Rent-A-Scope program
. Ahh, the wonders of technology! As Peter says, "Its not every day, that an asteroid misses by less than 3-5 earth Radii."
The asteroid, which was only detected last week, is about 25 to
55 feet (8 to 18 m) across, is expected to pass less than 8,000 miles
above Earth's surface around 1 p.m. EDT (17:00 UT) on Monday, June 27th.
The time of closest approach will be observable from South Africa and
parts of Antarctica, but the approach will be visible across Australia,
New Zealand, southern and eastern Asia, and the western Pacific.
Below is a video he compiled of the his observations of the pass, and used ten 120-second images for the video.
Peter also noted that "Its close approach is being followed with great
interest, more for honing the skills and techniques of the Minor Planet
Center and the network of asteroid hunting astronomers, rather than
because it poses any real danger."
Thanks to Peter and his
Aartscope Blog
for sharing these views with Universe Today.
Yet another asteroid skims past Earth today!


Asteroid 2011 MD will make its closest approach to Earth at 6.14pm BST on Monday but is highly unlikely to hit anything




A lump of space rock the size of a small house will hurtle past Earth on
Monday evening in a close encounter that poses no threat to the planet,
astronomers said today.




The asteroid, which is 8 metres across and called 2011 MD, is due to pass within 12,000km of Earth, making its closest approach over the southern Atlantic Ocean at around 6.14pm BST on Monday evening.




With clear skies, the asteroid may reflect enough of the sun's light as
it shoots past to be visible to amateur astronomers with sizeable
telescopes.




The rock - a fragment smashed off a much larger asteroid - was
spotted by astronomers last week using a pair of robotic telescopes in
Socorro, New Mexico.




Images from the telescopes taken at different times are
overlaid to reveal moving objects against the starry background.
Scientists estimated the asteroid's size by measuring its brightness and
making assumptions about its chemical composition.




Kevin Yates, manager of the Near Earth Object Information Centre in
Leicester, said: "This a tiny asteroid by any standards. It's at the
limit of what can be detected."




The asteroid is circling the sun at a speed of 29 kilometres per second
on a similar path to Earth's and makes a complete orbit every 396.4
days. Nasa officials said an object of comparable size could be expected
to come this close to Earth once every six years.




The asteroid will pass between the Earth and the moon's orbit, making it
an official "intruder" in astronomy terms. As it passes by, the rock
will enter a region of space around our planet known as its Hill sphere,
where Earth's pull is the dominant gravitational force on other
objects.




"As the asteroid passes by, its orbit will be changed and no one knows
what that means for future passes and whether it will eventually collide
with the Earth.




"If it does collide, the majority of it will burn up in the atmosphere
and we'll get a few meteorites on the ground. If those are found, they
will tell us something about its origins," Yates told the Guardian.




On Monday the asteroid will cross the orbits of geostationary
satellites, but the odds of the rock striking a satellite are extremely
low, Yates added.




Astronomers rank the danger posed by approaching asteroids on the Torino
scale, which ranges from zero - when there is no chance of a
collision, or the object is bound to burn up in the atmosphere - to
10, when a collision is certain and could cause a global climatic
catastrophe that may "threaten the future of civilisation as we know
it". Nasa officials have ranked asteroid 2011 MD as a zero on the scale.




The space rock will have started life billions of years ago in the
asteroid belt that lies between Mars and Jupiter. The asteroid could be
rich in carbon or may be a solid lump of iron and nickel.




Although the event will be a close shave in astronomical terms, the
record for a passing asteroid is held by 2011 CQ1, which came within
5,480km of Earth in February.

Comment:
Other recent near misses, nearly all of which were spotted
as they flew past
!
An Asteroid Missed Earth this Week -What are the Odds that We'll Always be Lucky?
Scientists find asteroid with potential power of 15 atomic bombs. Heading this way. Tonight.
House-Size Asteroid Zooms Close by Earth
February 11, 2011
: 2011 CA7 flew within 64,300 miles from Earth.
October 12, 2010
: Asteroid 2010 RD54 came within 28,000 miles (45,000 km) of Earth


Fragments of space debris came perilously close
to colliding with the International Space Station on Tuesday, prompting
its crew to seek temporary refuge in two Russian-built escape craft.




The worrying incident, thought to be only the third of its kind since
the international project began in 1998, saw space debris pass within
just 820 feet of the space station at high speed and at late notice.




"The space debris was detected too late for the station to
perform a ducking manoeuvre," a Russian space official conceded. "The
six crew members were given orders to relocate to the (two) Soyuz
spaceships," he added. If the station had been fatally damaged by the
debris, the crew would have evacuated it completely, he said, but in the
event the debris hurtled past without incident and they were able to
unlock the hatches and calmly return to the station.




The two Americans, three Russians and one Japanese astronaut spent a
nerve-racking half an hour before mission control gave them the all
clear however. The station's crew is usually given more warning of
potential collisions by Mission Control on earth and therefore has the
time to use the station's thrusters to change its orbit and move it out
of the path of any oncoming debris.




The ISS, the largest space station ever built, is used for scientific
experiments and is in low earth orbit, an altitude cluttered with space
junk. The debris includes spent rocket stages, old satellites, metal
fragments created by anti-satellite weapons, and even flakes of paint.




Though small the debris represents a serious threat to the station and
the crew's lives due to the high speed at which it travels. The ISS
itself could remain in operation until 2028 and is regarded as a unique
testing ground for future manned missions to Mars and the Moon. It
orbits the earth at between 173 and 286 miles and travels at an average
speed of 17,227 miles per hour completing 15.7 orbits per day.

Comment:
Considering the attention given by NASA
to cataloging and tracking 'space junk', we wonder what this unexpected
'debris' actually was?
Finland: Light Phenomenon Excites Uusimaa Meteor Spotters


YLE, Finland

Tue, 28 Jun 2011 05:10 CDT
An extraordinary light phenomenon was visible in the southern
province of Uusimaa on Monday night. Eyewitnesses described the
phenomenon as a yellow ball with a green trailing flash.
The sighting could have been a meteorite around the size of a football, according to Marko Pekkola, editor of the
Tähdet ja avaruus
(Stars and space) magazine.
Locals found a possible landing site for a meteorite near a beach in the
town of Järvenpää. The site had a white granular substance covering an
area around half a metre in diameter.
A police patrol arrived on the scene and confirmed the eyewitnesses'
story. Later the authorities stated that the site was probably not
connected with the meteorite.


Astronomers
observing inbound asteroid 2011 MD found that their calculations were a
little off. The asteroid, which measures 15 feet by 60 feet wide, is
what is known as a PHA (Potentially Hazardous Asteroid), and was headed
toward Earth. It is just one of many that NASA's Near Earth Objects
Observation Program regularly tracks. But this particular massive space
rock was scheduled to arrive Monday morning and pass about 7,500 miles
above the Earth's surface. It did neither.




Getting calculations wrong by a degree or two could mean the difference
between a fly-by and a devastating impact. This time, the calculations
erred in the Earth's favor...




2011 MD arrived as planned, but not where or when astronomers first
suspected, according to the Associated Press. Updated information put
the asteroid passing by the Earth at just after noon (1:00 p.m. EDT). It
did not come as close as they thought it would, either. Calculations
also found the asteroid passing by the Earth at a distance of 7,600
miles away.




Although science fiction movies and television shows thrill us with the
horrors of an impending asteroid-based cosmic hit job (think: Armageddon and Deep Impact),
shelving the thought of an apocalyptic run-in with a gigantic space
rock is a distinct possibility. It is theorized -- and subsequent data
and studies have reinforced the theory -- that just such a collision
occurred 65 million years ago, slamming into the Gulf of Mexico region
and forming the Chixulub Crater. It is believed to be the major cause of
the extinction of the dinosaurs and the mass die-off at the end of the
Cretaceous Period, forming what scientists call the K-T boundary, the
geologic boundary that exists between the Cretaceous and Tertiary
Periods of geologic time.




CNN reported in 2010 that researchers reaffirmed the 1980
theory, their findings from a Chixulub Crater which was discovered in
1991, indicating that an asteroid 6 miles in diameter slammed into the
Earth at 43,000 miles per hour. The resulting crater measured 24 miles
deep and 125 miles wide. It is estimated that the asteroid hit with an
impact comparable to a blast created by the detonation of 100 million
megatons of TNT.




Species-ending impacts aside, the New Earth Objects Program currently tracks nearly 800 PHAs.




2011 MD was just the latest near miss-by an asteroid. In fact, a smaller
asteroid passed even closer to the Earth in January -- just 3,400 miles
out. In just the last week, the program tracked 10 PHAs, most passing
outside of an Astronomical Unit (nearly 93 million miles) from the
planet. This includes 65909 (1998 FH12), an asteroid that measures a
quarter-mile by a half-mile wide, which passed by on June 23.




Source: The Associated Press

Comment:
There now, don't you feel better?
Asteroids are itty-bitty and they only come now and again. No big rocks
for a couple million years or so. Back to sleep. But if you are one
who prefers to know what's really going on you can start here:
Meteorites, Asteroids, and Comets: Damages, Disasters, Injuries, Deaths, and Very Close Calls
South Carolina, US: Charleston's about to party for the 103rd anniversary of The Tunguska Event
Charleston's about to party for the 103rd anniversary of The Tunguska Event
On June 30th, 1908, the largest explosion in Earth's recent history occurred near the Tunguska River in remote Siberia.
A massive space rock traveling at a speed of 33,500 miles per hour
plunged into the atmosphere before detonating in the sky, releasing
energy equivalent to that of 185 Hiroshima bombs. Seismic shockwaves
were registered as far away as England. There is no direct evidence that
any humans perished. There are many theories abound as to what exactly
happened, but we may never know the entire truth.
To celebrate the 103rd anniversary of this cataclysmic anomaly, Tivoli
Studios & Garden will be hosting The Tunguska Event, a celebration
of art, music, and mobile cuisine in an explosive setting on Thursday,
June 30th, from 6 to 10 p.m. The South Carolina Broadcasters will play
several sets throughout the evening, as live art demonstrations take
place around the warehouse. Roti Rolls, Diggity Donuts, and Taco Boy
will be on hand to feed you from their trucks. All of the artist studios
at Tivoli will be open to the public.
Tivoli is located below the I-26 overpass on Upper King Street,
across the street from the Recovery Room. Ample parking is available on
both sides of our building. There will be a suggested donation of $5
for each attendee.
The information above was pulled from the event's official Facebook
invite. If you'd like to see who all is planning to attend (it's already
up to 130 people at the time of this post) and score directions to
Tivoli,
click here.
Looking for threats from outer space
If you think that the worst that could happen to us is a run on the banks and economic meltdown then think again.
This Monday 27th June 2011 a small asteroid will pass within 8,000 miles
of the Earth, a mere hair's breadth by astronomical standards.
NASA's Near Earth Object Observation Programme though is on the watch
for those objects that threaten to actually collide with our planet.
Their aim is to detect these threats as far ahead as possible, leaving
us many years, if not decades or more, to work out how to prevent any
collision.
This month 103 years ago a large comet entered the atmosphere and caused
an air burst over Podkamennaya Tunguska River, Siberia. As a result
some 80 million trees were flattened. The trees nearest the epicentre
were still standing but stripped as bare as telephone poles. Although
no-one was reported to have died in this event in such a remote area,
hundreds of the reindeer the locals relied on for their livelihood were
killed.
At the time the locals thought that they had been cursed by the
god Ogdy and their reluctance to talk about it together with
difficulties getting to the region meant that it took many years for
investigators to find out what had happened. The first scientific team
led by Leonid Kulik of the St Petersburg museum did not get to the area
for 19 years.
According to NASA the asteroid, which weighed in at 220 million pounds,
hit the Earth's atmosphere at 33,500 mph. The asteroid caused the air to
heat to 44,500 degrees Fahrenheit and the asteroid released the energy
equivalent of 185 Hiroshima 'Little Boy' bombs (this figure varies
depending on which source you look at). The Little Boy yielded the
equivalent of 13-18 kilotons of TNT.
The asteroid did not actually hit the earth, but it disintegrated with
such force that it flattened 20,000 square kilometres of woodland.
So next time you hear politicians warning about how critical a few banks are just give this a thought.
Britain in list of countries 'most at risk' if an asteroid strikes
One Hundred Years Ago Today, A Mars Meteorite Fell in a Blaze
Arcynta Ali Childs

Smithsonian.com

Tue, 28 Jun 2011 15:52 CDT
On the morning of June 28, 1911, somewhere between 8:30 and 9:00 in
the morning, a fireball was observed northwest of Alexandria, Egypt. Few
would realize what it was. But soon after, W.F. Hume, minister of the
Geological Survey of Egypt, began taking eyewitness statements, and two
months later published his report, "The First Meteorite Record in
Egypt."
One of those statements, from a farmer who claimed to have seen a
fragment fall on a dog, gave rise to the popular myth that Nakhla, as
the meteorite would be named, was "the dog killing meteorite," an
unsubstantiated claim, but the dramatic account is irresistible: "The
fearful column which appeared in the sky at Denshal was substantial. The
terrific noise it emitted was an explosion which made it erupt several
fragments of volcanic materials. These curious fragments, falling to
earth, buried themselves into the sand to the depth of about one metre.
One of them fell on a dog. . .leaving it like ashes in a moment."
Approximately 40 stones were recovered southeast of Alexandria, near the
town of Abu Hummus. Of the stones recovered, Hume immediately sent two
of them to the Smithsonian Institution, weighing 117g and 52g (or 4.3
4.13 ounces and .117 1.83 ounces). They arrived in August of 1911 and
have been a part of the Natural History Museum's collections ever since.
Today, we celebrate the 100th anniversary of Nakhla's landing.
"At the time that Nakhla fell, we didn't know that any of these
were from Mars," says Cari M. Corrigan, a geologist in the Division of
Meteorites at the Natural History Museum. "All we knew was that they
were different from the rest of the meteorites that we had, in general."
Looking at the crystalline composition of the stones, it was clear that
they had come from some sort of planetary body that had seen geologic
processes, like volcanoes, and that the 'parent body' they came from had
to be big enough for that kind of igneous activity to have taken place,
Corrigan says.
Asteroids were ruled out, because they weren't big or complex enough, so
scientists started looking at other planets. "They didn't say Mars, but
Mars-like, or the moon, or something that size," says Linda Welzenbach,
collection manager of the National Meteorite Collection. Mars was a
theory, but there was debate about whether or not you could actually get
rocks, similar to what was found, off of Mars without them completely
melting.
"There was very little science done on this rock until the late 1960s,
early 1970s," says Welzenbach, and identifying it was the result of a
coalescence of information. A direct link was established in 1976 when
the Viking spacecraft analyzed the Martian atmosphere. In 1983,
scientists at NASA's Johnson Space Center did a study where they
measured some gases trapped in another Martian meteorite and compared
that to the Viking landed atmospheric data. Their relationship to Nakhla
was evident and in 1983, Nakhla was officially recognized as a piece of
Mars.
"Part of the reason it is significant to us is because it's from
Mars and it's one of the first meteorites from Mars that we had,"
Corrigan says. The first meteorite from Mars was Chassigny, which fell
in 1815, followed by Shergotty, which fell in 1865. After Nakhla, there
were no other Martian rocks until 1962 when Zagami fell in Nigeria,
Welzenbach says.
"Studying these rocks has helped us understand the geologic history of
Mars," says Corrigan, "the interior and the geochemistry as whole, [and]
how the planet evolved."
Of the two original stones sent to the museum in 1911, the smaller one
was eventually cut and used for scientific study, while the other has
remained pretty much untouched since it fell. In 1962, E.P. Henderson,
curator of the museum's Division of Mineralogy and Petrology, as it was
called at the time, wrote to the Geological Survey requesting some more
material. They received 480g in 1962, a big piece - almost 17 ounces -
and which is on display in the museum. Two smaller pieces arrived in
1977. The museum's total holdings of Nakhla amounts to 650g, about 23
ounces.
Visitors can touch
a piece of the 1.3 billion-year-old meteorite - young in comparison to
most of the meteorites from the asteroid belt which are 4.5 billion
years old - at the National Museum of Natural History.
Australia: Colourful Spectacle Lights Up Sky Over Melbourne's West
Mysterious bright lights have been spotted in the sky over Melbourne's western suburbs this morning.
Streaks of luminous blue, green and white lit up the area shortly before 6am.
The phenomenon was most likely caused by space junk or a meteor entering
our atmosphere, according to Australasian Science Magazine astronomy
expert David Reneke.
"My favourite (possibility) is always the fireball - that is, a meteor that's on fire," he said.
"It's pretty rare. I've seen two in my lifetime. You're seeing a piece
of rock physically melting in front of your eyes. These things are
pretty startling."
The lights probably moved too quickly for anyone to catch the event on camera, he said.
The spectacle comes after orbiting junk came perilously close to the International Space Station on Wednesday.