Spaceweather.com
Wed, 02 May 2012 11:58 CDT
Earth is entering a stream of debris from Halley's Comet, source of the annual eta Aquarid meteor shower. Because the shower's radiant is located below the celestial equator, southern hemisphere observers are favored, but even northerners will be able to see at least a few flecks of Halley-dust disintegrating in the atmosphere when the shower peaks this weekend. The best time to look is during the hours before sunrise on Sunday, May 6th. Bright moonlight will cap the meteor rate at about 30 per hour.
In recent nights, NASA's all-sky meteor network has picked up a number of early eta Aquarid fireballs.
This one
was bright enough to shine through the glow of sunrise and clouds over Tullahoma, Tennessee, on April 29th.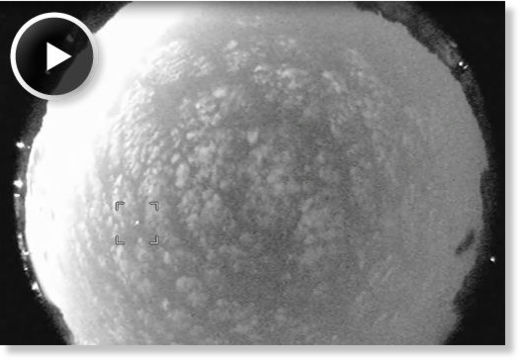 According to analysts at NASA's Meteoroid Environment Office, this particular speck of comet dust hit the atmosphere traveling 62 km/s (139,000 mph) and disintegrated about 84 km (52 mi) above Earth's surface.
The full Moon of May 5-6, 2012, with interfere with the visibility of the eta Aquarid peak. Radar signals, however, penetrate moonlight with ease. Tune into
Space Weather Radio
for live echoes from eta Aquarids passing over the US Air Force Space Surveillance Radar in Texas.
Seiichi Yoshida
Aerith Net
Thu, 03 May 2012 14:17 EDT
Discovery Date:
April 29, 2012
Magnitude:
18.6 mag
Discoverer:
Robert H. McNaught (Siding Spring)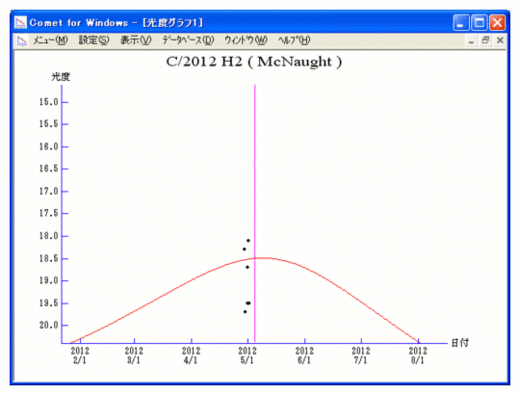 The orbital elements are published on
M.P.E.C. 2012-J11
.
SpaceWeather
Fri, 04 May 2012 13:49 CDT
The
eta Aquarid meteor shower
, due to peak on May 5-6, is already underway. Cameras in NASA's
All-Sky Fireball Network
have picked up more than a dozen eta-fireballs this week, including seven last night alone. NASA astronomer Bill Cooke prepared this diagram showing the orbits of the fireballs detected so far: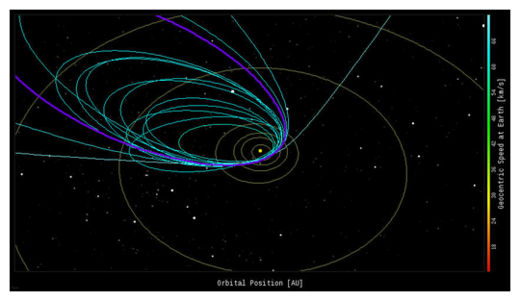 "The purple line traces the orbit of Halley's Comet, source of the eta Aquarids," says Cooke. "Blue lines are orbits of the individual fireballs determined from simultaneous observations by multiple cameras." A
statistical analysis of the data
shows that the fireballs hit Earth's atmosphere traveling about 66 km/s (139,000 mph) and disintegrated about 90 km (52 mi) above Earth's surface.
Forecasters expect the shower to peak this weekend; the best time to look is during the hours before sunrise on Sunday, May 6th. Because the shower's radiant is located below the celestial equator, southern hemisphere observers are favored, but even northerners should be able to see a few eta Aquarids.
Super-bright
moonlight will cap the meteor rate at about 30 per hour.
YouTube
Fri, 03 Feb 2012 14:33 EST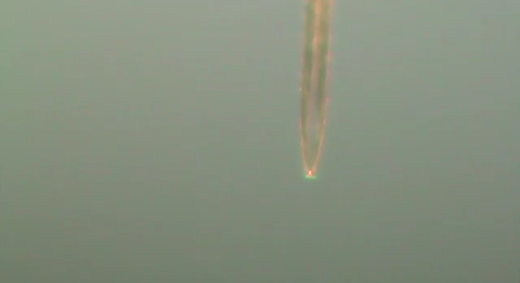 Meteorite filmed over Boise Idaho on 3 February 2012.
Sheilaaliens.net
Wed, 25 Apr 2012 14:26 EDT
I'm betting with my luck that another fireball or two will happen before April is over and my roundup will be incomplete :P We ShaLL seEeE.
Sources seen in this video:
Pieces Of Flaming Meteor Found In Sierra Foothills « CBS San Francisco
Fireball Over California Exploded with Force of 5 Kilotons
Is This a Video of a Huge Fireball Over Texas?
Recent Fireball Seen in Brazil Was Actually Re-Entering Centaur Rocket
Scientist says sound signal from exploding meteor lasted 18 minutes
valleynewslive.com
Sat, 12 May 2012 04:01 EDT

Valley sky watchers and anyone who happened to be outside at about 10 o'clock Friday night were treated to a special sight. This is what viewers have reported on the Valley News Live Facebook page:

Kyle Wayne Erickson, "We seen it in Hope, it was at 10:02, we were all sitting on the deck and seen it, it was moving slow, looked like it was literally no more then a couple hundred feet over the trees. Had a HUGE bright colorful tail behind it, that was a once in a lifetime sighting, was the coolest thing I'd ever seen!!"

Jeremy Southwick, "Just saw a fantastic meteorite falling westward over West Fargo! Somebody go find it!"

Alex Wilkowski, "It came and went very slow for a shooting star, I didn't think many would see it. It was so low."

Some have also reporting hearing a crackling noise and seeing it break up into pieces.

What you saw Friday night was a fireball, which is a brighter than normal meteor. Reports are coming in from North Dakota, South Dakota, Manitoba, Wisconsin, & Michigan. Most shooting stars are the size of specks of dust to pebbles. Based on how bright it was reported to be, experts believe this to be the size of a softball. The larger the object, the brighter as it burns through the Earth's atmosphere. Fireballs are pretty rare events, so consider yourselves lucky!

If you were even luckier and caught a picture of the event, we'd love to share it. Please go to "Join the Conversation" on our home page. You can download your picture there.
SpaceWeather
Sun, 13 May 2012 21:18 EDT
A 13-meter space rock from the asteroid belt is flying past our planet today midway between Earth and the orbit of the Moon. There is no danger of a collision; at closest approach asteroid
2012 JU
will be 190,000 km away.
Luke Arens
captured a big meteor fireball reflecting off a northern Minnesota lake just as the Milky Way core rose above the scene. Luke took this image over the weekend as part of a timelapse sequence, which he says will be available soon. We'll add the timelapse view here, so watch our
Twitter feed
for updates!
did
come fairly close to Earth yesterday! On May 13, Asteroid 2012 JU passed harmlessly between Earth and Moon. This space rock is somewhere between 8 and 17 meters across, and it came within about 190,000 kilometers (118,000 miles) from Earth - about a half a Lunar Distance (LD), or 0.0014 AU. Its looping orbit is currently closely aligned with Earth's (click
here
to see JPL's orbit diagram applet) and will be moving rather slowly away from us over the next few weeks.
There are two other known space rocks that will be making somewhat close passes by Earth later this month: 2010 KK37, which might be about 43 meters wide, will come within 2.3 LD (880,000 km) on May 19, and 2001 CQ36, which might be as big as 170 meters wide, will go by at 10 LD (3.8 million km) on May 30. There is no threat of any of these asteroids hitting our planet.
Asteroids passing between the Earth and Moon happens on a fairly regular basis. Last month, on April 1, a 46-meter wide asteroid named 2012 EG5 came within 230,000 km, and on March 26 of this year, two smaller asteroids shaved by at a mere 58,000 km and 154,000 km. And in January
2012 BX34
passed by at just 59,600 km from the Earth's surface.
National Geographic
reports that Paul Chodas, a planetary astronomer at NASA's Jet Propulsion Laboratory (JPL) in Pasadena, California, said: "That's very unlikely, but we can't rule it out."
According to calculations, the asteroid will pass close enough to Earth to disrupt some orbiting satellites. Chodas, however, said that the orbiting International Space Station in low-Earth orbit is not at risk.
In spite of the fact that
NASA
astronomers assure that the asteroid will not hit the Earth, Steven Chesley, also of JPL, said: "We don't know exactly where it is, and that uncertainty maps through to an uncertainty in the orbit and predictions." The uncertainty, according to astronomers, means that they can't rule out that it will not hit Earth in subsequent close approaches to Earth after 2013.
NASA astronomers
say there is an estimated cumulative 0.031% risk (1 in 3,230) of 2012 DA14 impacting Earth sometime between 2020 and 2082, a figure they hope to refine further as they collect more information during its close approach to Earth in February next year.
National Geographic
reports that if the asteroid hits the the Earth, it will likely hit the Antarctica or the Southern Ocean because it approaches the Earth from the south. The impact of the 140,000 ton rock could release energy equivalent to a 2.4 megaton bomb, about the same as the 1908
Tunguska blast
in which hundreds of square miles of forest in Siberia were leveled. According to Chodas, "If the asteroid were to strike the ocean, It could produce a tsunami," although "it probably wouldn't be big."
A. R. Gibbs
on CCD images taken with the Mount Lemmon 1.5-m reflector on May 21.3. The new comet has been designated P/2012 K3 (GIBBS).
We performed some follow-up measurements of this object, while it was still on the neocp. Stacking of eight R-filtered exposures, 60-sec each, obtained remotely, from the
Siding Spring-Faulkes Telescope South
on 2012, May 23.5, through a 2.0-m f/10.0 Ritchey-Chretien + CCD, shows that this object is a comet: coma 5" in diameter and a tail nearly 5" long in PA 250 deg.
Our confirmation image:
2012-K50
assignes the following preliminary elliptical orbitalelements to comet P/2012 K3: T 2012 Sept. 3.56; e= 0.37; Peri. = 158.59; q = 2.16 AU; Incl.= 12.76
the asteroid's orbit
confirm that there is no danger of a collision with Earth.
3127
, issued on 2012, May 28, announces the discovery of a new comet (discovery magnitude 18.5) by the
LINEAR
survey on CCD images taken with the 1.0-m f/2.15 reflector on May 25.3. The new comet has been designated C/2012 K5 (LINEAR).
We performed some follow-up measurements of this object, while it was still on the neocp. Stacking of 8 R-filtered exposures, 120-sec each, obtained remotely, from the
ITelescope
network (near Mayhill, NM) on 2012, May 27.4, with a 0.43-m f/6.8 astrograph + CCD,shows that this object is a comet coma 10" in diameter and a tail nearly 20" long in PA 210 deg.
Our confirmation image (click on the image for a bigger version):
2012-K69
assigns the following preliminary parabolic orbital elements to comet C/2012 K5: T 2012 Nov. 29.04; e= 1.0; Peri. = 138.80; q = 1.15 AU; Incl.= 92.84
Just as the Lyrid Meteor Shower was peaking on April 21, 2012, astronaut Don Pettit captured this incredible timelapse sequence from the International Space Station. Of course you can see the familiar view of cities sweeping beneath the station as it orbits the Earth, but if you watch carefully, you can see the bright flashes of meteors burning up in the Earth's atmosphere. The timelapse was made up of 310 individual frames captured during that evening, which were then stitched together into a single video.
We've had a couple of reports of giant orange things dropping from the sky.
You can check out some of the reports on our
facebook page
.
Ralph Martin is the Acting Government Astronomer at the Perth Observatory...
Listen to the audio file of this radio broadcast
here
.
Arequipa, Peru - On May 17, Thursday, someone shot video of a strange object that looks like a fireball.
The strange fireball was seen in the sky in Arequipa, Peru and caused great surprise for onlookers wondering what it was.
Strange enough, this isn't the first incident with fireballs or meteoroids in Peru.
In September 2007, more than 600 were reported sick after a meteoroid landed.
And in August 2011 a suspected meteor streaked across the sky over the city of Cusco in Peru.
Just click on the video to see the alleged fireball footage.