New Zealand Herald
Mon, 02 Apr 2012 17:32 CDT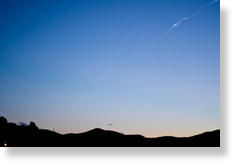 A spectacular, bright meteor that left a long trail in the sky has stunned witnesses in Wellington and Christchurch tonight. The WeatherWatch website has been inundated with reports of the fireball, which witnesses say rushed across the sky at about 6.30pm. A Nelson resident described it as an "unbelievable'' green, orange and white ball flying past at "super speed'', leaving behind a massive trail that lasted for nearly 10 minutes before dissipating.
A Hanmer Springs resident said they heard "a loud boom'' about two minutes after it streaked past. "Not sure if hit the ground or sonic boom, perhaps the latter, very exciting! Much more exciting than putting the washing out.'' A Wellingtonian said the meteor was "full on magnesium bright and flaming'', while another said it was "almost fluorescent and very intense''.
A Cantabrian said the whole family were excited by the meteor, which came low to the horizon with two bright flashes and trails of smoke. "Like an arc welder torch, it seemed VERY close and low to us, was waiting for the bang it seemed so close and bright, but obviously moving at tremendous speed. I have never seen anything like this!''
Police central communications shift inspector Ken Climo said some of his staff had seen the event and described it as "quite spectacular''.
The Rescue Coordination Centre described it as a contrail, he said.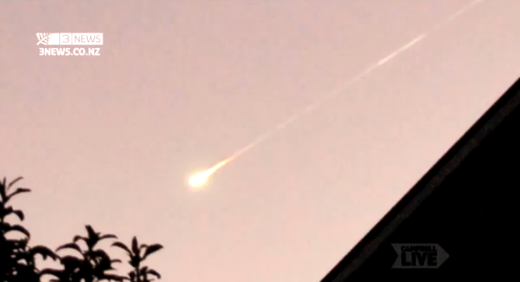 TVNZ
Tue, 03 Apr 2012 15:05 CDT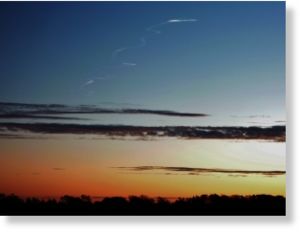 (New Zealand) Astronomers are hoping to find out if what was thought to be a giant meteor has landed on Earth.
Eye witnesses from Northland to Christchurch spotted what is believed to be a meteor flash across the sky just before 6.30pm last night.
Police up and down the country were inundated with calls from people describing a fireball that flashed green and orange, followed by a spiral trail.
People in the South Island reported a sonic boom.
Astronomers say it poses no risk.
Do you have any pictures or video of the 'meteor'. Send them to ONE News at news@tvnz.co.nz
The Carter Observatory said on its Facebook page it appeared to be a meteor burning up in Earth's atmosphere.
The astronomers hope to find out today if any of the meteor could have survived the re-entry to reach the ground and where it could have landed.
Do you have any pictures or video of the 'meteor'. Send them to ONE News at news@tvnz.co.nz
The Carter Observatory said on its Facebook page it appeared to be a meteor burning up in Earth's atmosphere.
The astronomers hope to find out today if any of the meteor could have survived the re-entry to reach the ground and where it could have landed.
Astronomer John Field of the observatory told ONE News meteors are very rare.
He said by tracking the orbits of them, astronomers can work out where they came from to give an idea of what their parent body was.
"If they actually fall down to earth and become a meteorite and people recover it, we can analyse to work out where they came in the solar system. These objects could be about four billion years old," Field said.
Katy Robb said: "We saw it streak and then burn itself out in a big flash. The residue of light lingered for several minutes afterwards."
Olivia Atkinson said it looked like a "giant ball of fire" that "exploded at the end". She said she could only see it for five seconds.
Anton Jelinek spotted the phenomenon from Wakefield in Tasman District.
"It started out green, and the progressed through red and orange to a very bright white," he said.
"It left a white trial which lasted for a few minutes."
MySanAntonio.com
Tue, 03 Apr 2012 12:02 CDT
People who reported seeing a fiery ball of light in the cloudless noon sky Monday really did see an unidentified flying object.

The flying object has not been identified. But no one has conjectured that it held little green men with giant eyes.

It was likely falling space debris or a meteor, according to the National Weather Service.

"It could definitely have caused that," said meteorologist Pat McDonald. "It's the only thing we can think that could have caused that."

A space rock or piece of an old satellite burning up as it hits the Earth's atmosphere is not a rare occurrence, said Joe Wheelock, the public affairs specialist at the McDonald Observatory.

"It's not uncommon at all," he said.

Jane Marke, an amateur astronomer, said she was at a traffic light near the airport when she saw a bright light streaking across the eastern sky at 11:49 a.m.

"I saw a brightness of light fall from the sky, going very fast," Marke said. "I would say it was about 1 magnitude. That's about as bright as you can get."

She said she believes it was a meteor, though it could have been "a piece of space junk."

A San Antonio Express-News photographer driving between Kerrville and Comfort saw what he described as a very bright ball of light low in the sky at 11:50 a.m.

Around the same time, a 911 caller reported seeing some sort of airborne fiery object that appeared to be falling near Johns Road north of Interstate 10 in Boerne. A police officer was dispatched but didn't find anything, a department clerk said.

Sheriff's offices in Kendall County and Kerr County reported receiving no calls about the object.

The Army, which operates an ammunition storage and transfer facility at Camp Stanley in Northwest Bexar County, reported no unusual activity Monday morning.

"All the ranges at Camp Stanley are closed, so we weren't testing ammunition and we haven't had any incident today regarding the storage and transfer facilities," said Phil Reidinger, an Army spokesman at Fort Sam Houston.

The Air Force said none of its planes at two local bases was involved in an incident that could have caused the flash.

"We don't have anything that would generate a great flash of light in the sky," said Dave Smith, a spokesman with the Air Education and Training Command at Randolph AFB.

For those who missed the fireball, the good news is that the Lyrid meteor shower can be seen April 21-22.

Colin McDonald, Zeke MacCormack, Sig Christenson and Scott Huddleston contributed to this report.
WOAI 4 News
Mon, 02 Apr 2012 12:11 CDT


We've received a bunch of phone calls Monday about a ball of fire in the sky.

John Haley says that's exactly what it looked like.

"It was like a fireball falling right out of the sky," Haley told News 4 WOAI. "It was so bright! It was like a little piece of the sun falling with a big torch behind it."

I spoke to our astronomer expert Bob Kelley with the Scobee Planetarium, and he explained that it was a phenomenon called "April Fireballs."

Chunks of meteors enter and burn up in our atmosphere. The fireballs are brighter than a shooting star and can happen at any time of the day. For reasons astronomers don't fully understand, they occur in early April.

San Antonians weren't the only ones who saw the April Fireball Monday morning. Sightings were reported in New Braunfels, Kerrville, Floresville and other cities nearby.

"I can chalk that up on the old bucket list -- I saw a meteorite during the day," laughed Haley."
Comment:
The phenomenon known as 'April Fireballs'? When a spate of fireballs rained down in February, NASA labelled them the 'February Fireballs', even though no such thing existed before this year...
"Fireballs of February"?
Samantha Hernandez
greenbaypressgazette.com
Wed, 04 Apr 2012 12:25 CDT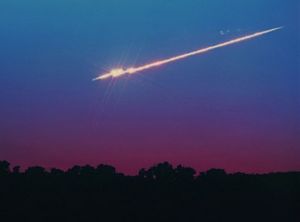 A call that brought out search and rescue crews off the Lake Michigan shore Tuesday night may have been sparked by a falling meteor.
The U.S. Coast Guard Canal Station in Sturgeon Bay responded to a sighting of an off-shore white flare near Jacksonport Tuesday night.
"We had a call at approximately 9:15 p.m. local time of one white flare an undetermined distance off the shore" near Jacksonport, said BMC Justin Longval, executive petty officer at the station.
A white flare does not necessarily mean distress - a distress flare is red - but the Coast Guard launched its 45-foot response boat and called in an aircraft from the Air Station in Traverse City, Mich., for the search.
The Coast Guard searched by air and water for two hours without finding anything or anyone, Longval said.
A helicopter from Traverse City conducted a first-light search Wednesday morning. It found nothing.
"It's always better to report it" and make sure there is nothing there, he said.
The Coast Guard has received no reports of missing persons or vessels and concluded the sighting may not have been flare.
"Meteorite, falling star, whatever you want to call it," Longval said. There is no way to know.
Pravda
Fri, 06 Apr 2012 08:56 CDT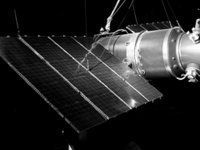 Molnia (Lightning) satellite, which Russia launched into space during the 1990s to control missiles, may crash on Earth during the upcoming several days.
The location of Molnia's crash has not been determined yet. The satellite may cause considerable destruction during the fall. It weighs 1.6 tons. However, the spacecraft may partially burn in the atmosphere when falling.
The satellite may fall down on the planet before April 9
th
. Most likely, it will crash somewhere in the center of the Arab Peninsula.
Russian specialists monitor the spacecraft. The service time of the satellite is two years, the Fifth Channel reports.
Molnia-1T satellites were replaced with Meridian military spacecraft during the 2000s.
Two spacecraft went off Earth's orbit last week. They were the first Soviet satellite Meteor-1 and one of the first US research satellites Explorer-8.
The satellite may fall down on the planet before April 9
th
. Most likely, it will crash somewhere in the center of the Arab Peninsula.
Russian specialists monitor the spacecraft. The service time of the satellite is two years, the Fifth Channel reports.
Molnia-1T satellites were replaced with Meridian military spacecraft during the 2000s.
Two spacecraft went off Earth's orbit last week. They were the first Soviet satellite Meteor-1 and one of the first US research satellites Explorer-8.
Comment:
More disinformation as fireballs rain down...
First 'February Fireballs', now 'April Fireballs': Daytime Meteor Streaks over Texas
Natalie Wolchover
Live Science
Tue, 10 Apr 2012 10:21 CDT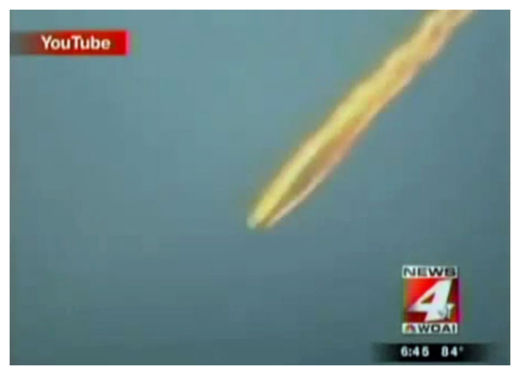 A great ball of fire streaked across the Texas sky during the daytime last week, much to the surprise of thousands of people who witnessed it. So bright that it looked "like a little piece of the sun falling," as one San Antonio resident told the local news station, the rare daytime meteor event was yet another example of the scientific mystery known as spring fireball season.
According to NASA, 30 years of observations show that there's a consistent uptick in the number of fireballs - meteors that glow brighter than the planets as they scorch through Earth's atmosphere - during the spring compared with other times of the year. "There are two peaks: one around February and the other at the end of March and early April," said Bill Cooke, head of NASA's Meteoroid Environment Office. "And this remains a mystery."
The
Texas event
was bright enough to have corresponded to the atmospheric burnup of a space rock at least a yard across, Cooke told
Life's Little Mysteries
. But no one knows why springtime meteors are 10 to 30 percent more common. "I can tell you a lot of the bright and slow fireballs appear to be coming from the direction opposite the sun, but they have not much in common other than that," he said. "You see a lot more ordinary meteors in the fall, but the spring seems to have the big slow movers - the ones that are really impressive."
To tackle the mystery, Cooke and his NASA colleagues have set up a network of "smart meteor cameras" around the United States that they use to triangulate the trajectories of meteors, pinning down their positions to within the area of a football field as they enter the atmosphere. This has enabled the scientists to map the origins of falling space rocks from different parts of the sky.
The approximately 1,800 meteor events recorded by the camera network so far indicate that the spring fireballs probably originate from
asteroids, while fall meteors come from comets
. "The [spring fireballs'] orbits indicate they come from the main asteroid belt. A lot of the smaller meteors in the fall come from comets, which are made of icy bits of dust, and they don't last long in the atmosphere. Those ones are generally not big enough to make fireballs."
Once sufficient data has been collected, the scientists expect a pattern to emerge that will reveal the reason for spring fireball season, or the fact that Earth seems to encounter more asteroidal material in the spring. "It appears that a lot of the stuff out there in the asteroid belt is clumping up in the springtime more than other times of the year," he said.
The other hope is that the network's precision will improve to the point that a fireball's trajectory can be calculated accurately enough to locate and retrieve a meteorite on the ground after it has fallen. That would allow scientists to study what the chunk of asteroidal material is made of, and to trace it back to the asteroid from which it came.
Comment:
This phenomenon is certainly anything but 'rare', as the original headline of the above article claimed:
First 'February Fireballs', now 'April Fireballs': Daytime Meteor Streaks over Texas
As for NASA. they're just making this stuff up to fool folks.
"There are two peaks: one around February and the other at the end of March and early April," said Bill Cooke, head of NASA's Meteoroid Environment Office.
Really? That's not what Bill said back in February this year when the so-called 'February Fireballs phenomenon' was first promoted:
"Fireballs of February"?
No mention of this "second peak in late March or early April"...
Go to
Wiki's page
on meteor showers. See anything listed for late March or early April? Nope, NASA is just making BS up as it goes along.
Associated Press
Thu, 12 Apr 2012 11:55 CDT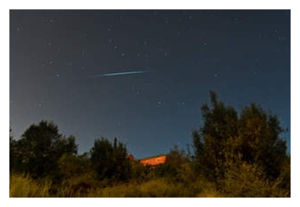 Authorities in northwestern Connecticut say they didn't find anything after a state trooper and another person reported a large object falling out of the sky in Litchfield.
The Republican-American
of Waterbury reports
that a person driving in Litchfield at about 2 a.m. Tuesday reported that a green, glowing object the size of a whale fell from the sky and crashed into Bantam Lake. Officials say that at about the same time, a state trooper 10 miles away in Warren called dispatchers to report that something fell out of the sky and landed near Bantam or Morris.
Morris firefighters made several passes up and down the lake in a boat looking for a possible plane crash, but didn't find any debris.
Authorities called off the search, leaving the mystery unsolved.
SunTimes
Thu, 12 Apr 2012 16:19 CDT
Skywatchers across the Chicago area reported a streaking fireball in the sky so intense that some thought they'd witnessed a fiery plane crash on the Southeast Side.
Reports of the fireball starting coming in about 8:25 p.m., according to a meteor and
meteorite sighting blog,
with over 100 people from Illinois, Wisconsin, Michigan and Iowa reporting the light show.
Descriptions ranged from simply a blue-green fireball to a yellow fireball with a red center and a trailing blue-and-white tail.
John from North Chicago wrote "12sec NW green/blue very bright unknown it only lasted about 12sec but it was a sight to see truly amazing."
But while many delighted in the display, others thought they'd witnessed something much grimmer as emergency crews responded to 126th Street and Avenue 0 on the Far Southeast Side of the city to investigate a possible plane crash.
A police helicopter was also called to help search Wolf Lake, which sits on the Illinois-Indiana border near the Hegewisch neighborhood.
Searchers found nothing, and authorities soon found that while no aircraft had been reported missing, many skywatchers were reporting a "very bright" meteor falling about 8:20 p.m. and crews stopped their search, the Chicago Fire Department said.
No one from NASA or the National Weather Service could be reached for comment.
UK Telegraph
Fri, 13 Apr 2012 15:24 CDT
Emergency services across swaths of England were inundated with calls from worried residents amid reports of a mysterious "loud bang" which turned out to be a sonic boom from two RAF Typhoon jets.

Concerned locals across the Home Counties, Cotswolds, Wiltshire, Somerset and parts of the Midlands reported hearing the deafening noise shortly after 6pm on Thursday amid fears of a large explosion.

But rather than anything sinister, it was a sonic boom caused by a pair of Royal Air Force Typhoon jets breaking the sound barrier, the Ministry of Defence said.

The Quick Reaction Alert (QRA) crews were scrambled after a civilian helicopter emitted an emergency signal in the Oxford area.

MoD sources said the "idiot" pilot, who has not been identified, had used a wrong frequency to emit the emergency signal that usually indicates an aircraft has either been hijacked or had "gone rogue".

Fearing that a serious incident was unfolding, MoD officials gave the jets the green light to go "supersonic, which resulted in the sonic boom".

The jets, based at RAF Conningsby in Lincolnshire, were already on route by the time the pilot realised his mistake and switched to the correct one.

An aviation source close to the incident, said: "It was caused by a helicopter transmitting a hijack code which triggered the launch of the two Typhoons.

"Supersonic flight was authorised by London Military Air Traffic Control which is only allowed in exceptional circumstances over land." The MoD response was standard procedure after receiving such a signal, officials said.

But such was the extent of the noise that homes started to shake across Coventry, Rugby and Leamington as hundreds of residents rang police and emergency services.

One video posted to Twitter, believed to be a crack of thunder by the person behind the camera lens in Northamptonshire, was later reported as the sonic boom by Channel 4 News.

Meanwhile, residents around Bath and Swindon reported seeing the fighter jets performing manoeuvres in the skies overhead.

Chris Wilford, 38, a Bath resident, told The Daily Telegraph that the jets kept circling the helicopter and "looked very close" to the aircraft, which he thought was a police helicopter at first.

"(It) slowed down and seemed to sharply pull round at one point (and) looked very near the helicopter from where I was watching," the council manager said.

"Around the helicopter, they pulled so sharp that the jets nose pulled almost verticle and you could see it was a triangle shaped Jet.

"It was very noisy, at first, because planes on their way to Bristol airport regularly fly over, I thought it must have been one of those, it was very low. I saw the helicopter first then the Jet arrived."

Alison Howell, 33, a resident from Leamington Spa, Warks, said she thought there had been a huge car crash outside of her house.

"The noise was just deafening, it sounded like a massive car accident right outside my front door," she said.

"It was pretty terrifying to be fair. I nearly jumped out of my skin.

"The windows shook and I thought they were going to break. I've never heard anything like it in my life."

Mandy Leech, 44, from Coventry, added: "If it was just somebody accidentally pressing a button in his helicopter I won't be very happy because it woke my baby up and scared the life out of me."

Inspector Phil Rogers, of Thames Valley Police, said his force had been "inundated with calls".

"We were concerned to start with but there were no reports of any explosions, damage or casualties," he said.

"The calls we got were widespread."

A spokesman for West Midlands Police added: "The cause of the noise is not known at this stage however we can state that the 'incident' does not require any direct police attendance."

On Thursday night an MoD spokesman said: "We can confirm that a small civilian aircraft was transmitting inadvertently on an emergency frequency at approximately 1810.

"Two typhoons from the Quick Reaction Alert (QRA) responded accordingly and authorisation was given from them to go supersonic which resulted in the sonic boom.

"There was no actual threat to the civilian aircraft and they soon rectified their mistake."

It remained unclear last night what action was being taken against the pilot. It is the second time this year that a sonic boom has been created by a Typhoon aircraft.

In January, the MoD confirmed that a loud noise heard by people across the North of England was caused by an RAF fighter jet breaking the sound barrier.

A sonic boom is the sound associated with the shockwaves created when an object travels through the air and breaks the sound barrier.

The noise contains large amounts of sound energy, meaning sonic booms are often mistaken for explosions.
Comment:
Really? This sounds like the MOD making up a lame plausible answer to what is clearly not a sonic boom. Sonic booms are not heard across hundreds of miles of countryside. And why would RAF jets be scrambled and allowed to go supersonic (which is only authorised in extreme circumstances) in response to what was a fairly benign situation? In addition, this boom was heard six hours before another massive boom
was heard across a wide area of Ohio, USA
.
Given the large number of meteorite sightings across the globe in recent years, including loud unexplained booms
, the most likely explanation is that what people heard, both in the UK and Ohio, was the overhead detonation of a meteorite fragment.
Pocno Record
Sat, 07 Apr 2012 15:55 CDT
Was it a secret military exercise, the beginning of the Mayan prophesy or an alien invasion?
A loud boom, heard by Pocono residents and others throughout northeastern Pennsylvania the night of March 30, remains a mystery.
The boom, heard at about 10:10 p.m., shook cars and houses from Long Pond to Bushkill.
Pocono Record readers at the time speculated it was a tanker wreck on Interstates 80 or 380, a bunch of semi-trucks rolling down a quiet street or an exploding meth lab.
Some residents reported a bright flash in the sky that didn't appear to be lightning just before the blast.
But most readers agreed the sound was no routine thunder.
What it wasn't
One thing it probably wasn't was an earthquake.
The U.S. Geological Survey noted five reportable earthquakes worldwide between 10:02 and 10:22 p.m. The closest to the Poconos was a 1.6 magnitude quake in Seeley, Calif., more than 2,800 miles from northeastern Pennsylvania.
Ohio meteorologist and Pocono weather expert Ben Gelber said the sonic boom was probably due to thunderstorms.
"
A similar boom was heard in Honesdale
, which rules out a local explosion of some kind," he said. "Acoustic 'shock waves' triggered by a lightning flash trapped in a cold surface can be uncommonly and frighteningly loud."
Temperature readings that night were in the low 40s.
Thunder has been known to crack wood and shatter windows in extreme circumstances, according to Gelber. The sound waves are refracted or trapped in the lowest layers of the atmosphere just above us.
"The timing with storms present, a preceding flash and sonic boom reports separated by 45 miles fit with scattered thunderstorms along a warm front overrunning cold air near the ground," he said.
Unlikely explanation
An astronomer Gelber consulted said there was a
remote chance that a fragmenting meteoroid could have been responsible for a sonic boom as it passed through a thicker atmosphere closer to the surface.
"
This would be a rare situation
, and almost certainly would have left some magnetized fragments locally for such a large explosion to occur, and simultaneously during a thunderstorm. However, this would likely not account for the sonic boom around Honesdale," Gelber said.
The Poconos are not alone in unexplained noises.
A small New England community has been beleaguered by mysterious blasts for more than 300 years, baffling scientists and residents, according to published accounts.
The town, Moodus, Conn., is about 30 miles outside of Hartford with a 2010 population of 1,413.
The Wangunk Indian tribe lived in the area during the middle and later parts of the second millennium. The town's name was derived from the Indian word meaning "place of noises."
For hundreds of years, residents spoke of unexplained underground thumps and thunders. They are reported to occur in a particular place about a mile deep and a few hundred yards wide.
The Wangunk tribe believed the booms were made by a spirit angered by the European colonists settling in the area. The settlers blamed the noises on the battle sounds of good and evil witches fighting for their puritanical souls.
Investigators have been unable to explain the noises, which could disappear for a decade at a time.
Geophysicists blamed "microquakes," which occur periodically, but that didn't really explain why they would make noises that sound like distant thunder or cannon fire.
Comment:
"This would be a rare situation". REALLY? Apparently the astronomer that was consulted for this comment has NOT been paying attention to the news!
"Deep Large and Heavy" Boom Over Ohio Blamed On Jet
Really? UK Ministry of Defence Claims RAF Jets Rushing To Intercept Private Helicopter Caused Massive Boom That Shook Homes Across England
'Unbelievable' meteor seen in the skies over New Zealand - residents report 'loud boom' from large fiery meteor
Did You Hear That Boom? Residents Report Saturday Night Sounds that Shook Homes
RT
Fri, 13 Apr 2012 03:35 CDT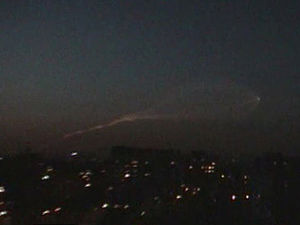 An unidentified glowing object is said to have crashed down from the skies in Russia's Siberia, causing a powerful explosion. A search for the mysterious item is underway amid speculations of what on Earth it could be.
Witnesses describe seeing a bright glow covering the sky, followed by a shining object
falling with a strange clanging sound
and disappearing in the distance with a blast.
The unidentified object supposedly fell in the taiga forest of the Irkutsk region, 15 kilometers from the nearest village of Vitim, on Friday night. The head of the regional administration said a group of researchers has been sent to inspect the area and question witnesses.
"We will be able to say what it is, only when we see the thing itself and the place where it fell," explained head of the region Aleksandr Sergey. "The investigators, together with hunters are going there on snowmobiles."
There are two possible causes of the incident being examined. The object could either be a part of a large meteorite, or satellite wreckage.
Speculations that it could be a piece of the failed, recently launched North Korean carrier rocket have been dismissed
. Neither could it be a piece of any other aircraft as there have been no flights in the area.
The director of the astronomical observatory at Irkutsk University however explained that the searches won't find any traces if it was a meteorite.
"Usually such objects completely disintegrate - they burn down in the atmosphere and split into very small fragments upon falling," he said.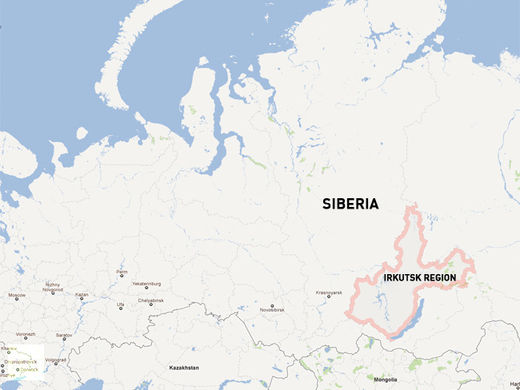 This is not the first incident of this kind in the area.
The best-known case, the Vitim bolide, fell in this very area in 2002 causing a powerful explosion. Detected by a US military missile-defense satellite, the event recalled the massive Tunguska blast of 1908, caused by a large falling meteorite.
This March, a mysterious cylinder fell in another part of Siberia, causing widespread speculation as to what it was. While media supposed it was part of a satellite or a fragment of a ballistic missile, the Russian Federal Space Agency denied ownership of the object.
Steve Tracton
Washington Post
Sun, 15 Apr 2012 05:01 CDT
Early last week (April 2), thousands of people in and around San Antonio, Texas reported seeing what one eyewitness described as a piece of the sun falling from the sky during full daylight.
Bill Cooke, head of NASA's Meteoroid Environment Office, initially reported the sighting was a brilliant fireball from a meteor burning up as it entered the Earth's atmosphere. Later, he bowed to other expert's opinion that it was a jet contrail reflecting the glow of the setting sun - apparently based on erroneous footage (of an actual contrail) aired by a local TV station.
This week, though, the sightings were officially reinstated as, in fact, a rare fireball - at least one yard across - bright enough to be seen during daylight.
A fireball is a meteor larger and brighter than normal. The American Meteor Society
offers more background
:
Fireballs occur every day over all parts of the Earth. It is rare though for an individual to see more than one or two per lifetime as they can also occur during the day (when the blinding sun can obscure them), or on a cloudy night, or over the ocean where there is no one to witness them. Observing during one of the major annual meteor showers can increase your chance of seeing another bright meteor.
Comment:
Nothing to see here folks! Fireballs are seen all over the world, every day, always have been, always will be! No doubt when one of them causes serious damage in an urban area, these same 'authorities on fireballs' will tell us that it happens all the time, the city that got hit was 'just unlucky'...
This reshaping of the past to fit the facts of the present is typical of a scientific mindset so hopelessly bound to the extremist uniformitarian worldview.
Uniformitarianism is the assumption that the same natural laws and processes that operate in the universe now, have always operated in the universe in the past and apply everywhere in the universe.

~ Wikipedia
"Oceania was at war with Eurasia; therefore Oceania had always been at war with Eurasia."

~ George Orwell, 1984
Only two daylight fireballs are sighted per year on average.
Coincidently or otherwise, on the same day as the San Antonio fireball, the average was tied by a daytime fireball observed over New Zealand.

Comment: Uhm, say what?!


For unknown reasons, fireballs visible in the night sky (at least as brilliant as Venus) occur most frequently from February through the spring. To date, at least 10 nighttime fireballs have been confirmed over the U.S. this year.

Comment: ...first NASA called them "February fireballs", now it's "occur most frequently from February through the spring"... watch them extend that to 'February through the summer'...


Here's a video of one captured from University of Wisconsin-Madison on the roof of the Atmospheric, Oceanic & Space Sciences Building on Wednesday around 8:20 p.m. central time.
The American Meteor Society said it received nearly 40 reports of the above fireball from several Midwestern states.
Reports of many different colors have been received, with blue and green being most mentioned. The average brightness reported by witnesses was near the light produced by a half-illuminated moon.
This fireball streaked above the skies of the Windy City. WLS 890AM Chicago reported: "The meteor that blazed across the sky in the Chicago area Wednesday night was probably about the size of a basketball and moving about 36,000 mph."
The last time a fireball was spotted in the Chicago skies was March 2003 WLS said.
Comment:
"March 2003", really? That's not what we heard:
Bright meteor streaks across Chicago sky
, 19 January 2011
Authorities' explanations for what's going on are starting to wear very thin indeed:
Really? UK Ministry of Defence Claims RAF Jets Rushing To Intercept Private Helicopter Caused Massive Boom That Shook Homes Across England
, 13 April 2012
Meteor explodes over Pennsylvania? Big boom still has Poconos buzzing
, 7 April 2012
Seiichi Yoshida
Aerith Net
Tue, 17 Apr 2012 23:38 CDT
Discovery Date:
April 13th 2012
Magnitude:
21.1 Mag
Discoverer:
Pan-STARRS 1 telescope (Haleakala)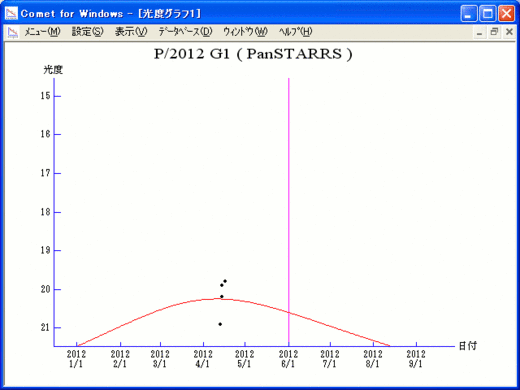 The orbital elements are published on
M.P.E.C. 2012-H17
.
Seiichi Yoshida
Aerith Net
Tue, 17 Apr 2012 23:56 CDT
Discovery Date:
23rd March 2012
Magnitude:
20.7 mag
Discoverer:
A. R. Gibbs (Mount Lemmon Survey)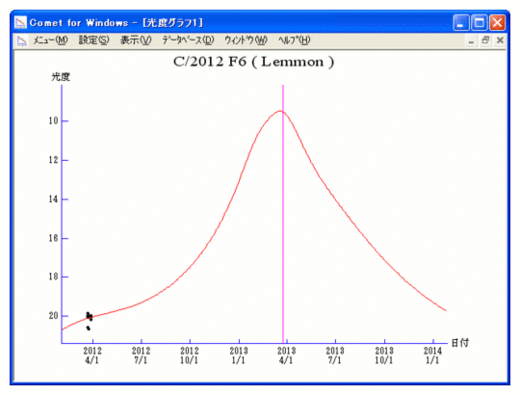 The orbital elements are published on
M.P.E.C. 2012-G45
.
Dr. Tony Phillips
Science@NASA
Fri, 20 Apr 2012 16:02 CDT
This weekend, NASA scientists, amateur astronomers, and an astronaut on board the International Space Station will attempt the first-ever 3D photography of meteors from Earth and space.
"The annual Lyrid meteor shower peaks on April 21-22," says Bill Cooke, the head of NASA's Meteoroid Environment Office. "We're going to try to photograph some of these 'shooting stars' simultaneously from ground stations, from a research balloon in the stratosphere, and from the space station."
Lyrid meteors come from Comet Thatcher. Every year in late April Earth passes through a stream of debris from the old comet, which has been bringing Lyrid meteors to our planet for at least 2600 years. Specks of Thatcher's dust hit the top of atmosphere at 110,000 mph and disintegrate in a flurry of meteors. Most years, the shower produces about 15 to 20 Lyrids per hour.
This is a good year to look for Lyrids because the Moon will be new when the shower peaks. Dark skies favor sightings both from Earth and from Earth orbit.
"Even though the Lyrids are not noted for spectacular rates, the combination of a New Moon and a very favorable viewing geometry from the International Space Station (ISS) presents a unique opportunity to simultaneously image shower meteors from above and below," says Cooke.
ISS Flight Engineer Don Pettit will be operating the camera on the space station.
"Even though his equipment was designed for tasks other than meteor observing, Don is a skilled astrophotographer, and we have every confidence that he will maximize the chances of capturing a Lyrid from 400 km above Earth's surface."
As the Space Station passes over North America multiple times on the night of April 21st, a network of all-sky cameras--some operated by amateur astronomers and others by NASA--will be recording the shower. In Bishop, California, a group of high school and middle school students will launch a helium balloon to the stratosphere. The payload floating some 40 km above Earth's surface will carry an experimental low-cost meteor camera and recorder developed by the Meteoroid Environment Office.
As astrophotographers know, catching a fleet meteor with a single camera takes some luck. Catching one meteor with multiple cameras, some of them on platforms moving as fast as 17,000 mph, scattered from Earth to Earth orbit, sounds more like winning the lottery.
"Actually, we think the odds are fairly good," says Cooke, who estimates a 1 in 6 chance of a simultaneous catch between the ISS and one of the wide-field ground cameras.
If the effort does produce 3D imagery of any Lyrids, Cooke plans to use the photos to test ideas and algorithms for processing date gathered by future space-based meteor observatories. "We're laying the groundwork for small satellites that might one day be used to monitor meteor showers from Earth orbit," he explains.
Cooke encourages sky watchers everywhere be alert for meteors this Saturday night. Typical Lyrids are about as bright as the stars of the Big Dipper, so they're good for beginners. And it's not unusual to see one or two fireballs when the shower peaks. A good time to look is during the hours after midnight, when the shower's radiant is rising toward its zenith.
Although the Lyrid meteor rate is usually capped at 20 per hour, better displays sometimes occur when Earth glides through an unusually dense clump of debris. In 1982, for instance, astronomers counted as many as 90 Lyrids per hour.
"Such an outburst would be great for our experiment," says Cooke.
Amateur astronomers who wish to help monitor the 2012 Lyrids are encouraged to download the Meteor Counter for iPhones. The app records meteor counts and reports the data to NASA for possible analysis.
Also, Cooke and colleagues will be "staying up all night" on April 21st to chat with the general public about the shower.
Tune in
.
Seiichi Yoshida
Aerith Net
Sat, 21 Apr 2012 01:17 CDT
Discovery Date:
April 18, 2012
Magnitude:
19.6 mag
Discoverer:
J. V. Scotti (Kitt Peak)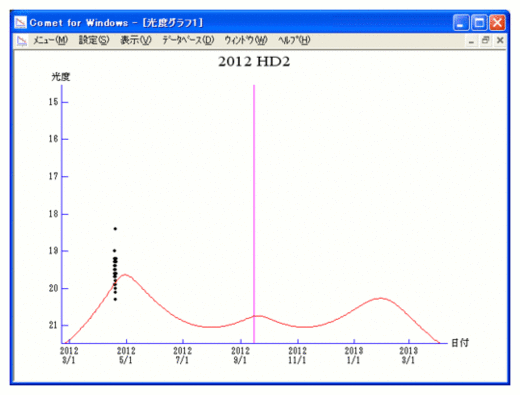 The orbital elements are published on
M.P.E.C. 2012-H32.
Lori Preuitt
NBCbayarea
Sun, 22 Apr 2012 14:56 CDT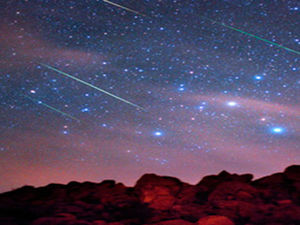 The Tuolumne County sheriff's department said they are investigating the possibility that it might have been the physical impact of an overnight meteor shower. Some people in the Tahoe area said they saw what they believed to be a meteor just prior to the sound.
People who live in in Lake Tahoe, El Dorado County, Placer County, Tuolumne County, Amador County and Nevada County contacted our sister station in Sacramento.
KCRA is reporting
that they heard the sound just after 8:30 a.m.
A television station in Reno said they received similar calls from the city of Reno and as far away as Incline Village.
Meteorologists in California and Nevada including our own Rob Mayeda said there were meteor showers Saturday night that could have still been going on Sunday morning.
If the boom was a signal that an outer space rock made it way through the atmosphere, then there could be a rock or rocks now on Terra Firma. So far, no one has called authorities or television stations to report "a hit."
Mayeda said the meteor would likely be a bolide rock and that it likely burned up before getting to the ground.
Every year the Earth passes through the orbit of a comet causing the Lyrid meteor shower. The results on a clear night is a meteor shower, which comes in the form of light streaks shooting across the night sky.
The stars are
actually debris from the comet
as it enters the Earth's atmosphere.
According to the International Meteor Organization
, the Lyrid meteor shower peaked with a maximum between 20 and 30 meteors per hour. That is not the best of the year's meteor showers, but many observers said they were pleasantly surprised.
There was also a reported meteor streak in the South Bay Sunday morning at 7:50 a.m. Don Hirschfeld said he was at the Capitol Flea market when he saw a brilliant green streak race across the San Jose sky in the northeast direction. Hirshfeld said it lasted just a few seconds, but caught bargain shoppers' attention. There was no boom in the San Jose event and the streak ended with burn up flashes.
UPDATE:
NORAD (North American Aerospace Defense Command) tells News 4 they have received reports of a meteor strike near the Kingsbury Grade area but there is no confirmation at this point.
NBC Bay Area is reporting the Tuolumne County sheriff's department, about 90-miles east of Stockton, is investigating the possibility that there may have been the physical impact from an overnight meteor shower.People in Northern California and Nevada reported hearing a loud boom in the sky above the Sierra Sunday morning.
Eoin O'Carroll
Christian Science Monitor
Mon, 23 Apr 2012 15:55 CDT
A thunderous boom accompanied by a greenish fireball hurtling across the sky shattered the morning tranquility of many residents of Nevada and northern California on Sunday.
According to the Associated Press, the unannounced pyrotechnics prompted a flood of 911 calls in both states.
"It made the shades in my room shake hard enough to
slam into the window a couple times
," one Reno, Nev., resident, who initially thought it was an earthquake, told the AP.
"It knocked me off my feet and was shaking the house," said a mother in Arnold, Calif., who said she heard a booming sound at about 8 a.m. "It sounded like it was next door."
Those who happened to be looking at the sky say they saw a blazing light hurtling across the sky.
It is an event that makes you glad to be alive," Matthew Neal of San Francisco told the AP. "The main body was bright green and the head was bright red and white."
The fireball, which was visible in towns some 600 miles apart, was almost certainly what astronomers call a bolide, an exceptionally bright meteor. The loud crack was likely a sonic boom caused by the meteor's shockwave.
SPACE.com's Denise Chow
quotes Bill Cooke
, the head of NASA's Meteoroid Environments Office at the Marshall Space Flight Center in Huntsville, Ala., who estimated that the meteor was
moving at about 33,500 mph
, weighed more than 150,000 lbs., and was roughly the size of a minivan. The energy released by the meteor as it entered the atmosphere was equivalent to about a fourth of the energy of the atomic bomb dropped on Hiroshima, he said.
No crater or debris has yet been found.
The bolide came during the peak of the
Lyrid meteor shower
, which occurs annually as the earth passes through the icy tail of Comet Thatcher. Cooke told SPACE.com that it was unlikely that the two phenomena were related, but that he would not rule it out.
In any case, this meteor was probably composed of stuff much, much denser than ice.
Bolides are rare, but not completely unheard of. At about 10 p.m. on April 14, 2010, the night sky over southern Wisconsin turned to day as a meteor
exploded in the atmosphere
. NASA later estimated the size of that meteor to be about 3.3 feet in diameter. The following August, residents in Alabama spotted a fireball caused by a meteor
moving at a whopping 134,000 mph
.
The study of meteors in the United States began with a spectacular bolide. On December 14, 1807, residents of Vermont, Massachusetts, and Connecticut spotted what one observer called a "globe of fire" barreling through the sky.
Fragments were recovered in Weston, Conn.
, marking some of the earliest evidence that shooting stars were caused by rocks from space.
Comment:
Sierra Fireball Decoded - Not a Lyrid
Choice quotes from the above video:
"It happens right around April 22 every year..."
"The people who saw this were very lucky..."
"A rare daytime shooting star, no cause for alarm..."
There's an even better quote
here
from another 'expert' interviewed by the
Wall Street Journal
:
"It happened at the height of an ongoing meteor shower that happens every year. In that part of the country it's visible in the sky for several days... uhm... the Lyrid meteor shower..."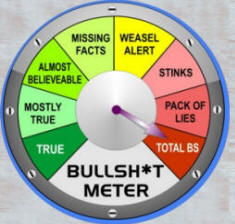 ...They have got to be kidding us! Oh wait, they are...
It's raining fireballs! April 2 Texas daytime fireball confirmed, another Meteor seen in Chicago Wednesday
The idea that NASA or anyone else can know in advance that a "mini-van-sized meteor" is going to explode in the sky on a particular day in a particular part of a particular country is total BS when we remember that in recent years asteroids have whizzed past Earth and their presence has only been detected at the very last minute, totally confounding all 'predictions':
Bus-sized asteroid shaves Earth with one day's notice
This is
not
business as usual folks, don't let them fool you by ridiculing it with X-files theme songs or 'expert views'.
David R. Arnott
MSNBC
Wed, 25 Apr 2012 06:10 CDT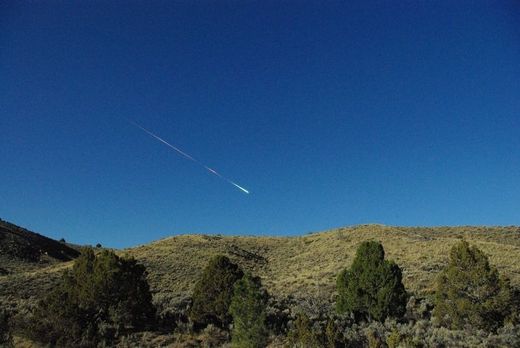 NASA has released a photograph of a flaming meteor that unleashed a powerful sonic boom Sunday morning, rattling houses in California and Nevada when its disintegration released energy equivalent to a 5-kiloton explosion.
The former space rock entered Earth's atmosphere around 8 a.m. PT on April 22 and exploded over California's Central Valley, according to NASA, which
pinpointed the location in a map posted on its website
.
According to space.com
, several witnesses initially thought they had experienced an earthquake.
"An event of this size might happen about once a year," said Don Yeomans of NASA's Near-Earth Object Program Office. "But most of them occur over the ocean or an uninhabited area, so getting to see one is something special."
Comment:
We've noted for several years that the amount of space debris coming in or around the planet has been on the rise. Have a look at some of these articles for more info.
The Hazard to Civilization from Fireballs and Comets
Cosmic Changes, Planetary Instability and Extreme Weather
And keep an eye on this section:
Fire in the Sky
, as we continue documenting these occurrences.
Nancy Atkinson
Universe Today
Thu, 26 Apr 2012 09:30 CDT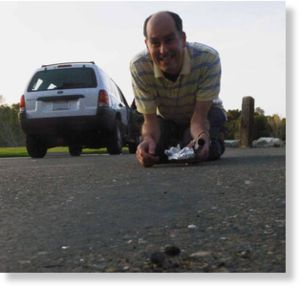 Meteorite hunters have been successful in locating fragments from the huge meteor visible in the daytime skies over California last weekend. One of the successful hunters was Peter Jenniskens, an expert in meteors and meteorites, perhaps best known for retrieving the fragments of
asteroid 2008 TC3
which fell in Sudan in 2008.
Astronomer Franck Marchis wrote in his Cosmic Diary blog
that Jenniskens realized the size of the California meteor was very similar to 2008 TC3, and so fragments should have reached the surface, just like they did in 2008.
Jenniskens went out searching and found a four-gram fragment of the meteor in a parking lot in Lotus, California.
Update:
NASA and the SETI Institute are asking the public to submit any amateur photos or video footage of the meteor that illuminated the sky over the Sierra Nevada mountains and created sonic booms that were heard over a wide area at 7:51 a.m. PDT Sunday, April 22, 2012.
Marchis wrote that several scientists from the Bay Area met at NASA Ames Research Center on April 24 to discuss a strategy for a search campaign, examining a radar data map which showed that dozens of fragments from the 100g to 1 kg range may have reached the ground.
Jenniskens said the fragment he found was a
Carbonaceous Chondrites
from the CM group of meteorites, "a rare type of primitive meteorite rich in organic compounds," he said.
"We are very interested in this rare find," said Greg Schmidt, deputy director of the NASA Lunar Science Institute. "With the public's help, this could lead to a better understanding of these fascinating objects."
Several other fragments were found, the first one by
noted meteorite hunter Robert Ward.
"Getting fresh fragments of meteoroids, called meteorites, is key for astronomers to understand the composition of those remnants of the formation of the solar system," Marchis wrote. "Fresh fragments are unaltered by the Earth's weather and erosion processes, so they are pristine samples which can be used to detect organic materials for instance."
Photos and video footage would help the scientists to better analyze the trajectory of the meteor and learn about its orbit in space. This information will also help scientists to locate the places along the meteor path where fragments may have fallen to the ground.
People who have photos or video of the meteorite are asked to contact Jenniskens at petrus.m.jennniskens@nasa.gov.
Marchis noted that a storm is heading towards the region and rain could alter the remaining fragments. So if you live nearby, consider heading out to take a look. Here is the radar map: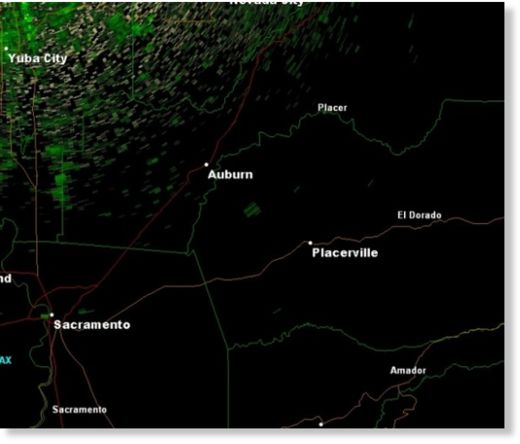 Marchis also said that if anyone has access to security camera footage taken on April 22, 2012 in the area of the fireball sighting, it may be useful to check them to see if the fireball was visible. "Astronomers could use them to pin down the site of the fall, maximizing the hunt for fragments," he said.
Read more at the Cosmic Diary
.
Mark Thompson
Discovery News
Fri, 27 Apr 2012 12:01 CDT
Astronomers using the Faulkes Telescope are first to re-image the comet before its Rosetta spacecraft meet-up in 2014
Astronomy is one of the few sciences that allows amateur practitioners to actively take part in real research projects -- be it monitoring planetary atmospheres or studying distant galaxies.
Over recent years,
the advance in technology
has led to the availability of research-grade telescopes across the Internet such as the
Faulkes telescopes in Hawaii and Siding Spring (Austalia)
.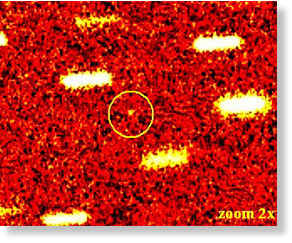 It was with these instruments that a team of amateur astronomers have been the first to re-image Comet 67P/Churyumov-Gerasimenko as it makes its latest dive toward the inner solar system.
PHOTOS: 6 Intimate Comet Encounters
The comet, originally discovered in 1969 by Klim Churyumov and Svetlana Gerasimenko, orbits the sun once every six and a half years.
The European Rosetta mission
is currently
en route
to the comet and, in 2014, the spacecraft will have a close encounter with the "dirty snowball," dropping a small lander onto its icy surface.
At a recent conference for the Rosetta mission with both professional and amateur astronomers, Faulkes Telescope Pro-Am Program Manager Nick Howes put forward a detailed plan for long-term observations of the comet, using the 2-meter Faulkes telescopes.
"After attending a hugely successful meeting with representative of many major professional telescopes and the European Space Agency (ESA), our proposal to provide ground support for the ESA Rosetta mission was very well received," Howes told Discovery News. "We'd heard that the VLT and other large professional observatories had not been able to image the comet, but we'd already put forward a detailed proposal which included attempting to image it from April 2012, when the magnitude was estimated between 23-24."
PHOTOS: Close Encounters with Comets
Despite some uncertainty, Howes' reputation for pushing the Faulkes telescopes to their limits convinced the professionals that it was possible and it wasn't long before British Astronomical Association member Richard Miles managed to capture the comet on April 19, 2012.
Following the initial discovery, Howes' team in Italy, Giovanni Sostero and Ernesto Guido managed to get the confirmation image of the comet on April 25.
The team now plan to work with schools and other amateur astronomers to obtain follow-up observations in order to refine the comet's orbit, helping ESA to calculate orbits and trajectories for the Rosetta mission.
Sarah Roberts, Education Director for Faulkes Telescopes, explains: "We're now hoping to work with the wider amateur community over the coming years, and at this time, get schools and students imaging the comet as much as possible, as the data is scientifically valuable, and will probably lead to some research papers from the pro-am community".
PHOTO: Another Beautiful View of Comet Lovejoy From Space
"It's a remarkable achievement from our 'amateur' teams," said Paul Roche, Faulkes Telescope Director. "We held back on any announcement of the first capture, as the minor planet center usually like to have more than one observation before they confirm a comet recovery, but to find that the images taken by our telescopes have proved yet again what amateurs can do, is quite remarkable"
"'Amateurs' is such a misnomer in these instances as was evidenced from the reception and comments made by the professional community at the Rosetta conference."